Using a magnifying glass turns this simple letter recognition activity into a fun game for children.
You will need:
How to play:
There are many ways you can play the letter hunt game, depending on a child's age or ability.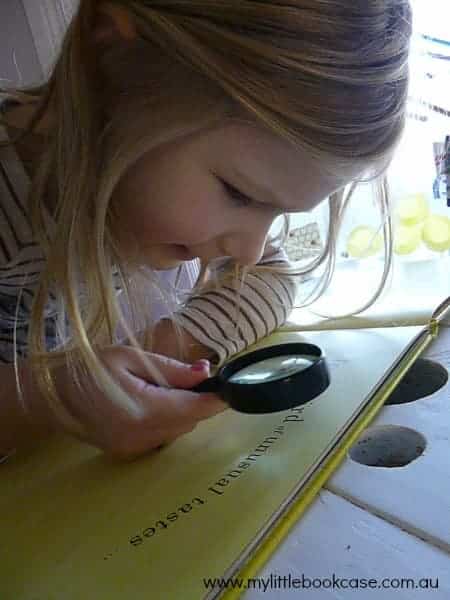 a) By using a magnifying glass, ask your child to search through the words in the book to find:
Particular letters of the alphabet: These could be chosen by you or your child. You could focus on letters your child already recognises or  letters they are just  beginning to recognise
Sounds: Children can look for the letters or letter combinations (digraphs, trigraphs) that make a particular sound (For example, kite, cat, duck, Christmas)
Particular words of choice: For example, you could ask your child to find words of interest, new vocabulary, sight words or words that appear on their spelling lists
Small words within larger words
b) Or you could simple leave an invitation for your child to explore the book in their own way.
Who knows what they will explore- letters, words, illustrations or endpapers???????????????
Choosing books
You don't have to put a lot of effort into choosing which books to use. But if you want to be selective look for:
Books that feature alliteration: This will give your child many opportunities to see and begin to recognise letters.
Books that feature high frequency words