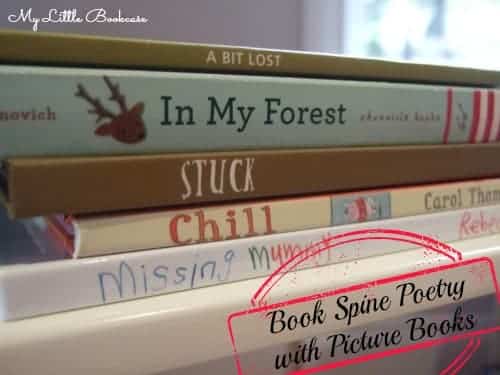 I first stumbled across the concept of Book Spine Poetry at the start of the month. Travis, of 100 Scope Notes, shared this idea as part of Poetry Month. Immediately, I was excited by the possibilities awaiting us.
Of course I think it's a brilliant poetry exercise (and one I can't wait to use in the classroom),  but it's also a wonderful way to find connections between your books, make meaning from book titles and take stock of your book collection.
All month we've had books all over the place (Needless to say, we've fallen behind with Project #1 of The Little Book Adventure), and have enjoyed creating some clever, beautiful and sometimes silly poems.
The process is exciting and very addictive.  Sometimes you're desperate to make a title work, other times you can see themes everywhere you look. At one stage, I was desperate to find a book that would complete a poem we had started. We searched high and low for it, and were never going to give up on finding it- our poem depended on it.
Here are just a few of the poems we  created using some of the spines from our picture book collection (paperbacks are too hard to photograph):
and those of you with toddlers will know that sometimes toddlers like to do things all by themselves without the help of a grown up. That includes taking their own photos. Here are some of Cam's very own efforts:
Maybe the last poem would make more sense to you if you saw the covers of the books that were selected. Too cute really!
LIKE THIS POST:
Join one of our communities or subscribe to our mailing list so you don't miss out on future posts.