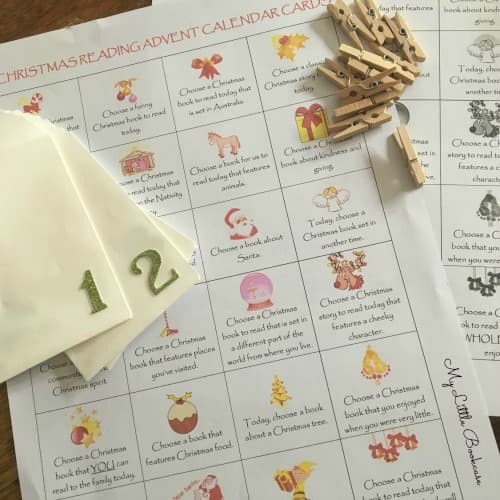 Usually we go to a great deal of effort to prepare our Advent Calendar each year. Sadly, we've been so incredibly busy this term that December has crept up on us.
As books have always played an important role in our countdown to Christmas (check out our past calendars here), Cammy was literally begging me to unpack our Christmas books last night.  I realised then that we had run out of time to wrap our Christmas books for this year.  So under immense pressure to pull something together in a day, I decided to combine our love of Christmas books and scavenger hunts to create our Christmas Reading Advent Calendar for 2016.
I've created a collection of 24 Christmas book scavenger hunt prompts, each encouraging children to search their collection of Christmas books to find books with particular themes, characters, settings, messages or features.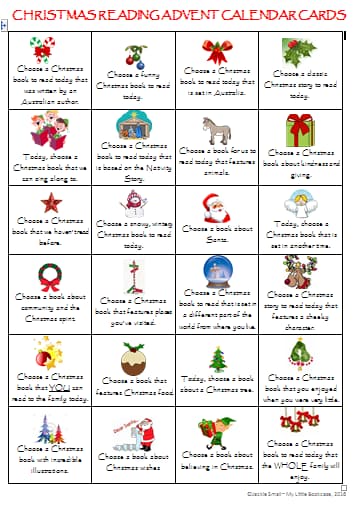 How to use the cards:
a) Simply print and cut the cards; Place them in a box, jar or basket; Then randomly select a card each day of Advent to help you choose which book to read each day in the lead-up to Christmas.
OR
b) Print and cut the cards; Place each card inside a numbered envelope (ranging from 1-24); Attach and display the envelopes along a piece of string; Then open the relevant envelope each day to reveal a card and book prompt for each day of Advent (you could pop a little treat inside each envelope too, but it's not necessary).
Below is a 'work in progress' image of our Christmas Reading Advent Calendar, which we've begun to set up above our fireplace this year.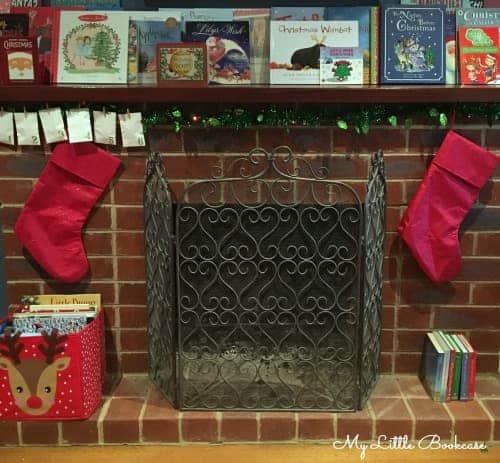 IF YOU LOVE THIS IDEA, CHECK OUT OUR WONDERFUL COLLECTION OF BOOKISH CHRISTMAS IDEAS.