This post was written by Janice, the brains behind the brilliant children's activity website, Learning 4 Kids. This website is honestly one of my top go-to resources when I'm looking for activity inspiration. It's as useful for parents as it is for educators. Learning 4 Kids is easy to navigate and Janice always presents activities that are engaging and educational for children- her playdough recipes are a favourite for us.
So I'm thrilled that Janice has written a post especially for My Little Bookcase readers, based on the popular picture book Pinkalicious.
If you can't access a copy of Pinkalicious, you can find an alternate book to use by browsing our list of books about cakes and baking.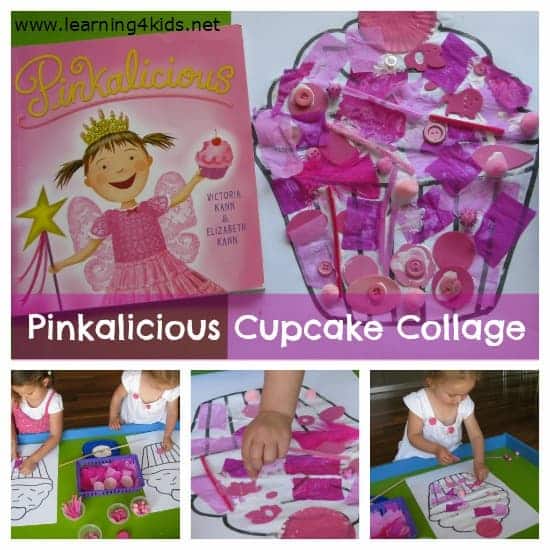 Books are a wonderful place to start an activity and activities are a wonderful extension of the learning that happens in books.
On our website Learning4kids, we have a Learning Colours Series where we create a number of activities and play ideas for one week focusing on one colour.  Reading Pinkalicious by Victoria and Elizabeth Kann and creating a pink cupcake collage is one of the activities we played with as we learnt about the colour pink.
With three daughters, you would imagine that pink is not a hard colour to find in my house and the story Pinkalicious is a huge favourite.  It is an adorable story that any little girl will relate too and enjoy all while learning about the colour pink and enjoying the benefits of sharing a great book!
What you will need?
The gorgeous book Pinkalicious by Victoria and Elizabeth Kann
The printable cupcake outline. Download here.
PVA craft glue
Paint brushes
Pink craft materials.  (For our Pink Cupcake Collage we used pink patty pans, pipe cleaners, pompoms, straws, buttons, feathers, foam pieces and torn up pink crepe paper.  You can use just about anything that you find around the house that is pink such as fabric.)
You can download and print the cupcake outline here
To make a Pinkalicious Cupcake Collage:
Firstly you will need to find a comfy spot with your child and read Pinkalicious.  It is such a wonderful and funny story!  My 2 year old loves to count how many cupcakes are on each page.
To start your collage, apply the glue with the paint brush until the entire area of the cupcake shape is covered.  Then stick on all the pink craft materials until the surface is completely covered.
The thing that I love about making collages is that there is no right way or wrong way of doing one.  It is also an activity that can be done by kids of all ages and is easily adapted for younger tots and kids.  For example, younger tots may need parents to apply the glue for them and the child can stick on all the craft materials.
Learning Benefits of Creating a Pinkalicious Cupcake Collage:
Develop a love of books and read for enjoyment
Fine motor development
Hand & eye coordination
Creativity and imagination
Spatial awareness
Colour recognition and awareness. See more pink-themed activities at Learning 4 Kids.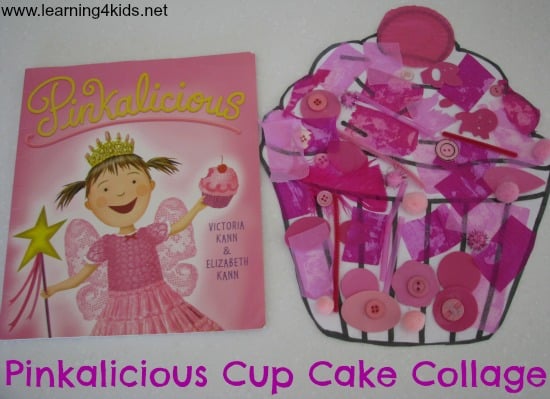 Extension Ideas for Pinkalicious:
Make pink cupcakes and share them at a picnic with friends at the park.
Dress up all in Pink
Sponge-paint the Printable Cupcake Outline with light and dark pink paint.
Using a cupcake shape cookie cutter make pink play dough cupcakes.
Create a Healthy Foods and Sometimes Foods Chart- Cut out food pictures from magazines and glue them into groups of healthy and sometimes foods.

About Janice: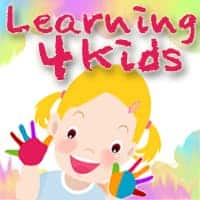 Janice is a stay at home Mum of three kids and a Primary School Teacher. She is very passionate about learning and teaching and absolutely loves playing with her kids. When she became a mum, she found that her teacher brain never switched off and was creating and developing new playtime activities all the time. Learning 4 Kids focuses on the importance of learning through play and provides numerous fun activities for families.