Rose and Lily, the Australian distributor of Tidy Books, is the generous sponsor of The Little Book Adventure: Project #1.
This project seemed like the ideal one to kick off The Little Book Adventure. Often books can be difficult for children to access as they are placed too high, hidden behind cupboard doors or crammed tight on a bookcase.
This project will give families/classes the opportunity to take stock of the books they have in their homes/classrooms and re-organise them so that they are easily accessible for children. I know that this is something that I have personally been meaning to do for years, but just never get around to (See current bookcase crisis here).
Once you've completed this project, your National Year of Reading will be off to a good start.

THE PROJECT: Get creative with your book storage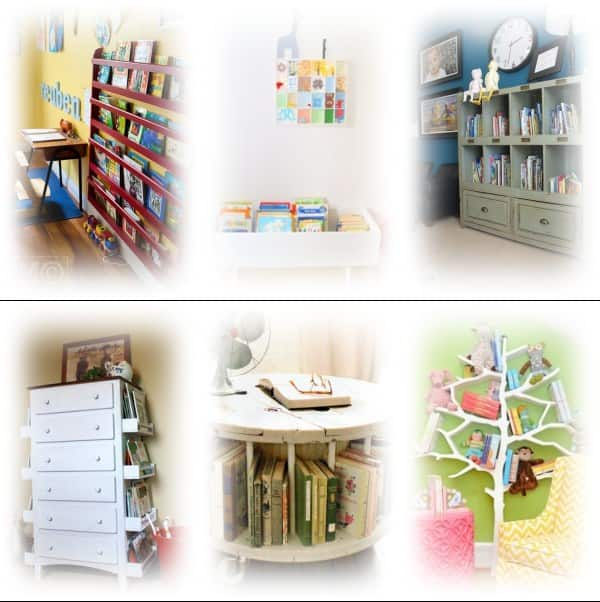 (Photo sources, clockwise L – R:
Growing Up, Apartment Therapy, Becky Higgins,
Rosenberry Rooms
,
Curlby
, 
On the Banks of Squaw Creek )
As part of this project we are asking you to:
Locate all of the children's books in your home/classroom
Find a way to categorise the books (e.g. theme, colour, author, text type)
Find a suitable place (or places) to display them.
You and your children have creative licence over how you display the books; however, there are two criteria that MUST be met:
You must display the books in a way that is appealing to your children (i.e. we want children to be tempted to grab a book from the display WHENEVER they feel like it)

The books must be practically and easily accessible for children.
Note for libraries: We understand that this particular task is a little difficult for libraries because there is a system in place for displaying books.  Instead you could ask the children to help you work on a SPECIAL display of books for the library, school foyer, or their own classroom.
HOW TO GET THE KIDS INVOLVED
Ask your children to help you group the books. See if they can find books that are similar (board books, animal books etc.)
Ask your children to choose their favourite books that they'd like on display (this may change throughout the year- be prepared to move the books around from time to time)
Look at some book storage ideas together with your children
Have a brainstorm session with your children (they can be incredibly creative little creatures)
Ask your child to help you with the project whenever it is practical for them to do so. There may be some shopping, salvaging, painting etc. involved.
INSPIRATION:
If you're looking for some visual inspiration, our pinterest board is the place to check out some wonderful book storage ideas. (Who Knows? Maybe your book storage will make it to this board by the end of the month)
PROJECT COMPLETION:
Register here if you are keen to take on this project but you haven't signed up for The Little Book Adventure yet.
You have until March 31, 2012 to complete this challenge. When you have completed the challenge we would like to see a photo of your book display and a brief caption/description.  At this stage there are two ways you can do this (I am still looking into a more efficient way to do this):
a)      Upload a photo (with a brief description) to our facebook page (It will be moved to a special photo album)
b)      Send the photo and a brief description in an email to info@mylittlebookcase.com.au
Please note that the photos will be displayed in a facebook photo album and on www.mylittlebookcase.com.au. YOUR IDEAS WILL PROVIDE INSPIRATION TO OTHER FAMILIES.

BLOGGERS:
You might have your own blog and wish to share more about the process of creating your new book storage. Feel free to write about it in a post, publish it on your blog and link up here so all of our readers can admire your hard work.



PARTICIPATION AWARD:
As a thank you for taking part in the first challenge, Rose and Lily ( in conjunction with Tidy Books) is offering our AUSTRALIAN readers 20% off the full price of any Tidy Books book storage product (which includes front facing book cases, Tidy Books boxes and bunk buddies). You can see the range here.

These products might even come in handy for the project:
The details of this offer:
Available to AUSTRALIAN readers only.
Offer is valid between 1 March and 31 March, 2012
This offer is not valid in conjunction with any other offer
Simply use the following promotion code at the check-out to activate your discount:

MLB2012
THE WINNING PRIZE:
Of course you are all winners for taking part in The Little Book Adventure, but we have one special prize to give away to one lucky participant of this month's project.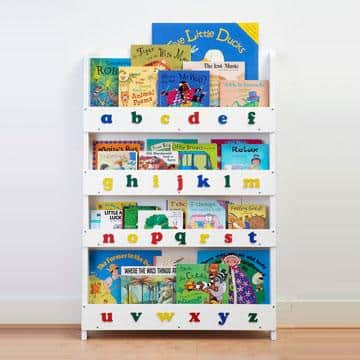 Rosy and Lily (in conjunction with Tidy Books) has one forward facing bookcase to give away (valued at $299) in the colour and design of your choice (subject to availability).
The bookcase is available in the following colours and designs:
Natural with lowercase letters
Natural with uppercase letters
White with lower case letters
Pink with lower case letters
Blue with lower case letters
Terms and conditions:
One winner will be chosen to win the Tidy Books Bookcase
1. Each reader may enter only once.
2. Entrants must live in Australia to be eligible for this prize.
3. All entries must be received by midnight (AEDT) on March 31, 2012 to be eligible
4. One winner will be chosen based on the best entry using the following criteria (creativity, appeal, accessibility, effort, child involvement)
5. The winner will be notified via email and will also be announced on www.mylittlebookcase.com.au,
6. The winner is asked to send a reply email with their delivery address and bookcase preference (subject to availability).
7. The bookcase (subject to availability) will be sent directly from Rose and Lily.
Good luck and have loads of fun!