This challenge is being sponsored by Rose and Lily in conjunction with Tidy Books
THE CHALLENGE: Discover New Places to Read

As part of this challenge we are asking you to:
Forgo the couch and the bed this month, and find some new and interesting places to read with your children.
You do not need to set up a permanent reading space or nook. This project is simply encouraging you to give your child/ren a different reading experience by thinking outside the square to find a temporary space to read.
I'm sure your kids will have some wonderful suggestions.
INSPIRATION:
Here are just a few ideas to get you started……..
CHALLENGE COMPLETION:
You have until November 30, 2012 to complete this challenge. Once you have completed the challenge, please send us a photo of your unique place to read (feel free to send in more than one photo)
a)      Upload a photo (with a brief description) to our facebook page (It will be moved to a special photo album)
OR
b)      Send the photo and a brief description in an email to info@mylittlebookcase.com.au
Please note that the photos will be displayed in a facebook photo album and on www.mylittlebookcase.com.au
BLOGGERS:
If you feel like writing about the new reading spaces you've discovered,  link up your blog post here.



PARTICIPATION AWARD:
Rose and Lily, in conjunction with Tidy Books, is offering all My Little Bookcase readers 20% off the full price of any book storage product (including front facing book cases, storage boxes and bunk buddies). You can see the range here.
Special Offer Details:
Available to My Little Bookcase readers residing in Australia
Offer is valid between 1 November and 30 November, 2012
This offer is not valid in conjunction with any other offer
Simply use the following promotion code at the check-out to activate your discount: MLB2012
THE WINNING PRIZE:
Of course you are all winners for taking part in The Little Book Adventure, but we have one special prize to give away to one lucky participant of this month's challenge.
Rosy and Lily (in conjunction with Tidy Books) has one Bunk Bed Buddy to give away (valued at $125 aud) in the colour of your choice (subject to availability).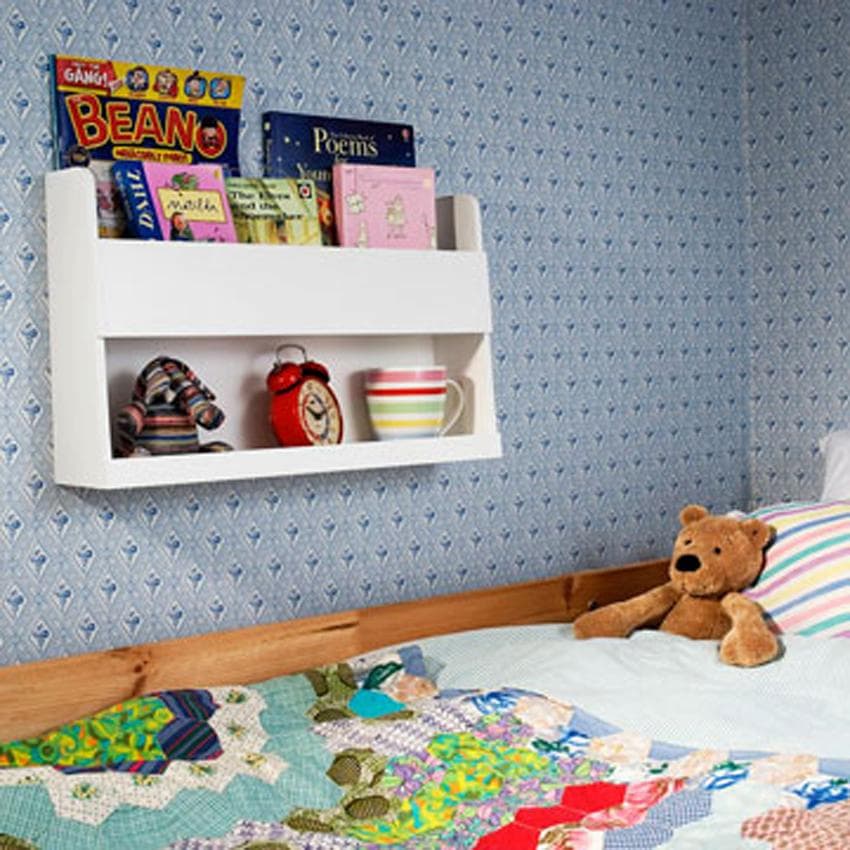 The Tidy Books ®Bunk Bed Buddy™ (Your perfect bedside storage).
Keep your children's books, drink and alarm clock handy and safe with the original Tidy Books Bunk Bed Buddy, specially designed to be the perfect children's bedside companion for book lovers.
Features:
Floor-saving, slimline and lightweight bedside storage unit that securely fixes to the wall (wall fittings supplied)
Front panels hold your children's books, drinks and alarm clock securely.
Made from sustainable wood sources and finished with eco-friendly water based lacquer with low VOC's, creating a natural finish that allows the wood grain to be just visible
Four colours to choose from – natural, white, pink and blue
Dimensions: 33cm (h) x 53cm (w) x 12cm (d)
Terms and conditions:
One winner will be chosen to win the Tidy Books Bunk Bed Buddy.
1. Readers may enter more than once
2. Entrants must live in Australia to be eligible for this prize.
3. All entries must be received by midnight (AEDT) on November 30, 2012 to be eligible
4. One winner will be chosen at the discretion of Jackie Small (My Little Bookcase)
5. The winner will be notified via email and will also be announced on www.mylittlebookcase.com.au,
6. The winner is asked to send a reply email with their delivery address and colour preference (subject to availability) within 7 days.
7. The Bunk Bed Buddy  (subject to availability) will be sent directly from Rose and Lily.