There are many ways we can encourage our own children to connect to reading, as inspired by the 2014 Book Week theme. One of the best places to start is by reading books about characters who discover the wonder of books and find a way to connect to reading.
Specifically for Book Week 2014, I'm sharing ten such books I highly recommend (Click here to read more ideas to help children connect to reading).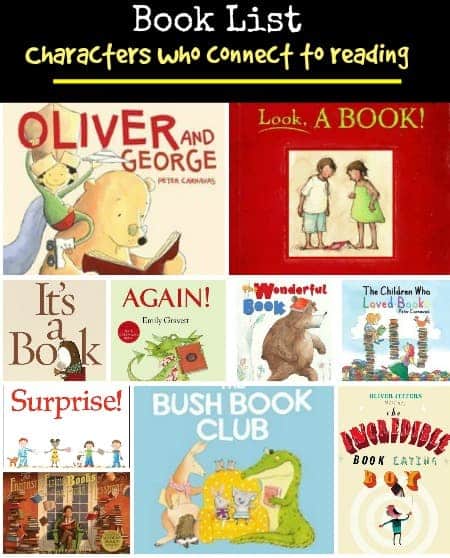 Oliver and George
Author and Illustrator: Peter Carnavas
ISBN: 9781925059083
Publisher: New Frontier Publishing, August 2014
Peter Carnavas' love for books and reading really shine through in his stories, especially this one.
This story is about two friends: Oliver who is busy, active and always ready for playful adventures and George who is often too busy with his nose in a book to find time for play.
After many attention-seeking antics, Oliver finally works out how to get George's attention, and George's reaction isn't pretty. The upside is that when Oliver steals George's book, he finally discovers the wonder that can be found between the covers.
Visit The Kids' Bookshop to purchase this book.
The Bush Book Club
Author: Margaret Wild
Illustrator: Ben Wood
ISBN: 978 1742990149
Publisher: Omnibus Books (Scholastic), March 2014
'He turned the pages, slowly at first, then faster and faster.'
The Bush Book Club is made up of all types of members who enjoy reading different types of books in different ways. Sadly, Bilby was not one of those members; he simply couldn't sit still long enough to read a single sentence.
One day, Bilby found himself locked inside the clubhouse for the night. He played with the books for a very long time until he'd pulled them all from the shelf. That's when he finally discovered a book that captured his imagination, and I believe he was hooked on books ever since.
Visit The Kids' Bookshop to purchase this book.
The Children Who Loved Books
Author and Illustrator: Peter Carnavas
ISBN: 978-1921928161
Publisher: New Frontier Publishing, June 2012
'They huddled beside the lamp and listened to the story'
The Children Who Loved Books is a story that celebrates the importance of reading, books and libraries.
Angus and Lucy have very little in their lives other than the hundreds of books that fill their caravan-home. When the caravan can no longer hold their books, the family is forced to donate the books and the family lose their connection.
Eventually, the family discovers the library, a hive of joy where they can borrow and return books as they fancy and share their love of books with others. re-connect and find happiness again.
Visit The Kids' Bookshop to purchase this book.
Look, a Book!
Author: Libby Gleeson
Illustrator: Freya Blackwood
ISBN: 978-1921541803
Publisher: Little Hare Publishing (Hardie Grant Egmont), October 2011
Look, a book! reveals the power books can have in making a difference to the lives of children and adults- especially those born into underprivileged circumstances.
Freya Blackwood's sketchy and whimsical illustrations portray two children who live in a neglected community with a barren landscape, ramshackle homes and scrap heaps.
The children find a book. It takes them to a world they can only dream about. The book encourages them to use their imagination and takes them on wonderful adventures where the previously undesirable landscape becomes a place of wonder and excitement. With each reading, the children invite more and more of their community members to join them on their journey.
Libby Gleeson's narrative describes the importance of caring for a book as a treasured item.
'Let's hold it close, free from all the dust and the dog and the rain.'
Visit The Kids' Bookshop to purchase this book.
Surprise
Author: Karen Andrews
Illustrator: Kim Fleming
ISBN: 978-0646487731
Publisher: Miscellaneous Press, October 2008
This is a feel good story about a library book. Each borrower of the book is treated to a surprise left behind by the previous borrower, and the chain reaction continues to the end of the book where the reader is also treated to a surprise. This book celebrates the joy that random acts of kindness can bring but also the act of sharing library books with others.
Buy this book directly from the publisher
It's a Book!
Author/Illustrator: Lane Smith
ISBN: 9781921720147
Publisher: Walker Books, August 2010
'So…what else can this book do?'
This is a book that is entertaining for children and adults alike. It humorously highlights everything a book can't do. Yet at the same time we are reminded of how enchanting a book can be in its simple and 'old-fashioned' state.
The story is a simple one, made up of three cleverly selected characters. We are observers of a conversation between Monkey and Jackass. Tech-savvy Jackass is trying very hard to understand what exactly a book can do, and Monkey seems to be getting increasingly frustrated with the questions.
Visit The Kids' Bookshop to purchase this book.
The Fantastic Flying Books of Mr Morris Lessmore
Author: William Joyce
Illustrators: William Joyce and Joe Bluhm
ISBN: 978-1442457027
Publisher: Atheneum Books for Children (Simon and Schuster), July 2012
'It was filled with the fluttering of countless pages, and Morris could hear the faint chatter of a thousand different stories, as if each book was whispering an invitation to adventure.'
After Hurricane Katrina, William Joyce witnessed the power books gave displaced children in shelters. These experiences motivated the story and are heart-warmingly evident throughout the book.
The book is about Morris Lessmore who loved books and stories so much that his own life became a book. One day Morris' life was thrown upside down when a strong storm passed and destroyed everything Morris knew, even his books. With bit of optimism and magic, a squadron of flying books lead him to a library.
Visit The Kids' Bookshop to purchase this book.
Again
Author/Illustrator: Emily Gravatt
ISBN: 978-0230745360
Publisher: Macmillan, November 2011
Books have amazing effects on children.
Cedric has a favourite bedtime story about a fiery dragon. So in love with this book is Cedric that he asks his mum to read it again and again…and again. But as Mum gets more and more drowsy and unable to read the story properly young Cedric begins to get angry. He has heard the story so many times that he begins to take on the characteristics of the fiery dragon, leaving a gaping hole in the back of the book.
Visit The Kids' Bookshop to purchase this book.
The Incredible Book Eating Boy
Author/Illustrator: Oliver Jeffers
ISBN: 978-0007247943
Publisher: HarperCollins Publishers Ltd, May 2007
'Now Henry reads all the time.'
This is a splendid book about a boy who has developed a taste for books, literally. Henry is quite pleased with the rapid rate in which his knowledge grows with every book that he digests. It's not until he becomes ill that he discovers reading books is enjoyable too.  Oliver Jeffers makes use of original book pages to create his quirky illustrations for this book.
Visit The Kids' Bookshop to purchase this book.
The Wonderful Book
Author/Illustrator: Leonid Gore
ISBN: 978-0545085984
Publisher: Scholastic Press, November 2010
"What a wonderful book," said the boy.
Each creature in this book thinks they know what a book is for: A rabbit thinks it would make a cosy house; a bear thinks it would make a pretty hat; a mischief of mice think it would make a perfect table; a fox thinks it would make a comfortable bed; a worm thinks it would make a delicious lunch. Luckily, a curious boy spots the book before the worm can devour it and asks 'I wonder what it's about?'
And the characters finally learn that books are full of wonders to enjoy.
Like this post? Stay connected:
Be sure to join one of our communities for more literacy-based inspiration, or subscribe to our mailing list so you don't miss out on future posts.