Often, at My Little Bookcase, we review books for toddlers and pre-schoolers, but here is a wonderful picture book for older children. Mark Greenwood and Frané Lessac have, once again, made an historical story accessible and interesting for children. The Greatest Liar on Earth is a story that provides so much for the reader to discover and discuss.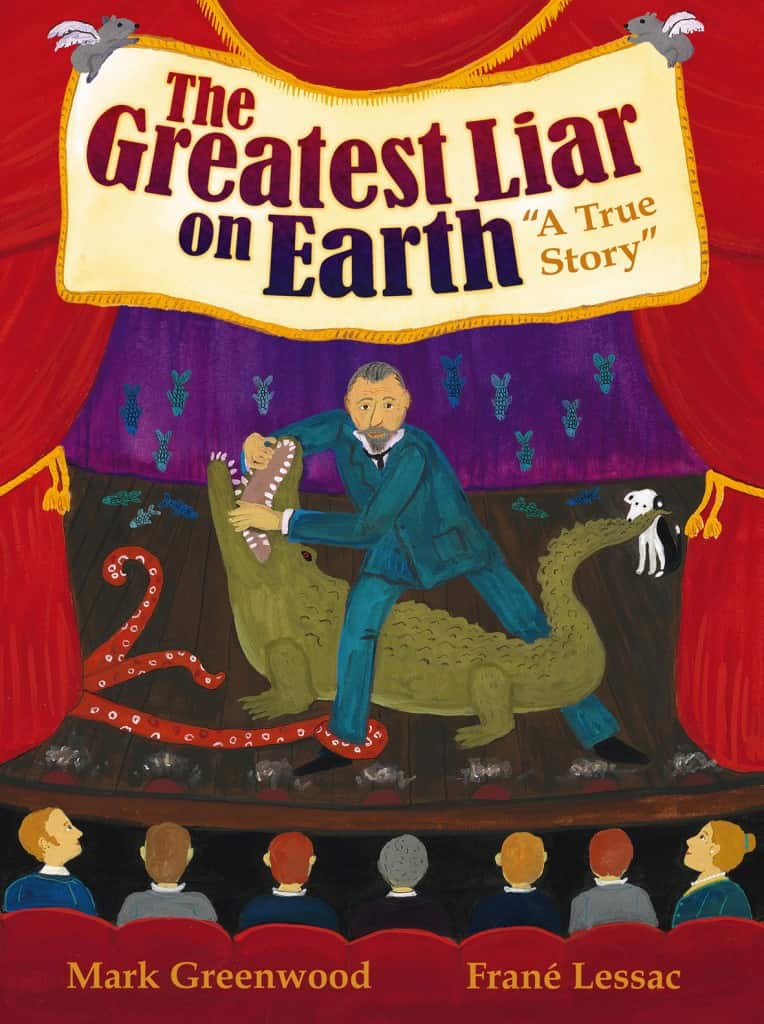 The Greatest Liar on Earth explores the themes of fame, truth, storytelling, and fact versus fiction. It is a great springboard into a discussion with children on the philosophy of truth and lies.
The Greatest Liar on Earth is the story of Louis de Rougemont, who assembled an interesting life story based on a compilation of events experienced by other explorers and travellers: riding sea turtles, wrestling a crocodile, witnessing rainstorms of fish and being saved from a shipwreck by the tail of his dog.
Louis de Rougemont experienced short-lived fame with his adventures. For a short time, audiences filled London theatres to hear him speak; a wax model of him was displayed at Madame Toussauds and he was invited to speak to the Queen. That was until his stories became so far-fetched and unbelievable that people began calling him a fraud.
So desperate was he to have fame and fortune that he was prepared to adapt his act and willingly declared his stories untrue, advertising himself as 'The Greatest Liar on Earth'. He believed that his audience didn't need the truth, but simply a good story. Louis de Rougemont eventually disappeared and was never seen again, feeling disheartened that his audience could be so vicious.
Mark Greenwood has undertaken extensive research to write this book. He has chosen to include snippets of factual events in the back of the book. These supplements will leave you wondering and philosophising over whether Louis de Rougemont was a wonderful storyteller or the greatest liar on Earth.
Mark is a wonderful storyteller himself. His brilliant choice of words makes this story of Louis de Rougemont incredibly descriptive and captivating.
Frané's gouache illustrations are rich and full of depth. She effectively captures the emotions of Louis' audience: fascination, awe and wonder. She displays such brilliant contrasts within the book. Louis' fame and adventures are represented in bright, bold colours. These illustrations are juxtaposed with the opening and closing pages of the book which depict the cold and miserable days either side of Louis' fame.
Although set in the Victorian Era, I believe the themes presented in the book are very relevant to today's generations; in particular, the desire for fame. Individuals are willing to stoop to the lowest of levels to achieve it.  Fame is incredibly fickle. Louis de Rougemont felt that his audience robbed him of his fame and fortune and it is a lesson that society can reclaim fame just as quickly as they grant it.
At the very least, children will enjoy the extravagant tales and ripping yarns in this book, but hopefully they'll also be left pondering how much they enjoy a good yarn or an exaggerated story? How many untruths they would be willing to tolerate? And whether or not they think lying comes at a cost.

Book Details:
Author: Mark Greenwood
Illustrator: Frané Lessac
ISBN: 978-1921529856
Format: Hardback
Publisher: Walker Books, April 2012
RRP: $29.95 (aud)
Suitable for ages: 6+
(★★★★★)