For many reasons, I just love giving books. I'm sure you do too.
When I'm browsing in a book store or when I am sent books to review there is always a child in the back of my mind who I think would enjoy the book.
There's a little boy in my life that I don't know very well. His mother and I are friends but we live in different parts of the world. She moved to Canada while we were at uni and never came back.
I've only met her son once, and when he was born I sent him a copy of My Country by Dorothea Mackellar and illustrated by Freya Blackwood.
This little boy is visiting his mother's homeland for the second time in his life. He is connected to Australia through his family and his mother's memories yet he lives in a country that is so incredibly different. When I heard that they were visiting Australia again, I immediately fished out this book that I'd put aside just for him. It really was quite convenient that he was here for International Book Giving Day.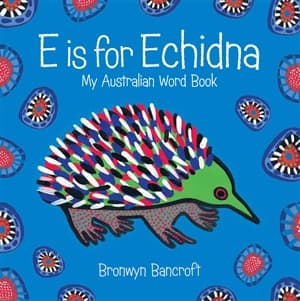 E is for Echidna by Bronwyn Bancroft (Little Hare Books)
Why this book?
I'm keen for my little friend to know more about Australia and I don't think any other book could do it better than an Australian Word Book.I know my friend misses Australia at times, so  I also thought the book would be a great one for him to share with his Mum, inviting her to share her own stories and memories with him.
It is a small board book, suitable for a toddler. It is also an alphabet book featuring one word and one striking indigenous image on each page, of which most are Australian animals. The mud crab and wattle pages are my personal favourites.
I also can't deny the fact that I think every Australian child should have a Bronwyn Bancroft book on their bookshelf. It will make a wonderful keepsake for him to take back to Cananda.
Did you give a child a book for International Book Giving Day?
You can read some other book giving stories here.