Keep reading to find out more about the sensitive and thoughtful author of these Little Treasures, and to find out how you could win one of four Little Treasure Book Packs.
The talent behind these Little Treasures:
When I began My Little Bookcase, my goal was to help inspire parents and their children to love books and enjoy reading. A big part of achieving that goal is to find books to share with families that inspire.
I rarely have to look past New Frontier Publishing to find those special books, and when Peter Carnavas and New Frontier work together, the result is absolute dynamite.
Peter, also a teacher based in Queensland,  is the author and illustrator of five books published by New Frontier. His stories are unique; they are raw, emotive, heartfelt and rich in meaning.  They always set my heart on fire and sometimes I can barely manage to read them through my tears.
Peter has found the words that I wish I could write; the words that gently reassure and inspire young children. I sense that he writes especially for sensitive, reflective children. For children who over-think, worry and see sadness everywhere they look. Children very much like myself really and, as it seems, are much like Peter too.
In this interview with Peter, he describes himself as quiet and shy. He admits that the characters are reflective of his personality and he hopes that they are also reflective of other quiet children.
He describes his characters as "quietly independent, problem solvers who go about their business, don't bother anybody and manage to reach their goal in the end."
Peter's books are the perfect tool to help these children find words for their feelings, they help to comfort and reassure them, they empower them and offer them some coping strategies.
His illustration style is simply adorable. He uses ink drawings and water colours to portray gentle but emotional characters. He rarely draws mouths on his characters, yet his use of colour, posture and direction effectively expose so much emotion and vulnerability.
Peter is a thoughtful author who genuinely cares for the children he writes for. As a parent I'm incredibly thankful for authors like this. Parenting is difficult a lot of the time, especially when our children are experiencing tough times. It's comforting to know that there a books like Peter's that we can read to our children during these times.
THE LITTLE TREASURES BOOKS
So special are Peter's books that New Frontier Publishing has recently released four of them as Little Treasures. These Little Treasures are mini versions of the original picture books, making them perfect little gifts to send in the mail to inspire or uplift the ones you love. The books can be purchased from your local bookstore or directly through New Frontier Publishing.
You can purchase each book individually and, at $9.95 each, they are great for stocking fillers or as K.K (Secret Santa) presents this Christmas. Each book comes with its own envelope for postage.

They can also be purchased as a set of 4 for $29.95 which includes four envelopes. The set would also make a great resource for the classroom. You can purchase the Little Treasures Book Pack directly from New Frontier Publishing.

Find out more about each of the books below: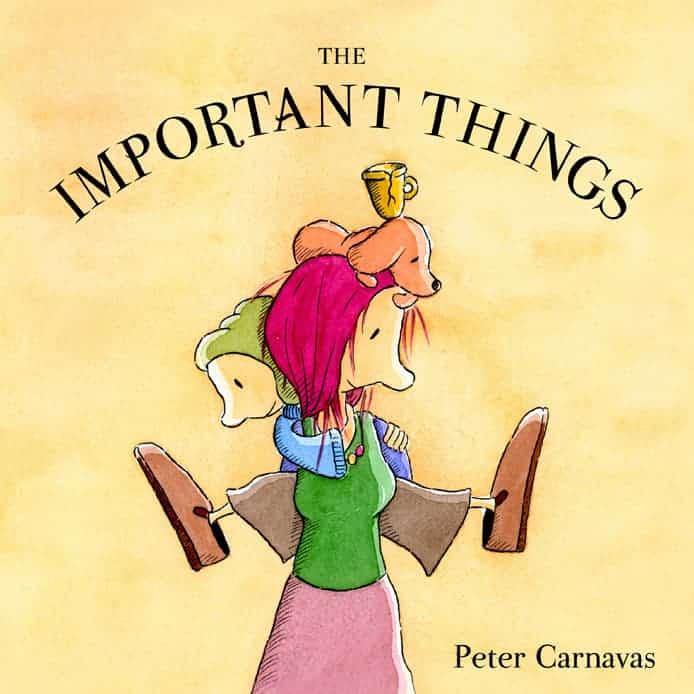 Buy this Little Treasure for $9.95
Also available as a picture book for $24.95
This story is about family, relationships and coping with changes.
Christopher's dad has faded from his life. We're not sure whether this is because of death or separation, but keeping this part of the story uncertain means that more children may be able to relate their own life to the story.
The story is presented in a gentle manner, showing how the mother and son are both coping differently with their loss.
Christopher's mother fills a box with all of the unimportant things her husband left behind, and takes it to a pre-loved shop.
One by one, Christopher secretly returns each item back to their home.
"I was trying to remember," said Christopher
"And I was trying to forget," She sighed.
Christopher's mother eventually realises that what is small to her is important to her son.
There is a very subtle message in this book, that children are just as affected by death and separation as spouses, and that each family member copes differently with the changes that may take place within a family.
This is a special book to send to a child who has recently lost someone special. It doesn't have to be a father; it might be a grandparent, friend or pet.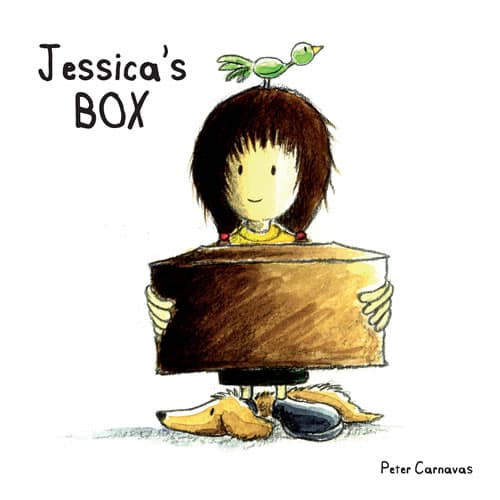 Buy this Little Treasure for $9.95
Also available as a picture book for $24.95
This is a story of friendship and being happy with yourself, and one that sends an empowering message to our children.
This story starts with Jessica lying awake at night worrying about her first day of school. She's mostly worried about making friends.
Each day she takes a box to school and fills it with items that she thinks may help her to make a friend:  A teddy bear, some home-made cupcakes and even her pet dog.
Instead of making friends, she encounters children who ignore her, laugh at her, and who are ungrateful. Her mum encourages her to keep trying. Her dad spends time with her.
It is when she puts herself into the box, instigating a game of hide and seek, that she makes a friend,
Grandpa leaned in close and said, "You must have had something very special in your box today"
Jessica smiled and said, "I did."
This is a great book to send to a child who is starting school next year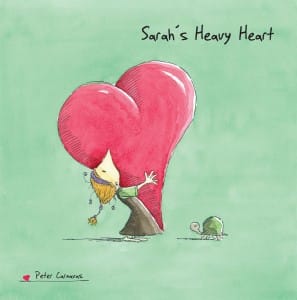 Buy this Little Treasure for $9.95
Also available as a picture book for $24.95
This is a story of friendship.
Sarah has a heavy heart. As the reader we're not sure what has or is making Sarah's heart heavy but we do know that it's not going away.
The heart doesn't necessarily represent something distinct like death, illness or divorce (although it most certainly could). For me, it represents the heart of sensitive children all over the world; the children who worry about others; the children who are easily hurt and upset; the children who over-think.
Life can be hard for these little sensitive souls, and the key to living more lightly is to find a friend who will carry that burden with you; someone who will listen, explain and console.
The boy watched as Sarah took his heart and tied it to her own.
Jessica eventually finds a friend, one with a light heart that keeps getting carried away.  I'm sure she will be just as needed a friend in return.
This book will reassure and empower even the most worrisome little soul.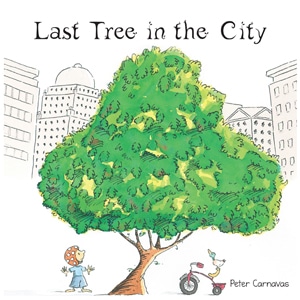 Buy this Little Treasure for $9.95
Also available as a picture book for $24.95
This is a story about caring for our environment.
Last Tree in the City is a simple but emotive story about a boy's love for the last tree left in his city.
"Then something wonderful happened"
Edward's passion and appreciation for trees becomes infectious and it brings the city back to life. It becomes the power needed to bring colour to a city full of concrete.
We've previously written a review of Last Tree in the City. You can read it here.
This book will inspire little green thumbs and environmentalists-in-training.
WIN


We have four sets of the Little Treasures Book Packs to giveaway, courtesy of New Frontier Publishing.
I've been given the opportunity to interview Peter Carnavas, and I thought that you might like to help me.
For your chance to win one of the Little Treasures Book Packs, simply write a question below that you'd like to ask Peter.
Leave your question before 31 October 2011 then I'll collate the interview questions  for Peter Carnavas.
Be sure to visit again in November when the interview and winners are published.
Terms and conditions:
1. Each reader may enter only once.
2. Entrants must live in Australia  to be eligible for this give-away.
3. All entries must be received by  8pm (EDT) Monday 31 October 2011 to be eligible
4. The winners will be selected using www.random.org
5. The winners are asked to send a reply email with their delivery address. The books will be sent directly from the publisher.