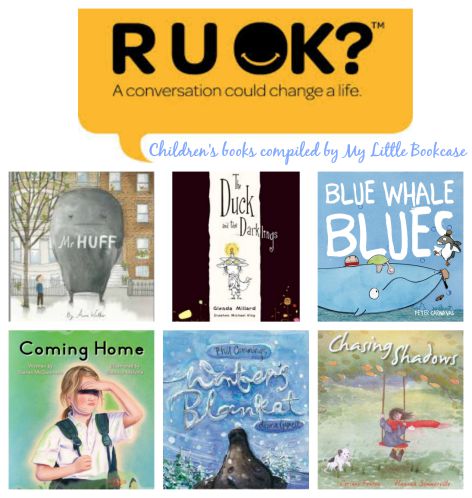 Today is R U Ok? Day, and Australians are being encouraged to check in with family and friends and start conversations about health and well-being, providing friendship and support to people who are struggling with life.
Mental illness and struggles with life aren't only experienced by adults. Children too struggle with anxiety and sadness. Sometimes I find picture books can start some incredible conversations with children, so today I've compiled a list of six Australian picture books that see characters struggle with grief, anxiety and daily blues… and maybe by reading one of these books, your child might open up to you about something they haven't shared with you before.
MR HUFF by Anna Walker (Penguin Books)
Mr Huff hangs like a dark shadow above a young Bill's shoulder, turning small worries into dark and difficult days. Instead of trying to run away from this foreboding shadow, Bill finally learns to acknowledges his Mr Huff, and his days no longer seem so daunting; instead, he can smile, hear laughter and see sunshine.
DUCK AND THE DARKLINGS by Glenda Millard and Stephen Michael King (Allen & Unwin)
When Peterboy and his community find themselves in a dark place, they go searching for something that will return the light. With the help of a wounded but wandering duck, they rediscover light, music, dancing, tenderness, love, community and hope.
BLUE WHALE BLUES by Peter Carnavas (New Frontier Publishing)
Consumed by anxiety and the blues, Whale is lucky to have friends who guide him through each little concern, offer solutions to his problems and ultimately help him see the funny side of life.
CHASING SHADOWS by Corinne Fenton and Hannah Sommerville (Ford Street Publishing)
Hannah Sommerville so tenderly captures the sadness and shadows in a little girl's life after her mother passes away; while the story talks of time passing until Beth is ready to welcome a new life into her home by the way of an excitable puppy.
WINTER'S BLANKET by Phil Cummings and Donna Gynell (Windy Hollow Books)
The gentle and comforting book for children uses winter as a metaphor for a time of concern, worry, anxiety or sadness; while spring represents the hope that this difficult time will pass.
COMING HOME by Sharon McGuinness and Shannon Melville (Wombat Books)
Coming Home gently describes the ebbs and flows of depression: the dark moments and the warm moments that a sufferer might experience. The garden is used as a symbol of these contrasting periods.
Do you or a loved one need help? Find help now.
R U OK? is a not-for-profit organisation dedicated to encouraging and empowering all people to ask "are you ok?" of anyone struggling with life. Our vision is a world where everyone is connected and is protected from suicide.
Find out more: ruok.org.au
Stay connected:
Be sure to join one of our communities for more literacy-based inspiration, or subscribe to our mailing list so you don't miss out on future posts.