Definition of MILESTONE
mile•stone
noun.
1. A significant stage or event in life.
2. A turning point
There are particular milestones that most children will experience as they grow and develop- milestones such as toilet training, moving to a big bed and starting school. It is not uncommon for children to develop anxiety as they approach these milestones because they must learn to adapt to new situations, and there can be a fear of the unknown.
Likewise there are other events in a child's life that can cause a significant amount of worry or stress. For my daughter it was removing her dummy. For other children it can be welcoming a sibling, visiting the dentist for the first time, or having their first sleepover away from their parents.
Which milestones have your children felt challenging?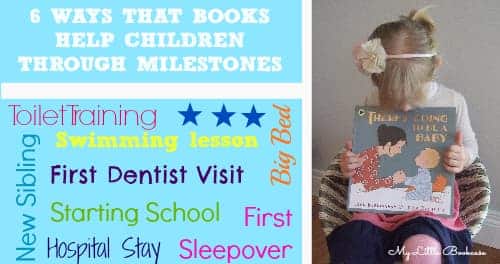 Parents are always looking for ways to support their child through these milestones to ensure the transition is successful. I'm sure, like me, you've spent hours browsing parenting books or surfing the web, in search of the right ideas and strategies for your child.
But, I really want to highlight the benefits of using books to help guide your children through milestones.
How books help children through milestones?
Authors use these milestones to help them write stories to support children.
Children can relate to the characters who display real emotions.
The stories can inform children. Readers can watch the event unfold for the character, and can embark on milestones with better knowledge and understanding; instead of fearing the unknown they can have a better idea of what lies ahead for them.
Characters model problem solving and coping strategies.
Story lines also provide a great vehicle for discussion between parent and child. Stories might prompt questions in children, and give parents a better idea of how their child is feeling.
A milestone only occurs once. Books allow children to have a practice run in their imagination. The stories give them some options to think about.
Finding books according to milestones:
I attempt to collate themed book lists for My Little Bookcase. But as a stay-at-home-mum of two young children, I don't collate as many book lists as I'd like, and they don't always relate to milestones.
I was excited to find Story Mama. Not just because it is an Australian online bookstore that specialises in books for children aged 0-5 years. Not just because Story Mama is a run by a mum, who aims to make the process of selecting a book for your baby, toddler or pre-schooler easy.
What really excites me is that this store has a unique shopping feature that makes it easy for parents to buy books according to milestone. Some of the categories include: Starting School, Getting a Sibling, Toilet Training, and Being Baby Sat. You can see the full range of milestone categories here.
This means parents can save time searching for the perfect book and trust that engaging books have been selected for them to choose from. There is a focus on quality books rather than quantity at Story Mama. An added bonus is that books are delivered at a flat fee of $6.50 Australia wide. (International Shipping is also available).
Story Mama launched in December 2012 and is continually adding to their milestone categories.  Story Mama values input from real parents and is offering one reader the chance to win a $50 voucher to spend at Story Mama's online store. Find out how you can win a $50 Story Mama voucher.
This post has been sponsored by Story Mama.