Isn't the idea of a perpetual book just the most beautiful idea?
It's a book that keeps on giving. It's a book that doesn't last forever on your own bookshelf, but instead is passed on for other families to enjoy.

My beautiful friend gave me a copy of There's a House Inside My Mummy when I told her I was pregnant with B2.
There was something extra special about this book though. When I opened the front cover, it became clear that others had read this particular book before me.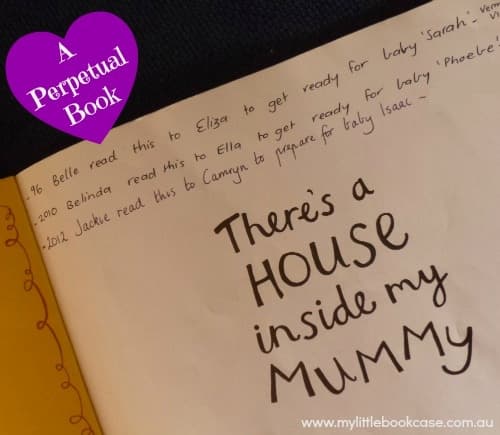 This book was given to her by another friend when she was expecting her second child and she kindly passed it on to Cam and I. We enjoyed reading this book together to help us prepare for the arrival of our new family member.
Now that Zac has been born, I'm keen to continue the beautiful tradition that has begun by I adding my inscription to the inside cover and passing the book onto to another friend who needs help preparing their child for the arrival of a new sibling.
Book Details:
Author: Giles Andreae
Illustrator: Vanessa Cabban
ISBN: 978-1841210681
Format: Paperback
Publisher: Hachette Children's Books, March 2002