Where do we go when we're feeling unwell or under the weather? To the doctor, of course.
Why should it be any different for an injured book? Have you and your children ever visited The Book Doctor?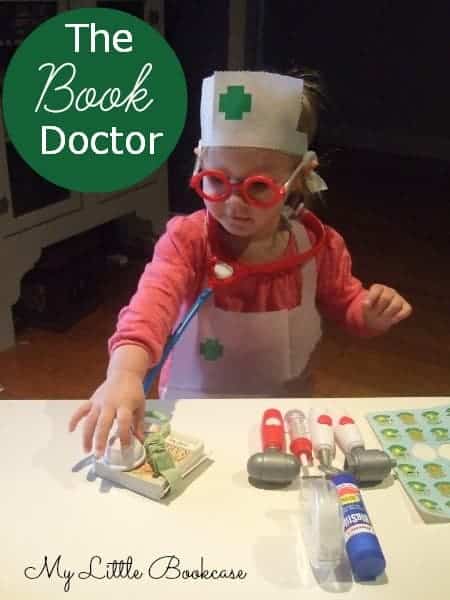 Many book injuries are accidentally acquired by enthusiastic children or little hands that are still developing their fine motor skills. When this happens, there are usually tears. From the child yes, but heard more loudly from the parent.
Playing The Book Doctor is fun and novel, but there is also a purpose. It's an indirect, enjoyable and guilt-free way to instill a respect for books. Children have the chance to explore the book and discuss their adoration for it. They also learn how to respond and react when accidents do happen. Just like a person or a pet, when something happens to a book we care for it, save it and continue to love it-scars and all.
Our Background Story:
For two years I have been collecting a pile of books that my daughter has damaged, waiting for her to be old enough to help me repair them. After singing 'Miss Polly Had a Dolly' at playgroup she has become obsessed with playing doctors. I pounced on the opportunity to play The Book Doctor. We had a lot of fun together and everyday she asks, 'Book Doctor, Mum?'  The only problem is that we've run out of books to fix.
You will need:
— Patients- a collection of damaged books
— To put on your gown and scrub up.
To prepare the surgery with inexpensive (or home-made) utensils. (My daughter insisted on the stickers because 'they make you feel better.'
Our Approach:
— 1. Examine the books in detail and talk about what part of the book is hurting or broken.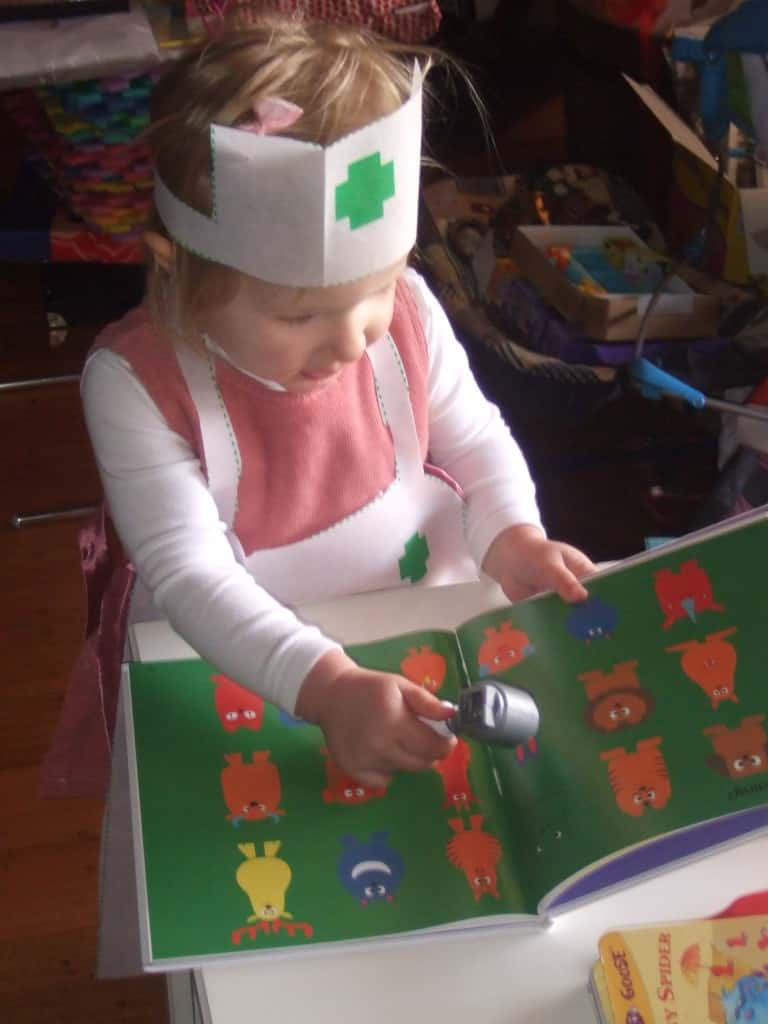 —2. Check for a heartbeat. Ask your child what they like or love about the book and why it is worth saving.
— 3. Together, nut out a way to save the book. What tools will you use- tape or glue? (or maybe a band-aid will suffice)
— 4. Operate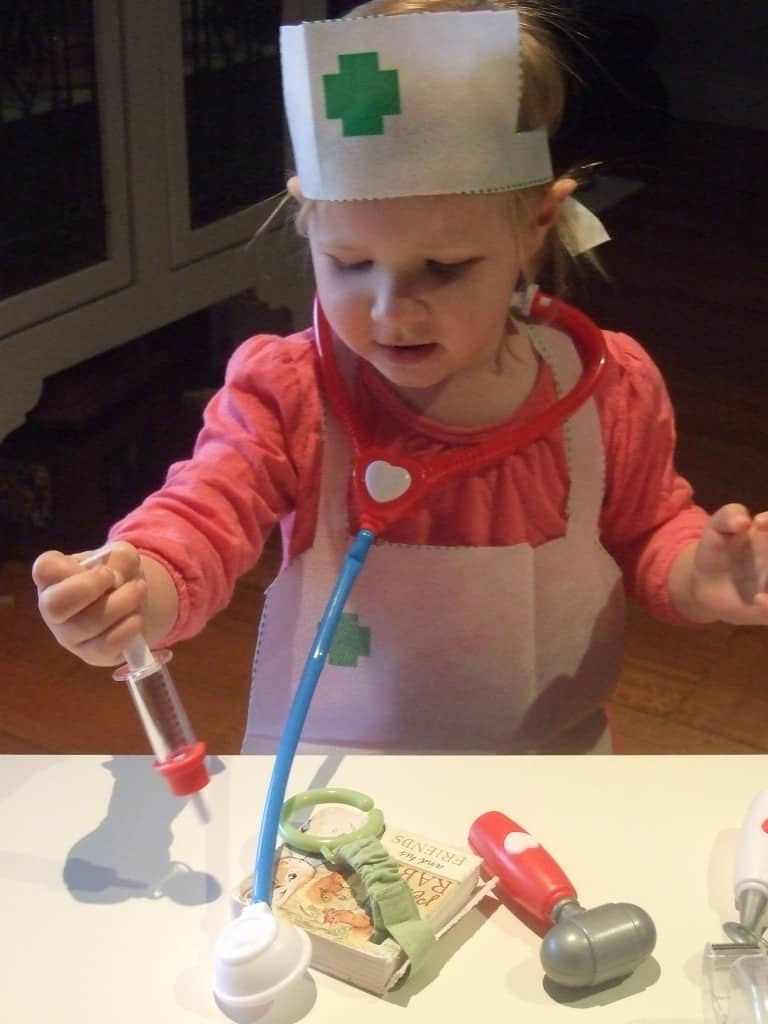 — 5. Success! This book will live another day.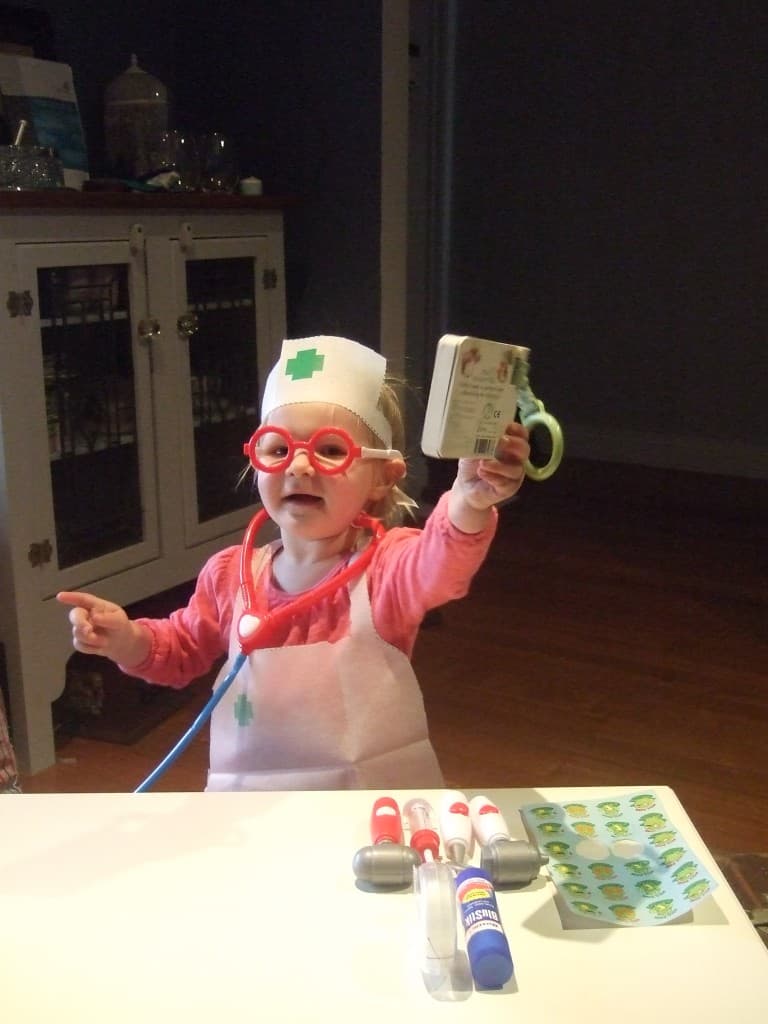 We enjoyed this activity so much we thought we'd share it in Childhood 101′s  We Play link up.