Having opportunities to write is so important for children, even when they are still in the pre-writing phase. These opportunities help children to mimic adult writing behaviours; consolidate their knowledge of language; understand the purpose of writing as a form of communication, and practise and build confidence in their own writing.
When Ike was born, I relinquished control and gave Cammy more independent access to our stationery and art supplies. This was how I'd often find her activity table.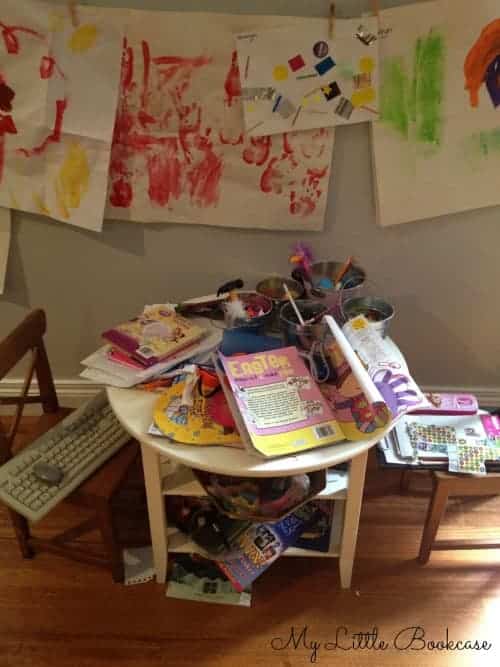 As a mother of a newborn, I didn't always have the energy or the time to tidy it up and sometimes it stayed like this for days. Needless to say, this space was not conducive to a developing a positive experience with writing.
So as a family we began a new project for the home. We set out to create a writing station for Cammy. We thought about what we wanted to achieve by creating a writing station.
Purposes of writing stations for children
I believe a writing station should be:
A place that children can access independently and spontaneously
A place that is inviting and inspires children to write
A place where children feel comfortable to experiment with writing
A place that is rich in print
A place that encourages meaningful and child-driven writing
A place where children can practise their skills and build their confidence in writing
A place where children have access to materials needed to write
Because we don't have a playroom, we chose to set up Cammy's writing station in our family's open living space (i.e. kitchen, dining and lounge areas). This meant we had a few particular criteria to think about so the station would complement and blend into the furnishings of the living space when not in use. So, you'll notice I've added some little touches just for myself.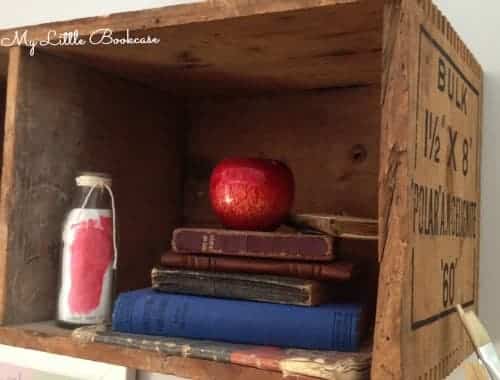 Criteria for setting up a writing station for children:
Easily accessible
Organised and easy to maintain
Abundant with appropriate writing materials
Inviting
Good lighting
What to include in a writing station for children: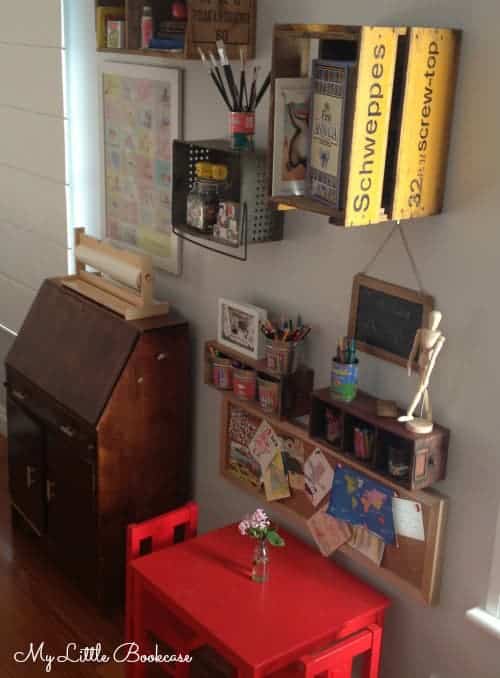 I'd love for you to come on a little tour of Cammy's writing station. I acknowledge that our styling may not be to everyone's cup of tea, especially if you're not fond of up-cycled vintage goods.
BUT, you will still get a good idea of what to include in a writing station, even if you choose to present it differently in your home.
Furniture
Table and chairs (comfortable and of child-height)
Adequate storage for supplies
I gifted my vintage bureau to Cammy. I always intended on renovating this with a lick of paint, but it seemed to look just right in its original state standing alongside the red table and chair set that we decided to use from Cammy's cubby house. At some point we might change the handles.
We created shelving by securing some pre-loved crates and drawers to the wall. We found our wares at Camberwell Market.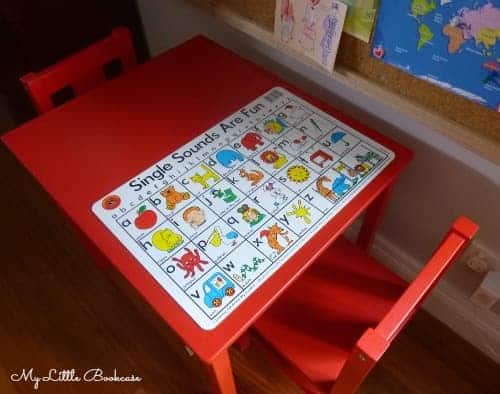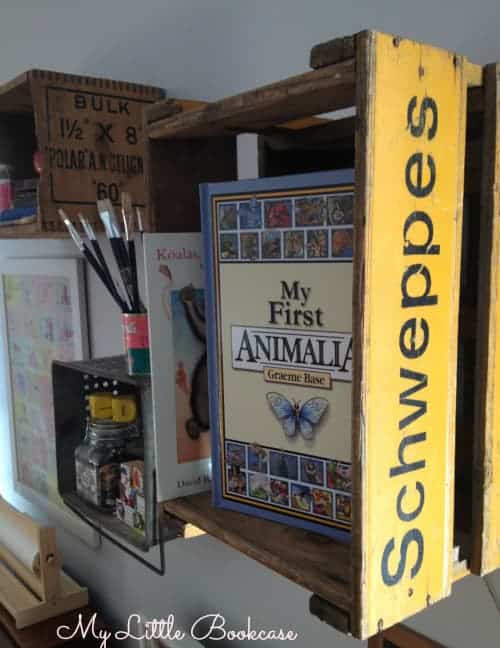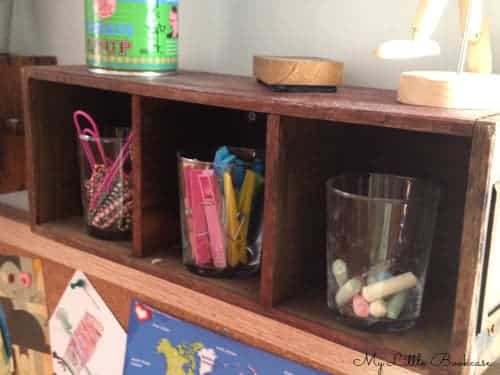 Writing Tools
Pencils
Textas
Crayons
Chalk
Pens
Providing children with a variety of writing materials can keep writing interesting for children.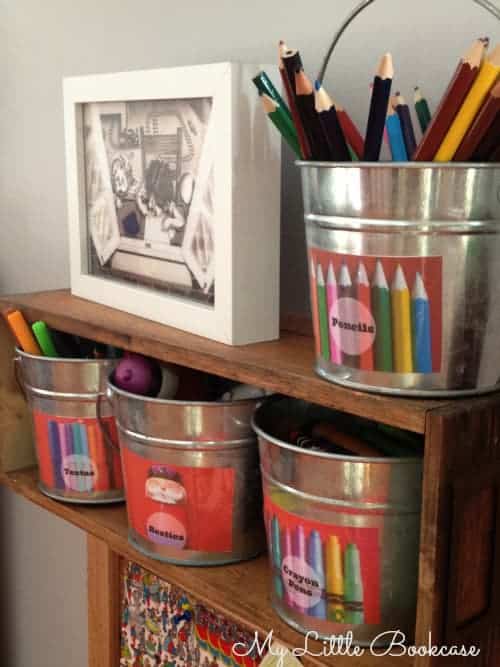 Stationery
Paperclips
Stapler
Sticky tape
Scissors
Cards
Envelopes
Postcards
Address book
Postage stamps
Stickers
Address labels or stamps
Alphabet Stamps
I find that offering a selection of cards and postage stamps makes the writing station a place for meaningful writing. We are also involved in a postcard swap. Find out more at Thirteen Red Shoes.

We had our personalised address labels created at Vistaprint. You can also get self-inking stamps from there.
Writing Surfaces/Materials:
Roll of paper
A range of papers (plain and dotted)
White board
Blackboard
I also have an old keyboard for pretend emailing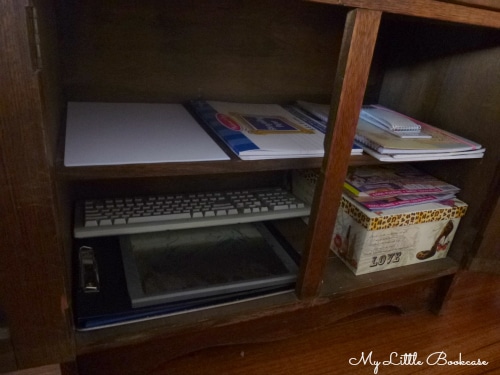 Journals
Note pads
Sticky Notes
Environmental Print:
Alphabet poster or table mat
'Days of the Week' Calendar
Dictionaries or word books
A pinboard for displaying cards, letters, posters etc.
Dictionaries are great references for older children, but word books are a great alternative for pre-readers or early readers. They are are great springboard into using dictionaries as they present words in alphabetical order.  The two books we have on display at our writing station are:


Koala's, Kites and Kangaroos and


My First Animalia
Ideally I would love to have a calendar on display to help Cammy with her letter writing and date keeping, but I haven't found one that I think suits our writing station yet. I also find that a lot of children's calendars are too busy and cluttered. In the meantime, I use a mini blackboard to write the date. It can come off the wall easily and we can also use it for modelling words that Cammy wants to write on her cards and letters.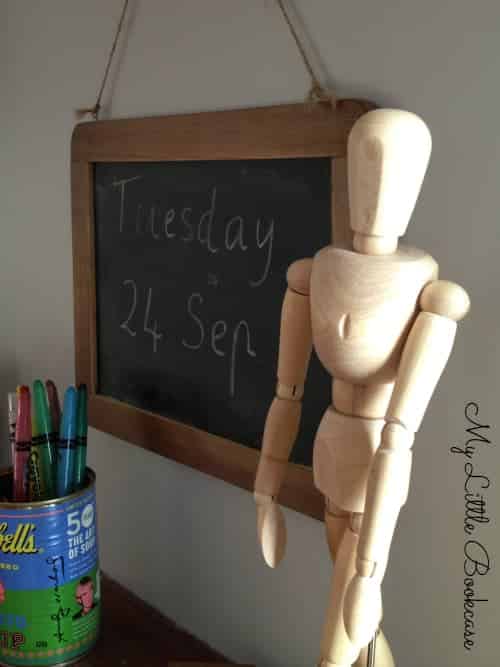 Language and Story Inspiration:
Pictures and/or posters
Story prompts
Word/language games
Occasionally I'll add a vase of flowers to the table
Posters and prompts can inspire a child's imagination and prompt their own stories.  Our print is an illustration that didn't make it to the final pages of A Monster Wrote Me a Letter by Nick Bland. It appeared in the calendar I created for 2013. You can still purchase a copy for the purpose of displaying the prints. I hope that by displaying this print, it inspires Cammy to write lots of letters.
The Kid Stuff Story Starters are no longer in print, but you could make your own. Each card literally features a starting sentence for a story or piece of writing (E.g. If I had a million dollars). Other cards in the pack feature a theme to write about.
I also have some word games that I pull down for Cammy to play occasionally. They encourage her to play with words, and hopefully help her to gain a deeper understanding of language.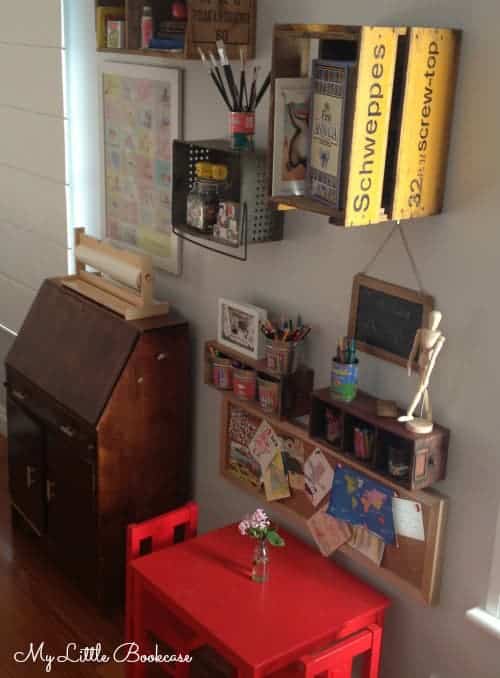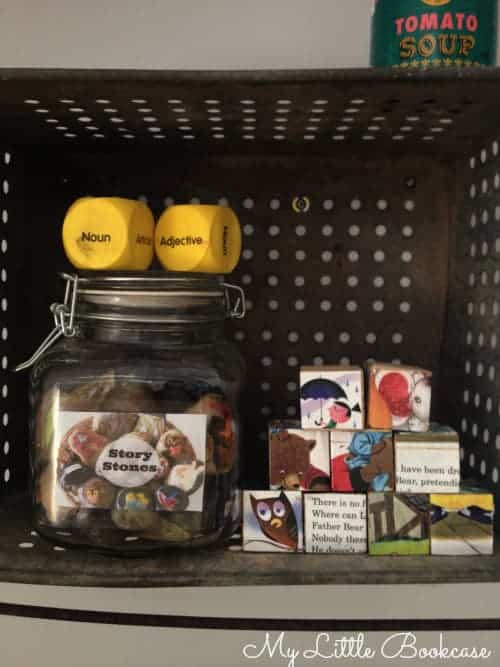 A Writing Station for Children: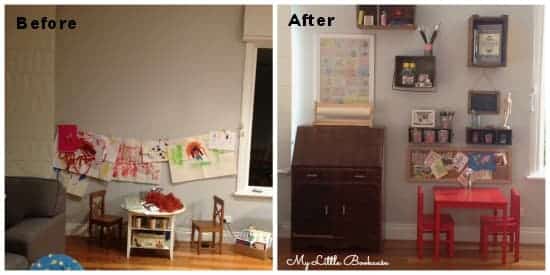 Creating this writing station has been such a fulfilling project for our family. It truly has become a place where Cammy spends a lot of time. It is so much more than a writing station though. Yes, it is a place where she writes but more importantly it is a place where she creates, and a place where she can undertake tasks and activities away from the curious little hands of her baby brother. IT IS AN EMPOWERING PLACE FOR CAMMY.