About February's Illustration:
Sue deGennaro created this illustration for The Vegetable Ark.  Sue and Allen & Unwin kindly granted us permission to use the illustration in An Illustrated Year: 2013 Calendar. The scene of two boys in the classroom seemed like a perfect illustration to feature in February when children around Australia return to school to begin a new year.
What was the inspiration for "Noah and Neil were very different?'
The inspiration came from my love of school supplies and school uniforms. I have a great collection of kid's instructional handwriting books. I loved ruling lines at school; in fact I still love ruling lines.
How did you create this image?
I used collage and gouache to create this image.
In most of the illustrations in this book, I started with a solid block of colour and worked around it. In this case the blackboard.
Next came the two characters. I happily dressed them up in grey school uniforms, inspired by what the boys at my suburban primary school wore in the mid-'70s.
The collage snails were the product of a whole day at the library photocopying garden pests. These I cut out and the snails make cameo appearances throughout the book. The alphabet come from a handwriting book I found in china town for 80 cents!
About the illustrator:
After years of trying many platforms: film, performance art, flying trapeze and dance, illustration has been the thing that's stuck for Sue. She has illustrated 9 picture books in 5 years. The Pros and Cons of Being a Frog, her first book as writer/ illustrator was published in 2012. Sue has illustrated short-listed books, received a few notables and she has collected a tiny stack of rejection letters.
What do you enjoy most about illustrating picture books?
I love seeing what unfolds. Every time I sit down to solve a visual problem I never have any idea of where I will end up.
After a particularly successful day of drawing, I often duck in and out of my studio delighting in what I have come up with.
The flip side is however, after a particularly unsuccessful day of drawing I start thinking of getting a job in retail.
Can you tell us a little bit about your upcoming book?
I'm working on a new book with Jackie French about Wombats.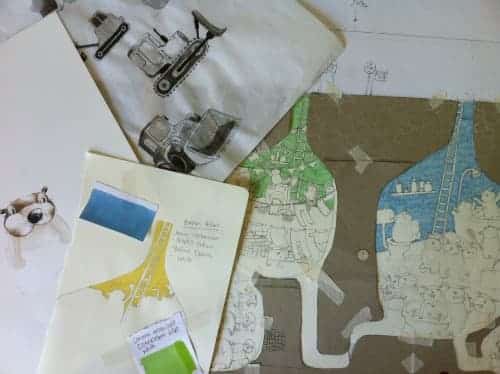 Can you give us a peek into your creative work space?
Sue's books include:
The Princess and the Frozen Packet of Peas, Tony Wilson (Scholastic)
Whitlam the Greatest Dog of All, Ian Horrocks (Omnibus)
The Tomorrow Book, Jackie French (HarperCollins)
One Funky Monkey, Stacey McCleary (Walker Books)
The Vegetable Ark, Kim Kane (Allen and Unwin  Australia)
Just One More, Mark Macleod  (ABC Children's Books)
Button Boy Rebecca Young,   (Scholastic Australia)
The Pros and Cons of being a Frog, Sue deGennaro (Scholastic Australia)
The Emperor's new Clothes Horse, Tony Wilson   (Scholastic Australia)
Max and George, Cori Brooke (Penguin Australia)
Some of Sue deGennaro's prints are available for purchase through Books Illustrated
GOING FURTHER:
Find and explore some of Sue deGennaro's other books.
Find some other books that feature collage and/or gouache in the illustrations. Create a classroom display of these books.
Compare and contrast a range of collage and gouache illustrations.
Create your own image using collage and gouache. (Try using lined or grid paper)
Love this illustration?

Illustrations can be framed at the end of each month

FOR PC:
FOR MAC: