Today marks another year of My Little Bookcase, our third year in fact. It has been an interesting year for My Little Bookcase.  With a gorgeous new addition, family life has become a lot busier…….and a lot sweeter.
A busy family life means that my posts have become rather irregular. I've dropped the ball many times during the year, having promised posts, book reviews and book lists that I'm still yet to write and publish. Finding the time to sit at the computer has become a struggle. Although, I'm sure most of you can relate.
But, let me assure you that my passion for My Little Bookcase, for books, for reading, for inspiring children, and for developing children's literacy and life skills has not dwindled. In fact, it has only intensified as I watch and listen to Baby Ike's language develop and as I find Cammy taking a more focussed interest in letters, writing and reading.
Highlights from our 3rd Year
(Clockwise L-R: Our most popular most; my favourite post, most viewed book review, our family's favourite book of 2013)
In other years I've been able to report on exciting projects, or create wonderful parties and fantastic giveaways. Alas, this year the celebration is a little more understated. I really just want to say thank you with a small gift. Thank you for investing in your child. Thank you for being part of our community. Thank you for sharing your own love of books with us and with your children. Thank you for visiting My Little Bookcase for inspiration. Thank you to the readers who have been visiting since 2010. Thank you to the new readers who have helped My Little Bookcase grow remarkably during this past year, and thank you for your generous prayers and thoughts when Baby Ike was in hospital.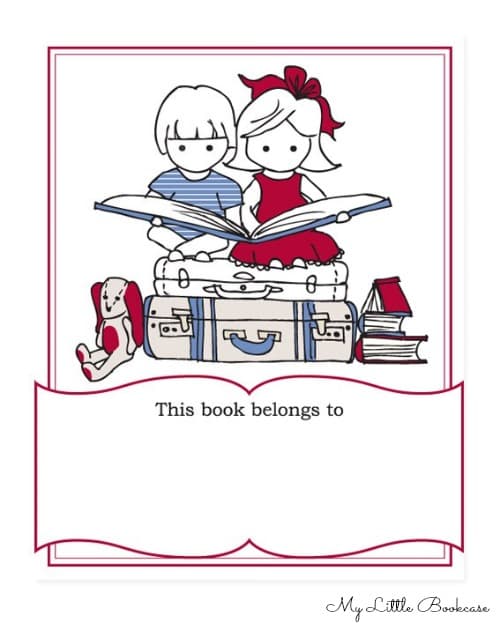 It really is just a tiny gesture but I thought you might love some bookplates (especially because Christmas is just around the corner). In the past I've made adhesive bookplates available for purchase, but to celebrate our 3rd Birthday, I've now got them available for you to download and print for FREE.
There are four bookplates to a page, so you will need to trim them after printing. Ideally, you want to print them on sticker paper but if you don't have access to sticker paper, you will need to paste the bookplates into the front cover of your child's books.
How to use My Little Bookcase's exclusive bookplates.

Bookplates are perfect for recording memories, milestones and celebrations. Recording messages and milestones in your child's books will help to deepen your child's connection to books. They will have a special reason to share the books with their own children and grandchildren in years to come.
— Write and date a message on the bookplates to mark special occasions (e.g. birthdays, Easter, Christmas, graduations, losing a first tooth).
— Write a message on a bookplate each time you purchase a book for your child. The message might explain the reason you purchased the book (e.g. I bought this book because you love watching the buses drive past our house)
— Write a message on the bookplate that explains the significance of a particular book to your child (e.g. This was your favourite book when you were 18months old; The pages of this book were the first that you learned to turn on your own; When you were 2 years old you asked us to read this story to you every night; When you were 3 years old you would find a hiding spot and read this story to yourself)