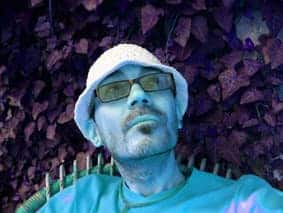 Davide Cali was born is Switzerland and grew up in Italy. He is one of Europe's most acclaimed children's book writers having had 40 books published in 25 countries. Needless to say, it is with much excitement that Davide agreed to join our wonderful line-up of confessors.
It is perfect timing as Davide approaches our Australian shores and is set to release his latest book here, 10 Little Insects (which you can read about here). Some other books we love of Davide's include A Dad Who Measures Up and Santa's Suit.
1 – The first time I was asked to make a children's book project I answered, "Who, me? No, thanks. It's not my cup of tea."
At the time I just wanted to be a cartoonist and I figured myself as a cool, rotten rock star of the comics universe, just for adults.
2 – I like cooking. My favourite cuisine to cook is  Japanese.
I can do nigiri and maki sushi, chirachi, and noodle soup. Chirachi is my favourite meal when I'm around the world for work.
I also like spicy food. My favourite spice is ginger.
3 – I used to play the guitar in a rock band. I've got three electric guitars and… yes, each of them has got a name!
I've been playing with three bands, but I disbanded every time before we recorded something. I have a few songs but it's not easy to keep a band together! Musicians can be really silly sometimes!
I hope to record some stuff all by myself, next summer.
The name of the "girls"? You won't get them!
4 – For a few years now, I spend most of my time around the world. I often write and work in the airports or in the hotel rooms.
Just before coming to Australia I spent a month in Denmark to follow an animation project. After my Australian tour I'll be back to France for a couple of book fairs but I already have a full calendar booked for the season 2012/13.
Next year I would like to go to the U.S.A. too.
5 – If I was not an author or a cartoonist I guess I'd be with a band playing the guitar.
The third possibility was to be a wrestler. You know, I grew up watching on TV the matches of Tiger Mask, a Japanese "hero" of pro wrestling. Later I became a fan of an American one: Hulk Hogan. I dreamed of a career in wrestling but now I guess it's too late to begin one. So, in case my next books will be a complete failure… I'll keep the "rock" option open.
6 – My secret dreams: are not so secret. Just movie and music!
I wish to write a song for Billy Corgan, my fav musician (the band is Smashing Pumpkins, from Chicago); act in a Woody Allen film; to see a movie based on one of my books.
One of these dreams is becoming true… Guess which one?
In anticipation of Davide's Australian tour, some of Australia's best book blogs have welcomed him with a blog tour. Make sure you take a blog hop and find out a little more about Davide. You might even win yourself a signed book or book pack in the process.
There are also many opportunities for you to meet him in person, and maybe have him sign a book.