The Very Hungry Caterpillar has become an iconic book and there wouldn't be too many children who haven't read and enjoyed it. It is lovely and interactive on it's own, but there are so many beautiful products available that help bring this story to life and promote creative ways to tell the caterpillar's story. These are just a few of our favourite things:

Loopy Loo's
Snap & Scoop Bib made from The Very Hungry Caterpillar Fabric!
Price $13.00 + delivery
This Snap & Scoop bib is made using a colourful and fun Hungry Caterpillar print with fleece backing to prevent spills seeping through the bib. Two designs are available.
The large design gives the unsnapped bib a length of 30cm and a width of 30cm at the base – plenty of coverage for the messiest of toddlers! Two rows of snaps on the bib allow it to snap up to form a pouch which then collects spills.
Visit Loopy Loo's Made It Store
The Very Hungry Caterpillar Tag Blanket.
Price $17.50 + delivery
This tag blanket measures roughly 30cm x 30cm and is made with quality cotton, featuring the Very Hungry Caterpillar print and reverses to a coordinating soft, plush orange dot minky.
Twenty coordinating ribbons of different widths, textures, and colours are sewn around the sides, which allows baby to enjoy a unique sensory experience! This tag blanket is the perfect size to tuck into a nappy bag and the attached chew ring makes it easy to hook onto the pram, highchair, sling or car seat to ensure your baby's favourite toy is never far from reach!
Visit Loopy Loo's Made It Store

Dumpy Design
The Very Hungry Caterpillar Pencil Roll with Jumbo Sized pencils included.
Price $ 23 + delivery
This is a fabulous product for a little caterpillar fan. It cleverly stores pencils and crayons, and rolls up to store in a bag or glove box which makes it perfect for travelling.
Visit Dumpy Design's Made It Store or contact Dana on 0448 586 160

Fuzzy Creations
Hungry Caterpillar Felt Finger Puppet Set
Price $22.50 + delivery
Finger puppets easily bring a story to life. This set consists of 1x Hungry Caterpillar puppet, 1x Butterfly Puppet, 1x Sun Puppet, 1x Moon Puppet, 1x Strawberry Puppet, 1x Cake Puppet, and 1x Apple Puppet
The Leaf Hand Puppet is sold separately ($4.99) All Finger puppets stick to hand puppet for storytelling.
Visit Fuzzy Creation's website or Facebook page

Be Loverley
Hungry Caterpillar Wall Embroidery
Price 40 + delivery
This piece, perfect for your child's room,  is lovingly hand stitched and hand stamped on calico and customisable by choosing the colour of the eyes and letter "A".
All pieces are original designs.
The piece is designed to fit the IKEA Ribba 30cm x 40cm frame and doesn't come framed.
Visit Be Loverely's Made It store

Three Four Knock On The Door
The Very Hungry Caterpillar Apple Playset
Price $42.20

This play set comes with an apple container and fruit play pieces. Colour, sound and texture play a large part in the early development of every baby's skills. Eric Carle's developmental toys make playtime fun, while developing baby's motor, speech and cognitive skills.
Features:
Open and close apple for in-and-out play
Window panel for peek-a-boo play
Hole in apple for The Very Hungry Caterpillar to peek out
Multiple play pieces with sound
Multiple textures and graphic prints for visual stimulation
Printed fabrics based on original Eric Carle artwork
Soft, baby-safe construction
Visit Three Four Knock on The Door's website

Book Bugs
The Precious Bundle Book Bouquet
Price $81.84 + delivery
Adding a Very Hungry Caterpillar plush toy to this Book Bouquet brings the books to life for your precious little bundle. All packaged in a Book Bugs calico library bag and quality gift box. A wide range of book bouquets for all ages and occasions are also available through Book Bugs, starting at $54.35. Book Bouquets are the perfect gift for children.
Visit Book Bug's website

Fair Go Trading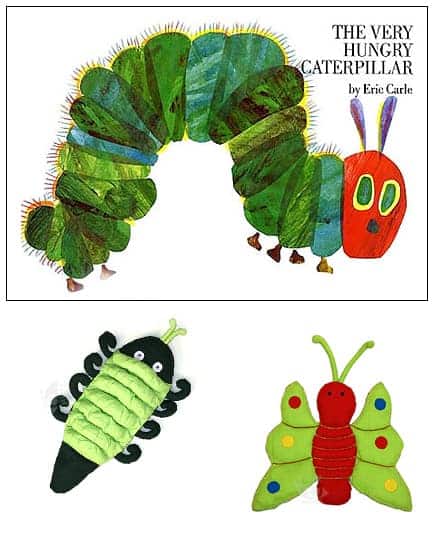 The Very Hungry Caterpillar with Fair Trade Hand Puppets
Price: $39.95 + delivery
Eric Carle's modern classic, The Very Hungry Caterpillar is available at Fair Go Trading as a set of three — the book, the caterpillar and the beautiful butterfly.
The story teaches counting to 5, the names of the days of the week, and about different types of food. The caterpillar's diet is a fictional fantasy but the story does introduce the splendour of the metamorphosis from egg to caterpillar to butterfly. It is widely regarded as one of the best children's books ever written.
The two fair trade hand puppets are hand made by artisans in Bangladesh.
Caterpillar Hand Puppet Length: Size: 36cm
Butterfly Hand Puppet: Size 26cm