Janette Baker is the talented woman behind My Sweet Prints. She very kindly designed three prints specifically for My Little Bookcase readers. They will be available exclusively to My Little Bookcase readers for a short time before becoming a regular print in the My Sweet Prints store.
It was lovely to be able to find out more about Janette and why she believes in reading enough to support us. I hope you enjoy reading about her as much as I did. She's talented, thoughtful and successful. You can also read more about her work, family, home and inspirations on her blog.
Tell us a bit about yourself
My name is Janette, I live in Sydney with my wonderful husband, gorgeous 2yr old son and fluffy white cat Minky. I am a graphic designer and the owner of My Sweet Prints (www.MySweetPrints.com.au) which I started nearly 2 years ago when I decided I didn't want to return to my job in magazines. I love art, crafts, collecting, relaxing and socialising.
What books did you enjoy reading as a child?
I loved adventure books like Famous Five and Secret Seven and of course I went through the obligatory tween book series obsession which for me was The Babysitters Club series.
The book that I remember reading when I was really young was my Mum's old copy of A Child's Garden of Verses by Robert Louis Stevenson. The pictures were so beautiful and took me to another world of pixies, flowers and old fashioned children having adventures. And the poems are also beautiful and so memorable.
What books do you enjoy reading with your son?
I really enjoy reading The Gruffalo to my son, he's only just developed the concentration to sit through a 'proper' storybook. I love putting on the different voices as I read it. But basically any book he enjoys, I enjoy reading to him which is anything that involves wheels… trucks, diggers, fire trucks, tractors, trains, you get the picture :)
If you could illustrate a children's picture book who would you like the author of the book to be?
I love the way that Mem Fox writes, simply and beautifully so I think I'd have to choose her :)
Are there any picture book illustrators that you admire and why?
I think Eric Carle just automatically jumps to mind. The stunning colours and texture are timeless, as are his books!
Why did you start My Sweet Prints?
I started My Sweet Prints about six months after giving birth to my son. After producing a few prints to give as gifts for friends, people who saw them would tell me I should sell them. So when I came across etsy.com and madeit.com.au and saw how easy it was to set up a shop online I took the plunge and it's all just grown from there. I now have over 25 stockists and my own website and shop on www.MySweetPrints.com.au. It keeps me very busy.
What was the first print you designed and how did you come to design it?
The 'Made with Love' print was the first one I made for my shop and I still sell it. I still like the simplicity and 'sweetness' of the print.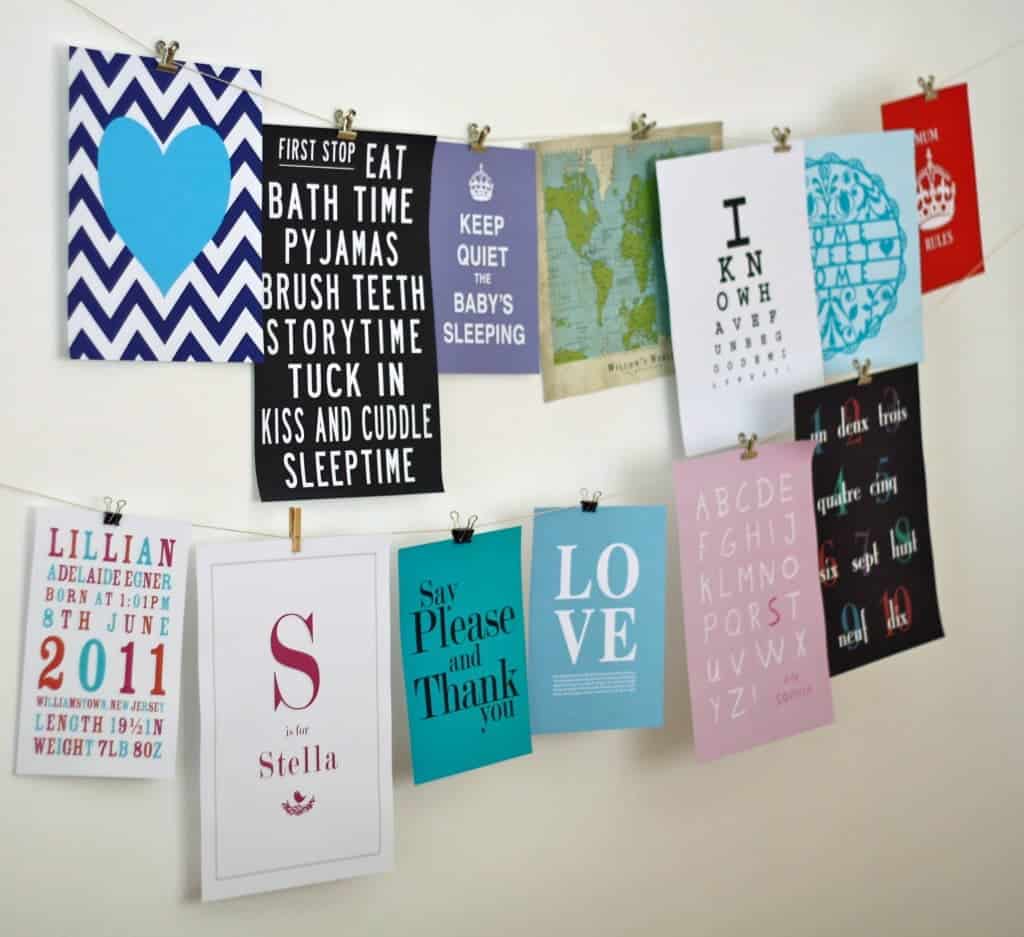 What inspires your designs?
I love to create personlised prints, and prints that are educational and/or uplifting. But I'm always on the look out for things that I could use as inspiration for a new print. As a typical graphic designer, I love typography.
Where have we seen your prints featured?
I've been lucky enough to have had my work featured in The Sydney Magazine, Sydney Morning Herald, New Idea, Woman's Day, Real Living, Shop for Kids, Shop till you Drop and many others as well as being part of an interview with other work from home  mumpreneurs on A Current Affair.

What have been some memorable or special responses from your customers/clients about you prints?
I've had lots of customers say that their friends have cried when they've received a print for their newborn. I think it's because often they will receive one of my prints before they have even received the Birth Certificate, so seeing their little one's name in print is very special.
But, I think my favourite is from one Mum who said that when they have a babysitter come over, her son takes the babysitter to the place where my 'Bedtime Bus Roll Poster' (bedtime routine) hangs and says to the babysitter "Just follow that". It melts my heart!
Don't you just love the print Janette has designed for book-loving families (image below)?  She has offered  5 prints to My Little Bookcase readers.
Find out how you you could be in the running to win your own personalised print.