This was the first time My Little Bookcase and Three Four Knock on the Door joined forces to organise and co-host a children's book event. I'm really hoping there will be more opportunities for us to work together in the future because we put on a pretty good show-even if I do say so myself.
Of course, the dynamic Tania McCartney deserves equal credit too. Without her, we'd have no reason for a little party. Tania was visiting Melbourne and given that her latest book is set in this fine city of ours, we couldn't let an opportunity go by without having Tania read to some of our local kids.
Thank you to the  My Little Bookcase readers who came along.

We set up a craft area for the kids:
The children prepared their storytelling props- red paper aeroplanes and wombat ears:
I couldn't resist a bout of singing with the gorgeous little kiddies. We sang about Australian animals and taking a ride in a red aeroplane:
The kids were ready and waiting for their story:
Tania, a fantastic story-teller, shared the fourth book in her series with an audience of brilliant pre-schoolers:
We re-fuelled with some cordial and gingerbread cookies (made by LJ):
I was really impressed with the effort LJ went to in locating Melbourne on the cookies: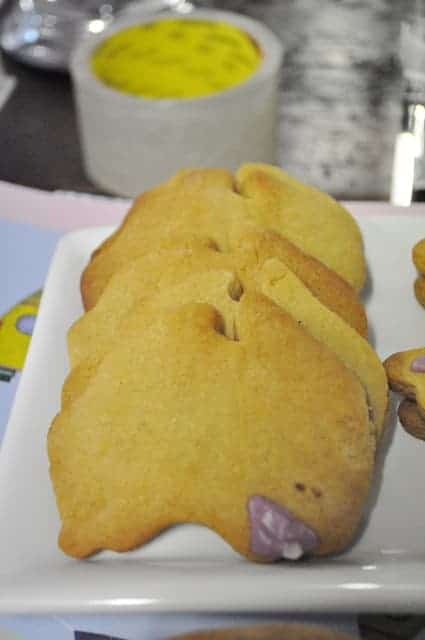 We all got to browse the other books in the Riley series:
Tania signed some books for the children (what a treat):
The kids went home with a balloon:
…and a very special goodie bag:
………filled with a Grumpy Wombat activity book, a Riley series paper doll, bookmark, pencil, stickers, lollies, badges, and a sweet little Wombat cookie.
So what do you think? Will you come along to our next event?
Thanks also to Tania McCartney for some of the photos featured in this post.