It would certainly be worth your time and effort to find out a bit more about Book Bonus if your child attends a N.S.W. school and is taking part in the Premier's Reading Challenge.
My Little Bookcase is happy to support this initiative by Dymocks Children's Charities as the goals of the Book Bonus Project are closely aligned with the philosophies of My Little Bookcase. It is also supported by the N.S.W. Premier, the Honourable Barry O'Farrell, who is the Patron of Book Bonus.
In a nutshell:
Book Bonus is a new, exciting and easy online fundraiser where students from NSW government schools who are participating in the NSW Premier's Reading Challenge can help provide their school with the funds to purchase brand new books. Getting involved with Book Bonus also ensures that literacy is being supported in NSW priority schools.
Students sign up and raise money by asking their friends and family to sponsor them for the books they are reading on the Premier's Reading Challenge List.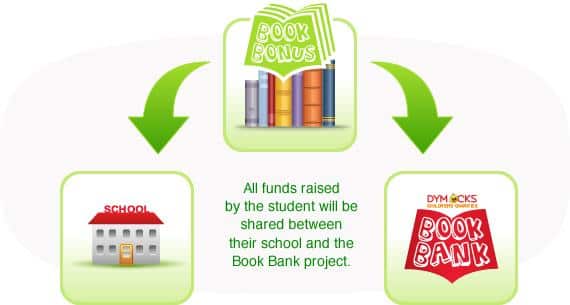 Participating schools receive half of the money raised in the form of Dymocks Book Bonus Gift Cards. Each Book Bonus Gift Card comes with an additional 10% so the school can buy even more great books! The other 50% is used to expand the Book Bank Literacy Support Program in NSW priority schools.
A little more about Book Bank:
Book Bank is a cost effective literacy support program that encourages reading for pleasure, contributes to improved reading outcomes and complements the NSW Premier's Reading Challenge. Book Bank empowers students to develop a love of reading and to swap and share their thoughts about the books they have read. This program is currently running in seven NSW priority schools.
Book Bank focusses on:
-        Regular reading at school and home
-        Student choice of reading material
-        Student ownership
-        Student engagement and perceptions about reading
Book Bank provides students in priority schools from Years 3-6 with a book of their choice every term. The books are selected from the NSW Premier's Reading Challenge list. Students are encouraged to share their thoughts about the book with classmates.
The preliminary results of the program are overwhelmingly positive – participating students agree that Book Bank has increased their interest in reading while teachers feel they have benefitted from having current children's titles in their classrooms.