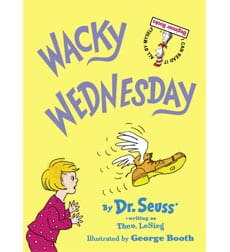 Wacky Wednesday is my favourite book.
I have clear memories of it being one of those books I couldn't get enough of when I was six. As a six year old, it was an enjoyable read with lots of repetitive words and rhyme (obviously characteristic of Dr. Seuss Books). Wacky Wednesday was a visual feast with more and more wacky things to find on each page. It made me giggle.
I remember getting ready for school every Wednesday hoping that it would be a wacky day for me. Sadly, it wasn't to be. Instead my friends and I started opposite Wednesday as homage to the book.
Now I enjoy reading it to my daughter, a toddler, and we have fun finding silly things on each page.
What is your favourite Dr. Seuss Book and why?