Wow, it's been one year since I published this first official post for My Little Bookcase (N.B. If you do click through to read this nostalgic post  please remember the tee-pee give away is closed).
Sadly, for personal reasons, I've had to postpone official celebrations and the circulation of some extraordinary birthday presents to some lucky readers.
But for now, the very special Mandi Johnston (editor of That Book You Like)  kindly offered to write this very beautiful birthday post to mark our BIG milestone. I know she worked on it late one evening after a day of work and after preparing her boys for bed. I'm eternally grateful. (Thank you also to the many other readers who responded so quickly when I first sent out a call for help).
Thanks also to the thousands of readers who have popped by the site over the past year to find reading inspiration for you and your children (and to share your own family tales and inspiration)

Happy birthday My Little Bookcase, and thanks…
Some of my earliest memories are of reading. I've always loved being read to and felt that a whole world opened up to me once I'd learned to read on my own. Similarly, some of the loveliest times that I've shared with my own kids have involved reading beautiful pictures books and helping them choose new titles to explore.
Although we in my household love books, it has to be said that it is sometimes a little tricky to know just what to choose to read…there are so many titles, so much choice, it's hard to know where to start.
And that's where My Little Bookcase comes in. Over the past year, Jackie at My Little Bookcase has been making the job of picking great quality kids' books so much easier.
For twelve months now, My Little Bookcase has been introducing us to new and talented authors.
For twelve months, Jackie has been sharing her wonderful ideas for story-based activities, making books come to life in a very special way and making learning loads of fun.
For twelve months now, MLB has been making wonderful readings and events happen around Melbourne, giving parents and kids alike the chance to meet their favourite writers and characters.
And so, many thanks to My Little Bookcase. Thanks for introducing us to Nick Bland, to Riley and the Grumpy Wombat and joys of wordless books such as Stephen Michael King's Leaf. Thank-you for the re-introduction to an old favourite in Eric Carle and to providing endless inspiration when it comes to enjoying books and learning.
Thanks to your wonderful site, I'm never at a loss for new titles when I'm at the library, and my youngest son is eternally grateful for the new and exciting variety of books he's discovered over the last year.
As your motto says: "A love of reading starts with one special story" and yours' is a special story indeed. You've turned your passion for reading into a joy for others, helping us make our kid's childhoods very, very special.
We look forward to seeing My Little Bookcase thrive and grow, and can't wait to see what you've next got in store for us.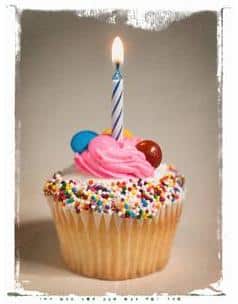 Happy birthday My Little Bookcase, and thank you.
*****
Written by: Mandi Johnston, a big fan of MLB and editor of That Book You Like…