Win a tee-pee in the colour of your choice from An Angel at My Table.
That's right! Not only can you be in the running to win a tee-pee for your family, but if you win you get to choose the colour from the gorgeous range.Visit An Angel at my Table to view the five colours available.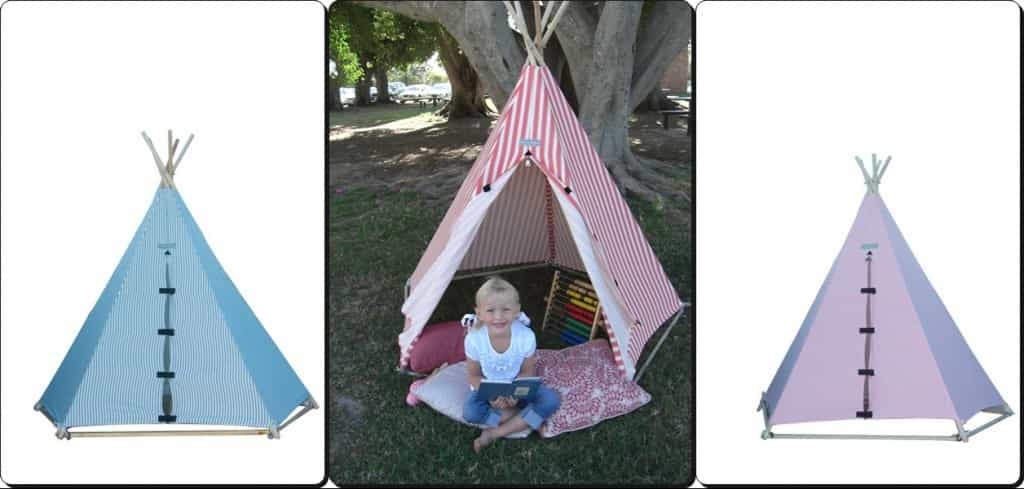 I am tickled pink to be able to offer this prize as a give-away to a My Little Bookcase friend. The tee-pee is sure to provide ours of fun and entertainment for any child. It also makes a perfect little reading spot where books can be devoured and enjoyed for hours on end.
An Angel at my Table teepees  measure 142 cm in diameter and 158cm height. They are made of heavy duty 100% cotton drill fabric which surrounds the solid, natural timber frame and come in a range of five different coloured stripes – red/navy blue/hot pink/grey/taupe. The door has velcro fasteners for easy entry as well as a funky bell at the top of the door opening. Each teepee comes with its own matching bag for compact storage and easy-to-follow instructions. Terms and conditions relating to returns, replacements and product care apply.
Thank you to Yvette and Rebecca from An Angel at My Table for kindly offering us a wonderful tee-pee to give-away.
To win:
This is a random draw give-away. The give-away is only open to residents of Australia.

Read our Welcome post and leave  a message of support and encouragement. Each reader that leaves a comment is entitled to one entry into the draw.
For Bonus entries:
1.      Leave a comment on our facebook page and let us know what colour tee-pee you would choose if you won the competition. This entitles you to one extra entry into the prize draw.
2.      Subscribe to our 'Tall Tales' mailing list to receive fortnightly summaries of new posts. Each subscriber is entitled to an extra entry. You will find the subscribe form on the left-hand side of the footer. (Send us an email to let us know if you are already on the mailing list)
TERMS AND CONDITIONS:
1. Each reader may comment once on the Welcome post. Readers can receive extra entries into the draw by tagging us in a facebook status post or by joining our mailing list.
2. Entrants must live in Australia. The prize will only be awarded to an entrant living in Australia.
3. All entries must be received by 5pm (E.S.T) on Friday 10 December 2010. The random draw will take place with the information we have at this time.
4. The winner will be determined according to a random draw
5. The winner will be announced via email on Saturday 11 December 2010
6. The winner will also be announced on www.mylittlebookcase.com.au, www.facebook.com/mylittlebookcase and on Twitter
7. The winner must make contact with My Little Bookcase by 5pm (EST) on Monday 13 December 2010 with tee-pee colour choice and delivery address otherwise the prize will be re-drawn.
8. If you choose to take advantage of extra entries you voluntarily become a facebook fan or subscriber of My Little Bookcase. You can opt out of these networks at any time.