Reading books can be a wonderful way to prepare your child for a particular event or occasion. Decorating the Christmas Tree can be a highly anticipated and exciting activity for families. Below we share some ideal books and suggested activities to share with your children as you prepare to decorate your own tree.
Our background story:
I just love the Christmas season, but I'm a stickler for waiting until the December 1 to start any Christmas cooking and decorating. When the first weekend in December finally arrives,  it's all about the tree. It was a tradition in my family to make a big deal about the tree, and I want it to be a tradition with the family I have created.
We still have to wait a few more days until the weekend, so while we wait anxiously for our beautiful, fragrant tree we will be preparing with some special stories and craft activities.
The Book (Other suitable books are listed at the end of the post)

Slinky Malinki's Christmas Crackers [Board book]
Lynley Dodd
EAN:978-0143504627
Format: Board Books
Publisher: Penguin Group (NZ)
Published in: New Zealand
Published: October 2010
Although there are many beautiful books about Christmas trees, this is the perfect book to read with my daughter (Cam) this year as we prepare to decorate our Christmas tree. Cam is 17 months so her busy little hands and inquisitive little mind are bound to make their way over to the tree, just like Slinky Malinki-the mischievous little cat. Cam just loves looking for Slinky Malinki on each page. I'm sure  your child will too!
This is a simple, funny and cheeky story that is suitable for all ages. The illustrations are large, bright and full of Christmas colours. This board book version means this durable book is great for little hands.
With a long list of decorations, this book is a wonderful prelude to trimming your Christmas tree, and lends itself perfectly to making your own Christmas Tree decorations:
Trinket and Tinsel
with baubles and bows…….
Reindeer and ribbons,
a silvery bell,
glittering stars
and a Santa as well….
The Activity: Stamped Clay Decorations

Make the cutest Christmas tree decorations. These stamped clay decorations are very affordable and super easy. Thanks to Home Beautiful Magazine for the inspiration- and it's so kid friendly. I just love it when I stumble upon an activity that is suitable for toddlers too. Children can help to make these decorations on a range of levels. School- aged children will be able to make the decorations independently; so could pre-schoolers with a parent by their side. Even toddlers can help with the rolling pin and cookie cutters. Enjoy :)
You will need: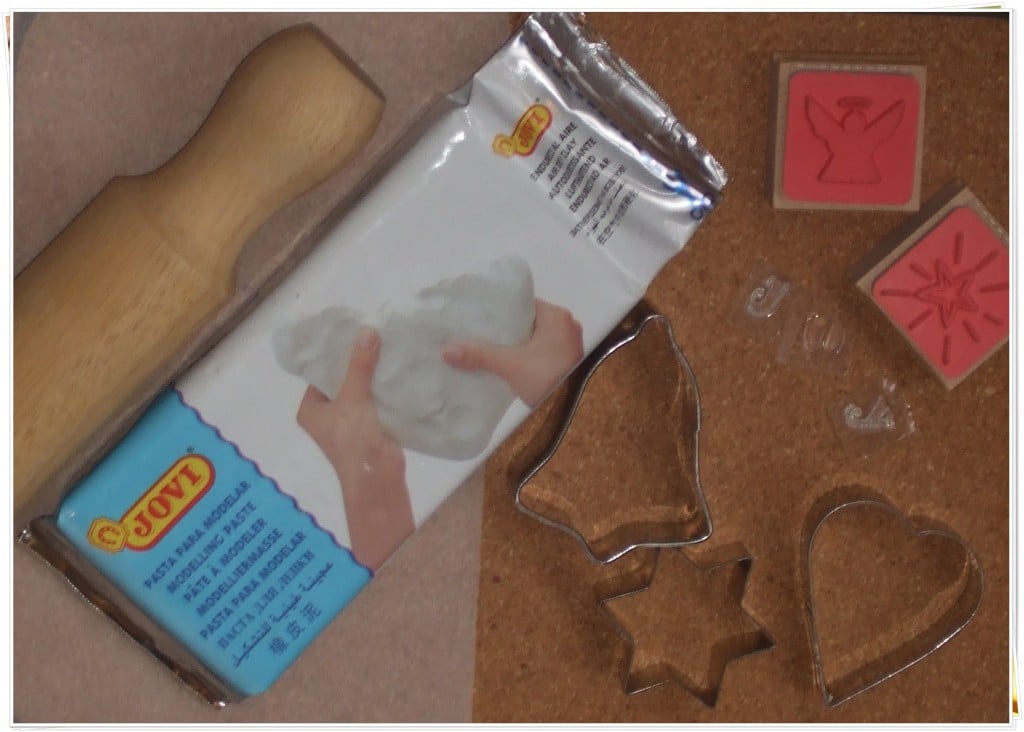 Baking Paper
White Air Dry Clay
Rolling pin
Christmas themed cookie cutters
Alphabet letter stamps or Christmas stamps
Skewer
Ribbon
Our approach
1. Once you have your supplies ready, roll out the clay onto some baking paper
2. Use the cookie cutters to cut out your desired Christmas shapes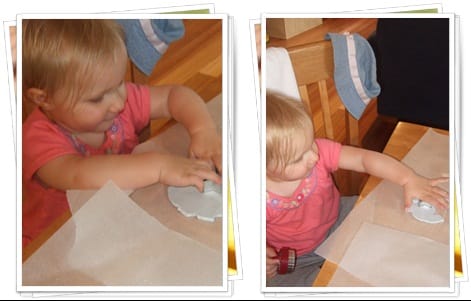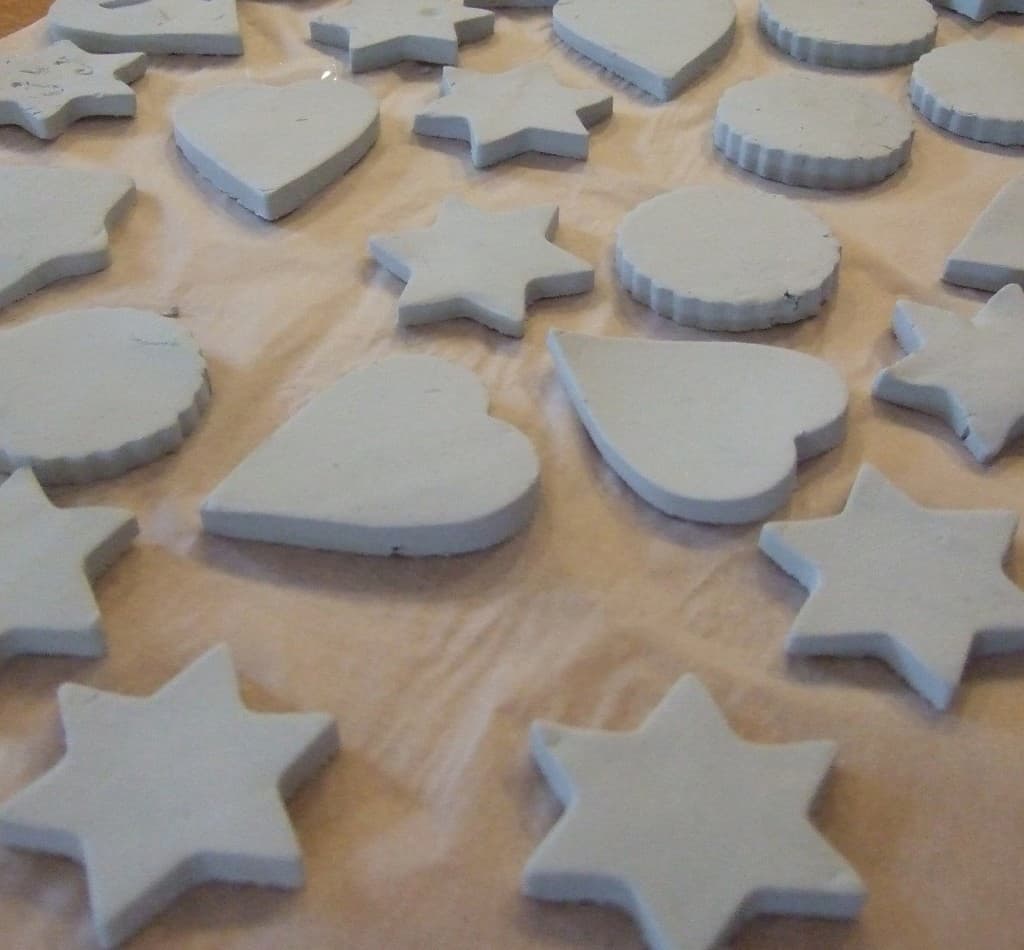 3. Gently press the Christmas stamps onto the clay (or you can use the letter stamps to create a word)
4. Use the skewer to create a hole in the top of the decoration
5. Leave the decorations to dry for at least 24 hours
6. Cut your ribbon pieces to your desired length. Then thread the ribbon through the hole and tie to complete your decoration.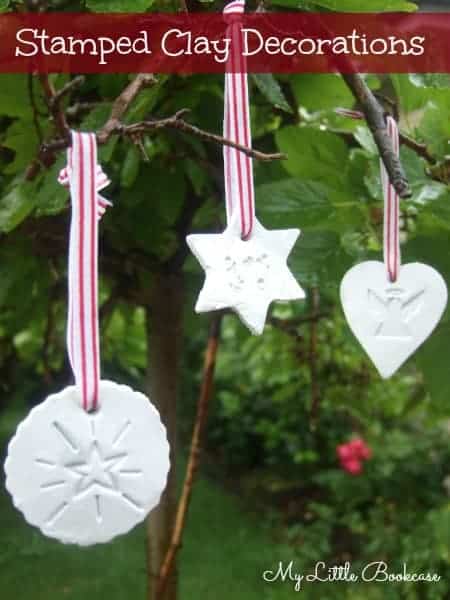 Extra: If you want more colour instead of the raw/rustic look, you can paint your decorations with acrylic paint and finish with a ceramic varnish.
Other Decoration Ideas:
Candy Cane Reindeer
You will need:
Candy cane
Pipecleaners
Googly eyes
Mini Pom Pom

Glue.
1) Cut pipe-cleaner to desired length and twist around the top of the candy cane. 2) Glue two eyes and a pom pom to the front of the candy cane. 3) Allow to dry.
Sequined Bauble
You will need:
Polystyrene Ball
Sequins
Dress Pins
Ribbon
1) Mark out your design on the ball (Any design looks beautiful. The one shown has been created using a name/word. 2) Attach sequins to ball using the dress pins. 3) Add a ribbon to the top of the ball.

Other suitable books about Christmas Trees

Paper Angels by Emma Calder
Little Tree by E.E. Cummings
The Little Christmas Tree, Loek Koopmans
Christmas Tree Farm by Ann Purmell
Mr. Willowby's Christmas Tree by Robert Barry
The Beautiful Christmas Tree by Charlotte Zolotow