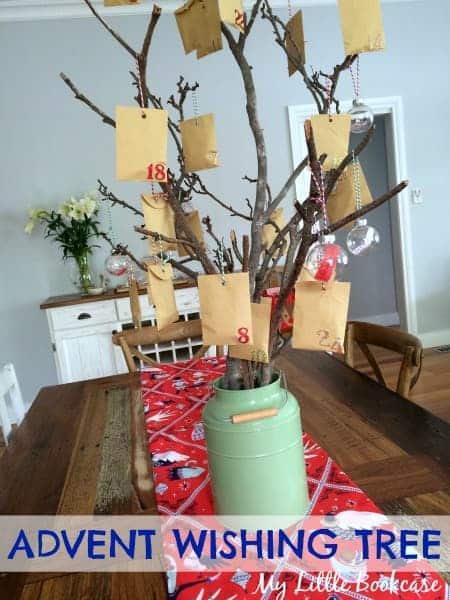 Ever since I was a child, my favourite part of Christmas has always been counting down the days with the help of an Advent calendar. I seem to have passed that excitement onto our children. In our home, Christmas starts with the Advent calendar. Only once we've opened the first day of the calendar can we begin decorating the house and Christmas tree.
When Cammy was a baby, I started wrapping Christmas books to read each day of the season and stacked them to look like a Christmas tree, but these days, now that Cammy is much more involved in creating our Advent calendars, they tend to be inspired by particular Christmas books.

This year our Advent calendar has been inspired by a new book by Jane Godwin and Anna Walker titled, What do you Wish for? Our Advent calendar will have multiple uses; as well as helping us to count down the days to Christmas, it will also feature as our Christmas table centrepiece and become our own family wishing tree.
ABOUT WHAT DO YOU WISH FOR?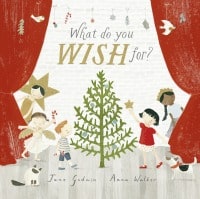 Submerged in my favourite Christmas colours of red, green and gold, this book instantly made me feel nostalgic for everything I remembered about Christmas as a child; a response that proves why Jane Godwin and Anna Walker are my favourite book collaborators. They work harmoniously to bring magic and whimsy to a story about the simple pleasures and experiences of everyday Australian families.
What do you Wish For? is inspired by a real wishing tree that can be found beside the Merri Creek walking track in Clifton Hill,Melbourne and features Ruby who recounts her Christmas experiences when she's encouraged by her friends and family to add a Christmas wish to the community wishing tree. The story so beautifully captures the spirit of Christmas through the eyes of a child: the anticipation, the experiences, the smells, the traditions and the MAGIC OF WISHING even the wildest wishes!
But the story is bigger than the viewpoint of little Ruby. We see the residents of Ruby's neighbourhood plan and prepare for their annual Christmas event, which includes a party, a Christmas show and a community wishing tree. The book celebrates the importance of community, togetherness and appreciating the experiences-both concrete and intangible- at Christmas time.
More details about What do you Wish For? at the end of the post.
HOW TO MAKE YOUR OWN ADVENT WISHING TREE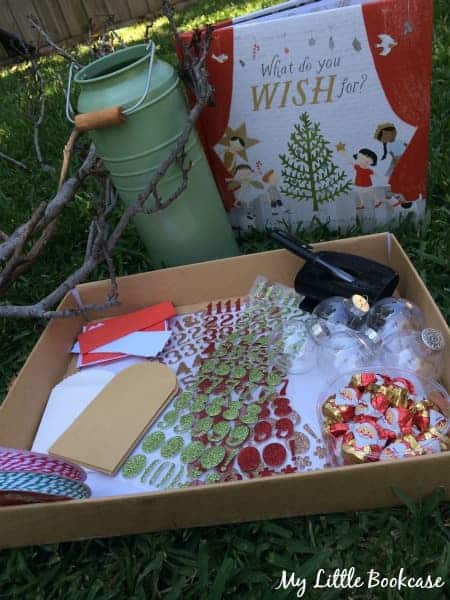 You will need:
Tree branches (or an actual Christmas tree if your prefer)
A sturdy vase or bucket
24 small craft envelopes
Numeral stickers or stamps (optional)
24 slips of paper (plus one extra for each member of your family/community)
Ribbon
Advent treats (e.g. small chocolates, stationery, jewellery etc.)
Clear fillable baubles (one for each family/community member)
Hole punch
Pen
Part 1: Advent Calendar Activity Envelopes
Begin preparing your Advent calendar by numbering your envelopes 1- 24 (We used stickers but stamping or writing the numbers would work just as well).
In each envelope place an Advent activity card and a treat.
Close each envelope, punch a hole at the top and thread with decorative ribbon.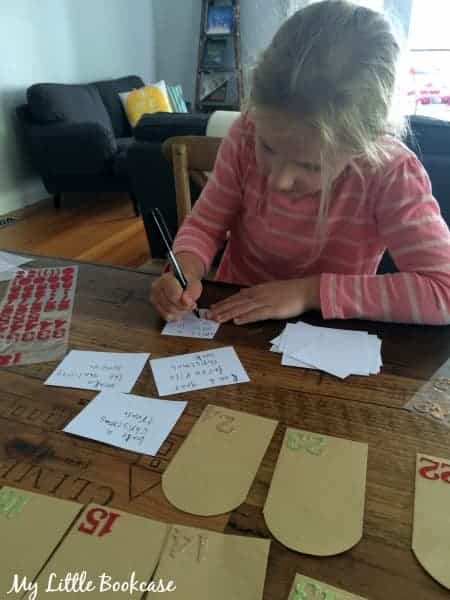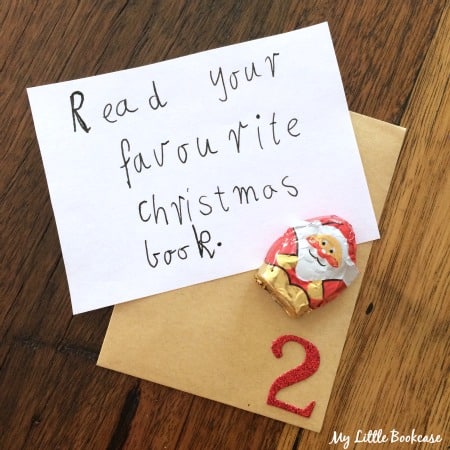 Part 2: Constructing your Wishing Tree
Prepare your branches by placing them in a sturdy vase. Secure the branches and weight the vase by filling the base with sand, stones, dirt etc.
Hang your envelopes on your branches, and open a corresponding envelope each day of Christmas.
(The envelopes look beautiful hanging on the bare branches, but you could also make a wishing tree by using a mini artificial tree as a table centrepiece, or by placing your envelopes on your actual Christmas tree or a tree in your backyard).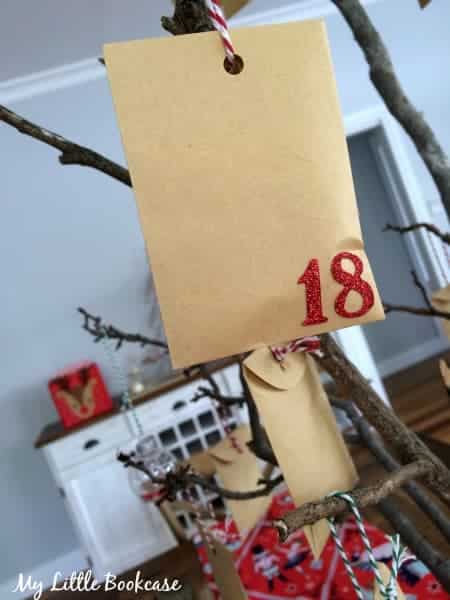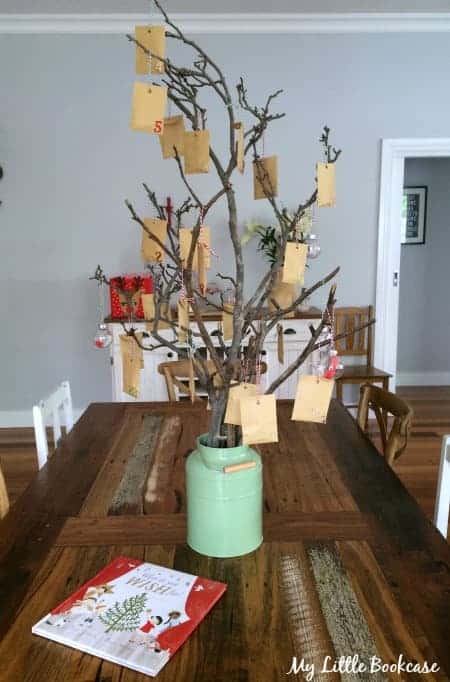 Part 3: Adding your wishes to the tree
For the final touch to the wishing tree, invite each family member to write and hang a Christmas wish on the tree. You could write these on craft tags, but we chose to make wish baubles.
Ask each family member to write a wish on a slip of paper and place it inside the bauble. Once the wish is secured inside the bauble, tie to some ribbon and hang from the tree.
(As well as hanging our own wishes to the tree, we plan on asking our extended family to add their wishes to the tree on Christmas Eve/Day.)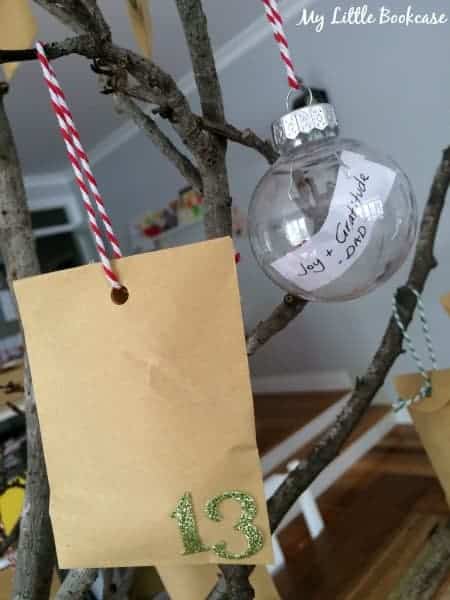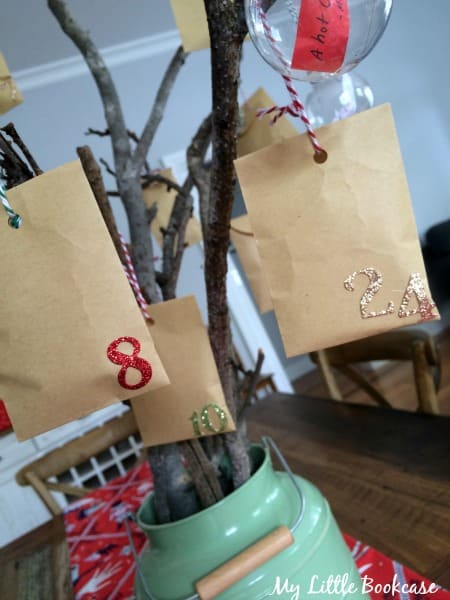 WHAT DO YOU WISH FOR BOOK DETAILS
Author: Jane Godwin
Illustrator: Anna Walker
ISBN: 9780670078110
Format: Hardback
Publisher: Penguin, Oct 2015
RRP: $24.99
PURCHASE AT THE KIDS' BOOKSHOP
Like this post? Stay connected:
Be sure to join one of our communities for more literacy-based inspiration, or subscribe to our mailing list so you don't miss out on future posts.