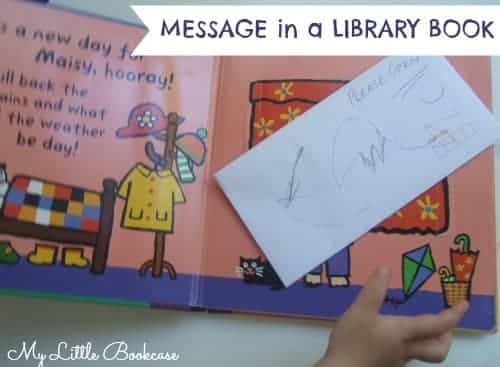 Tomorrow is Library Lover's Day.
To encourage you to visit your local library tomorrow, I am re-issuing a challenge from our 2012 Little Book Adventure. The challenge to 'spread your love of books' received such wonderful feedback the first time around, I thought it would be a great way to show our library books some love again. You can see the original challenge here.
I often wonder too, whether the little notes and pictures we left in our library books were ever found!
LEAVE A MESSAGE IN A LIBRARY BOOK.
How to play:
Choose your favourite book from your current library book stash
Download and print a copy of our letter head (or use your own stationery)
Use the letterhead to write a letter (with or without parent help) to the next borrower of the book. Examples include:
-Describing what you enjoyed about the book
-Describing your favourite part of the book or your favourite illustration
-Describing how you are similar to the book character
-Recommending another book that is similar to this one
-Drawing your favourite part of the book
-Drawng a picture to show how the book made you feel
You don't need to disclose your full personal details, but it would be nice to make the letter personal by writing your first name (or nickname) and age at the bottom of the letter
Slip the letter inside the pages of the book
Finally, make that special little trip to the library to return the book.