Cam 'writes' every day and she thoroughly enjoys it.  Sometimes Cam's writing is self-directed and other times I provide her with a variety of writing prompts or invitations. But mostly she just likes to spend time in the dedicated space we have set up for her to write.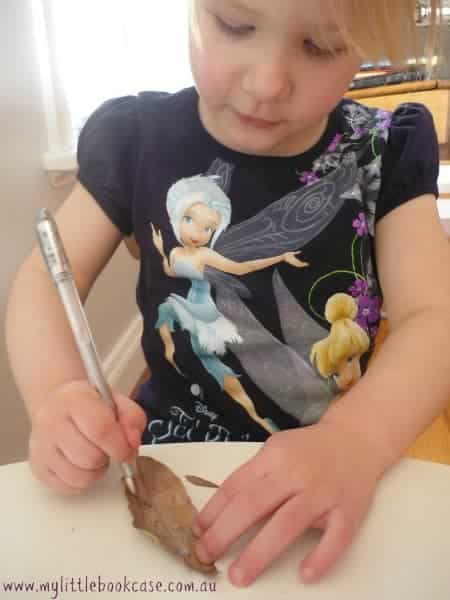 I often write about or share photos on Instagram that show this love for her writing. But, after I publish these posts or photos I often get emails or messages from parents expressing concern that their child doesn't show the same level of  interest in writing.  There can be some serious issues behind a reluctance to write so it is hard for me to provide specific suggestions for children I don't know, but I thought I could provide parents with a starting point by sharing the writing practises that I've encouraged in our home.
1. Set up an inviting place for your child to write (Read our post on how to create a writing station for children).
2. Provide children with opportunities to write meaningfully and purposefully, rather than asking them to complete regimental writing tasks (e.g tracing letters over and over again), which can stifle creativity and lead to a lack of enjoyment (Find over 20 meaningful writing tasks here).
3. Relax the expectations you have of your child and focus more on the process of writing than the product.
4. Keep writing fresh and interesting by providing your child with a variety of daily, open-ended writing prompts or invitations. This can be as simple as offering different writing tools and surfaces. A list of over 365 ideas is outlined below.
365+ Fun ways to write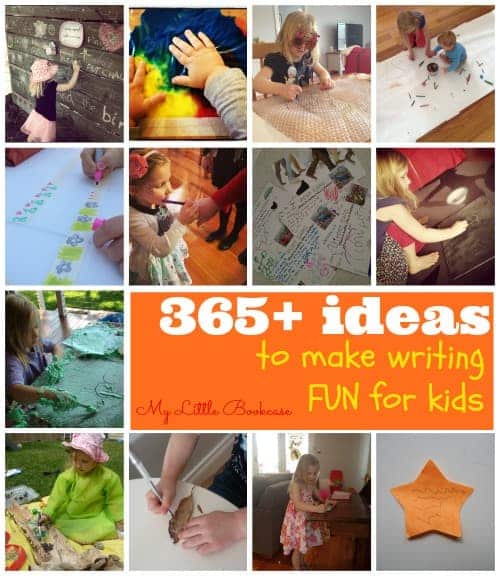 The writing prompts/invitations in these lists are open-ended.  Although they are not structured, the learning benefits are significant:
Handle and control a pencil or writing tool.
Develop fine motor skills and muscle development
Record thoughts and ideas (even if adults can't decipher the thoughts)
See writing as a creative outlet
Understand that writing has a purpose
Practise letter formation naturally
How to use the lists:
There are two lists. Combine any writing tool from List A with any writing surface from List B and you can create over 365 different writing prompts or invitations. That's a different writing prompt for every day of the year. Who could get bored with that? For example:

Write with cotton buds and paint on paper
Write with a highlighter on bubble wrap
Write with metallic pen on a leaf
Write with a wet tea bag on the fence
USE THESE IDEAS TO GET YOUR KIDS WRITING DAILY. WHAT WACKY COMBINATIONS CAN YOU COME UP WITH? IF YOU'RE ON INSTAGRAM, WE'D LOVE TO SEE YOUR IDEAS. TAG YOUR PHOTOS  USING #writingmadefun
LIST A: Writing Tools
Write With:
1. Fingers
2. Pencils
3. Pens
4. Metallic Pens
5. Glitter Pens
6. Calligraphy Pens and Ink
7. Textas or Sharpies (coloured permanent markers)
8. Crayons
9. Charcoal
10. Pastels
12. Paint
15. Paint brushes (used with paint or water)
16. Shaving cream
17. Mud
18. Wax candles / crayons and watercolours
19. Whiteboard markers
20. Water
21. Water and chalk
22. Cotton buds
23. Feathers
24. Highlighters
25. Melted Chocolate
26. Spices
27. Invisible Ink (lemon juice)
29. Lipstick
30. Wet tea-bag
LIST B: WRITING SURFACES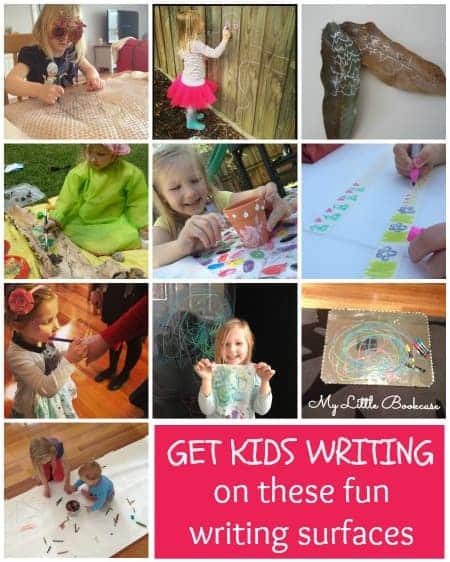 Write on:
1. Paper
2. Paper Bags
3. Masking Tape
6. Seed pods
8. Timber
10. Leaves
11. Windows
12. Shower screen and bathtub
13. Mirrors
14. Whiteboard
15. Blackboard
16. Easel
17. Perspex
18. Postcards and cards (The Picklebums have a printable postcard template)
19. Fence
20. In Sand
21. In Salt
22. In Snow
23. Tracing Paper/ Overhead transparency paper
25. Foil
26. Stones
27. Journal/notepad
29. Bark
30. Shoes
31. T-shirts (with markers or paint)
32. Pillow cases
33. Post-it notes
34. Paint in a bag
36. Bubble wrap
37. Tiles
39. In shaving cream
40. Paddle pop sticks
41. Terracotta pots
42. Fabric (Library Bags)
43. Wrapping Paper
45. Cakes
46. Brick walls
47. Clay
49. Cardboard box
ADAPTING THESE IDEAS FOR CHILDREN OF VARIOUS AGES:
The ideas above can be adapted for children of all ages. Children will simply respond to the invitations/prompts differently. For example:
Simply provide pre-writers with a variety of writing tools and surfaces and let them draw and make marks
Leave the alphabet in view for experimental/ beginning writers to help them write recognisable letters or familiar words (E.g. Write letters or familiar words in the sand or create signs and labels ).
Cards featuring sight or theme words can help early writers who are beginning to write strings of words (E.g. Write a card, a message, a shopping list or a lunch order).
Proficient writers can write sentences and well-constructed thoughts so invitations and prompts can be more specific but still allow for creativity (E.g. A letter to a fairy, a secret message or instructions to find treasure).
FURTHER IDEAS FOR ENCOURAGING WRITING:
Follow the following Pinterest boards to further extend the ideas I've listed above, or for more structured writing ideas: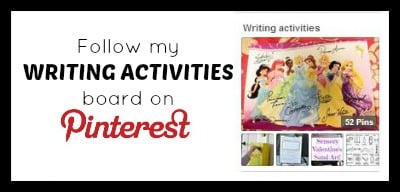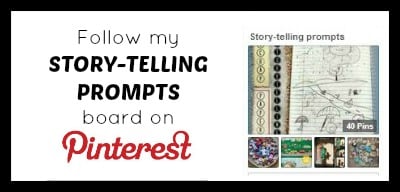 If you love this post be sure to join one of our communities for more literacy-based inspiration, or subscribe to our mailing list so you don't miss out on future posts.