There are so many ways to interpret the theme or Book Week 2015, Books Light Up Our World.
FIND A SPECIAL PLACE TO READ DURING BOOK WEEK
Read under moonlight
Read under the stars
Read by torchlight
Read at sunrise
Read by the fire or by candlelight
Read under fairy lights
PLAY WITH SHADOWS AND LIGHT
GET CRAFTY WITH LIGHTS AND BOOKS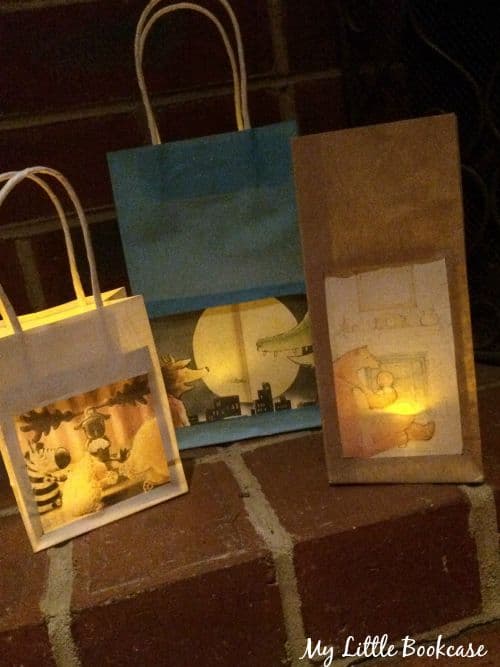 READ THEMED BOOKS:
~Start with books that make YOU

light up

with joy!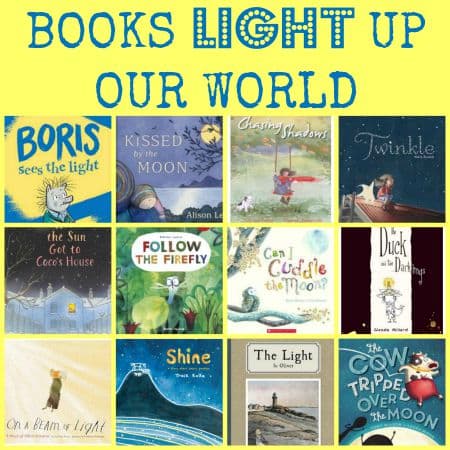 ~Books about Light
Boris Sees the Light by Andrew Joyner (Penguin Books Australia)
The Extraordinary Mr Qwerty by Karla Strambini (Walker Books)
The Bush Book Club by Margaret Wild and Ben Wood (Omnibus Books) ~'He switched on the lamp and looked around for something to do.'
The Light by Jo Oliver (New Frontier Publishing) ~'The Light shines from dusk until dawn to protect those at sea.'
The Lighthouse Keeper's Lunch
Follow the Firefly by Bernardo Carvalho (Book Island) ~ 'Excuse me, have you seen a flashing light?'
EJ Spy School- Lights Out by  Susannah McFarlane (Scholastic)
Shadow by Suzy Lee (Chronicle Books)
~Books about the Moon
Moomin and the Moonlight Adventure by Tove Jansson (Penguin)
Herman and Rosie by Gus Gordon (Viking Penguin Group)
Maudie and Bear by Jan Ormerod and Freya Blackwood (Little Hare)~'Then they rumbaed and jived and salsaed by the light of the moon.'
The Very Hungry Caterpillar by Eric Carle (Puffin Books) ~'In the light of the moon a little egg lay on a leaf.'
Goodnight, Goodnight, Construction Site by Sherri Duskey Rinker and Tom Lichenheld
The Very Noisy Bear by Nick Bland (Scholastic Press) ~'Then when the show was over and the moon had settled in, when everyone was fast asleep…he tried the violin.'
Milo and the Moon Kangaroo by Dan Taylor (Simon and Schuster)~ 'Milo danced over moon rocks and around craters, until he reached a moon cave.'
Waiting for Later by (Walker Books)~ 'And she could hear the moon… Now here's a funny story. I'm fat, then I'm thing, then I'm gone.'
A Surprise for Dingo by Rina A Foti and Sandra Kendell (Windy Hollow Books)~ 'One moon bright night, under a star speckled sky, at the edge of the Great Sandy desert…A dingo howled.'
Kissed by the Moon by Alison Lester (Viking Penguin Group)~ 'And may you baby, be kissed by the moon.'
The Cow Tripped over the Moon by Tony Wilson and Laura Wood (Scholastic Press)~ 'Hey diddle diddle. You all know the riddle, A cow jumps over the moon. It happened, all right, On a crisp, cloudless night on the second-last Friday in June.'
Can I Cuddle the Moon? by Kerry Brown and Lisa Stewart (Scholastic)
Ladder to the Moon by Maya Soetoro-Ng and Yuyi Morales (Walker Books)~ 'The moon is a grey place, it's true, but the songs of the moon are many.'
~Books about Stars
How to Catch a Star by Oliver Jeffers (HarperCollins Books)~ 'He thought he could fly up in his spaceship and just grab a star. But his spaceship had run out of petrol last Tuesday when he flew to the moon.'
Twinkle by Nick Bland (Schoalstic Press)~ 'Penny Pasketti stared into space and pretended the stars were her friends. She imagined that every twinkle was a smile or a secret or some such wonderful thing.'
Bushland Lullaby by Sally Odgers and Lisa Stewart (Scholastic Press)~ 'Under sparkling skies, by friendly seas. In your own backyard by the rivers and trees. Think of this when it's time for bed…You're not the only sleepy head.'
Time for Bed by Mem Fox and Jane Dyer (Scholastic) ~'It's time for bed, little goose, little goose. The stars are out and on the loose.'
Shine by Trace Balla (Allen & Unwin)~ 'This was their daddy's star, looking down on them, shining its bright, golden light onto them and into their hearts, for ever and ever.'
Stars by Mary Lyn Ray and Maria Frazee(Simon and Schuster)
~Books about the Sun
How the Sun got to Coco's House by Bob Graham (Walker Books)
First Flight by David Miller (Penguin)
~Books that have a message that dark days will pass
Mr Huff by Anna Walker (Viking-Penguin Books)~ 'The day was cloudy with a chance of sunshine.'
Chasing Shadows by Corinne Fenton and Hannah Sommerville (Ford Street Publishing)~ 'One yellow morning when the sun is new and shadows long a puppy comes to live at Beth's house.`
Duck and the Darklings by Glenda Millard and Stephen Michael King (Allen & Unwin)
Coming Home by Sharon McGuinness and Sharon Melville (Wombat Books)~'The sun shines on the garden, but her father pulls his jacket tighter round his body.'
Winter's Blanket by Phil Cummings and Donna Gynell (Windy Hollow Books)~ 'No matter how long winter lingers, spring will always come.'
~Books about the World
On a Beam of Light- Albert Einstein by Jennifer Berne and Vladimir Radunsky (Hardie grant Egmont)~' Albert's ideas helped build spaceships and satellites that travel to the moon and beyond. His thinking helped us understand the universe as no one ever had before.'
Visit The Kids' Bookshop for books that will help you learn about the world.
Childhood 101 takes you Around the World in 40 Books.
I WOULD LOVE TO KNOW WHAT BOOKS YOU'D ADD TO THIS LIST.
Stay connected:
Be sure to join one of our communities for more literacy-based inspiration, or subscribe to our mailing list so you don't miss out on future posts.