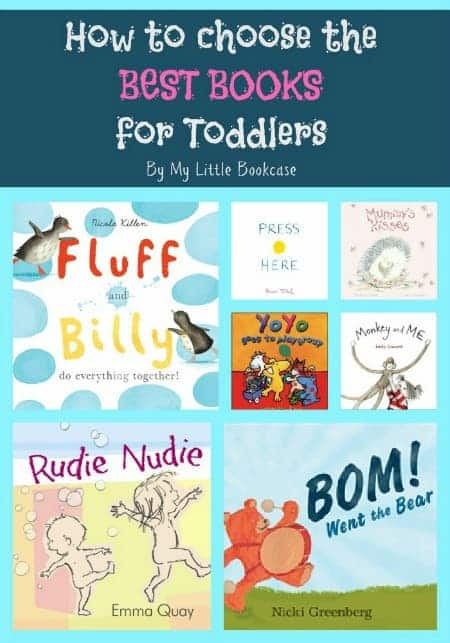 I'm regularly asked to compile a list of top books for toddlers. With so many incredible books available, the task is almost impossible for me.
Instead, I thought I'd provide you with a list of tips for helping you to choose the best books to read with your toddler (and I couldn't resist recommending a few of my favourite books at the end of the post)
Don't forget to add your toddler book suggestions to this list.

1) Toddlers like to exercise their newly found independence
Look for books that allow children to interact with the book
Board books are still great for toddlers too because they can turn the pages independently, and without frustration

2) Toddlers become more active, so their attention span can be short
Look for books that have only one or two sentences per page (Toddlers can lose interest in a book if the story is too long) but still have an interesting/engaging story
Look for books that have simple illustrations on white backgrounds for your child to focus on
Look for books that invite or encourage children to be active
Wordless books can be great as you can adapt the story to suit the temperament of your toddler
3) Toddlers like to sing along to rhymes and songs
Look for books that have rhyming or repetitive text (e.g. sentences that are repeated on each page)
Look for books that feature nursery rhymes and well known songs
4) Toddlers are developing their language at a rapid rate. They imitate sounds and learn the vocabulary of familiar people and objects.
Look for books that feature sounds
Look for books that include some of your child's daily activities (role play/routines/imagination)
Look for word books that feature familiar objects or books that highlight some of the words in the story
5) Toddlers are developing strong bonds with family members
Look for simple books about mothers, fathers, grandparents, siblings, etc.
6) Toddlers begin to become more aware of their feelings
Look for books that touch on feelings and emotions

7) Once toddlers begin to walk, they are curious about the world around them and enjoy exploring their environment.
Look for books that feature settings similar to your child's environments (e.g home, playgroup)
Look for books that tap into your child's interests
8) Toddlers are further developing their fine motor skills.
Board books are still great, but you can start introducing your child to books with paper pages to practise page turning.
Look for books that allow your child to pull tabs and lift flaps.
Some suggestions- My family's favourite books for toddlers:
Where are Snugglepot and Cuddlepie? by May Gibbs
Baby Gets Dressed by Katrina Germein and Sascha Hutchinson
Where is the Green Sheep? by Mem Fox and Judy Horacek
Maisy books by Lucy Cousins, especially What's the Time Maisy? and Go, Maisy, Go!
Once Upon a Time by Nick Sharratt
Books by Hervé Tullet (especially Press Here)
Who's Driving? by Leo Timmers
The Carrum Sailing Club by Claire Saxby and Christina Booth
Can We Lick the Spoon Now? by Carol Geoss and Tamsin Ainslie
Monkey and Me by Emily Gravett
The Very Hungry Caterpillar by Eric Carle
Not Me! by Nicola Killen
Bom! Went the Bear by Nicki Greenberg
We're Going on a Bear Hunt by Michael Rosen and Helen Oxenbury
Foxly's Feast by Owen Davey
Knight Night by Owen Davey
These are My Hands, These are My Feet by Judy Horacek
Brown Bear, Brown Bear, What do you see? By Bill Martin and Eric Carle
Dear Zoo by Rod Campbell
Good Night, Sleep Tight by Mem Fox and Judy Horacek (review coming soon)
Noni the Pony by Alison Lester
Squeezy, Cuddly  Dangly Legs by Peter Whitfield and Jacqui Grantford
There's a Goat in My Coat by Rosemary Milne and Andrew McLean
What's That Noise? By Sally Rippin (Also in the series are Hush Baby Hush, Go Baby Go, and Where is Baby?)
Yellow is My Favourite Colour by Judy Horacek
Hattie and the Fox by Mem Fox
Apple by Nikki MClure
And Red Galoshes by Glenda Millard
Rudie Nudie by Emma Quay
Mummy's Kisses by Paula Clarkeand Lisa Stewart
A Bit Lost by Chris Haughton
I Love My Mum by Anna Walker
I Love My Mummy by Giles Andreae and Emma Dodd
My Dad's the Coolest by Rosie Smith and Bruce Whately
Some Dads by Nick Bland
I Love My Dad by Anna Walker
My Grandma by Jeanette Rowe
Spot Visits his Grandparents by Eric Hill
My Sister Olive by Paula Russell and Gaye Chapman
Fluff and Billy by Nicola Killen
Ivy Loves to Give by Freya Blackwood
'When I'm Feeling' series by Trace Moroney
Yoyo goes to Playgroup by Jeanette Rowe
Our Nest is Best by Penny Olsen and Penny O'Hara
HAVE YOU GOT ANY OTHER  BOOKS TO  SUGGEST THAT ARE A HIT WITH YOUR TODDLER?