During 2012, a number of well-known and new children's book authors and illustrators will be visiting My Little Bookcase to share their confessions- tidbits of information you may not know about them. We'll be calling this series 'Confessions of a Picture Book Genius'. First off the rank will be Chris Haughton, author of one of our much loved books, A Bit Lost and Oh No, George!
Although we're not picture book geniuses here at My Little Bookcase, we thought we'd begin this series with some confessions of our own. It might also give you a bit of an insight into what goes on behind the scenes of My Little Bookcase.
1.

I work from a tiny little desk in my family room



Everything I do for My Little Bookcase takes place right here at this little desk which my husband picked up at our local tip. It sits in our family room and overlooks the kitchen, dining area and Cam's play spaces. So, while I work I am reminded of all the other duties I must get done: washing the dishes, packing away toys, cleaning food and play dough off table surfaces etc.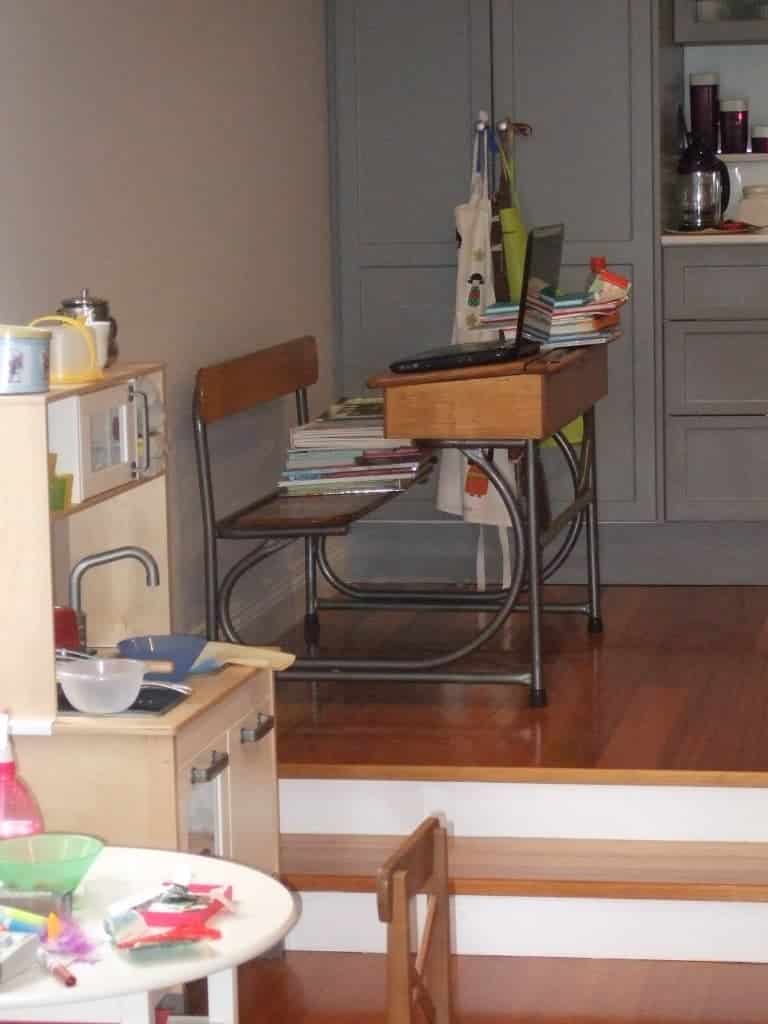 2. I am a shift worker
Cam is home with me full time and being a mother is my primary job. Needless to say, when Cam is awake I don't get any work done for My Little Bookcase. If I'm lucky I can begin work on my 'to-do' list for an hour while she has her nap though.
Otherwise I start work at 7.30pm and work until I'm too tired to work any longer. By midnight, my husband is usually at his wit's end, telling me that I should be in bed. ( I am actually being told off as we speak)
3. I treat My Little Bookcase as if it were one of my children
It's true. I put all of my energy into it; I persevere during the difficult times; I am sleep-deprived because of it; I am protective of it;  I love it with all of my heart; I have trouble saying no to it. I believe in it,  and hope the best for it.
4. Praise and thanks keep the wheels turning at My Little Bookcase
My Little Bookcase  doesn't currently  pay me a wage or a salary. My Little Bookcase is a hobby and, as strange as it sounds, I genuinely work as hard as I do on My Little Bookcase because I'm passionate about children having positive experiences with books and reading.
Running My Little Bookcase is a costly venture, so I am incredibly thankful to the wonderfully supportive businesses that have sponsored My Little Bookcase over the past year, because it has lessened the financial pinch of running the blog.
Most of these businesses provide products for me to giveaway to readers, but some have offered financial assistance. However, this finance hasn't even come close to covering the costs associated with posting prizes to readers let along other related expenses such as web hosting etc.
Sometimes readers send lovely emails, photos of their children or leave messages on the facebook page. I am touched by what is happening in their homes, and it is all I need to keep doing what I do with My Little Bookcase.
5. I am a published author

They may not necessarily be books that interest you, but I have co-authored four books. The four books were part of a Geography education series, consisting of two student books and two teacher books. I worked on the series with three other authors while we were all teaching full time. It was a wonderful introduction into the world of publishing. It was fascinating, empowering but also incredibly laborious.
The books were some of the first to be published when VELS was first introduced in Victoria. We tried to be innovative at the time by incorporating features not usually associated with 'text books'.
6. I saw the Harry Potter and the Philosopher's Stone film before I read the book.
Every Year 7 student was reading the book during my first year of teaching, and one of my colleagues planned a visit to the cinemas as an end of year activity for them.
I was hooked, found myself a copy of the book and never looked back. A Harry Potter fan I most certainly am.
7. I'm 8 kilos heavier thanks to My Little Bookcase
When I'm not being a mum or tending to my house. I spend my spare time working on posts for MLB. To be honest, that's too much time sitting down and not enough time moving. I'm currently working on dropping those KGs.
8.

Our bookshelves are not always tidy



We work hard to keep our bookcases tidy and organised, but every now and then I walk into the room to find the books strewn all over the floor. It doesn't really bother me too much because I know Cam has been enjoying her books.
9. I have cyber-met some amazing people via My Little Bookcase
I regularly communicate with people at the coalface of children's book publishing. Amongst my favourite conversations are those that take place with talented authors and illustrators, but I am equally honoured to be able to talk to publishers and editors too.
There are also a handful of wonderful children's literacy advocates who share our passion for children's books and literacy. Sure, sometimes there is an overlap with what we write, share and review, but together we all work incredibly hard to inform and inspire families.
Most satisfying is when we team up and work together to share our love of reading with others. Here are some of the sites My Little Bookcase has worked with: Bug in a Book, Kids Book Review, Honeybee Books, The Book Chook, We Heart Books, House of Prowse, That Book You Like, Three Four Knock on the Door and  Books for Little Hands. There are many more we hope to work with in the future.
10. Everything changed after our miscarriage.
My husband and I had been trying unsuccessfully to conceive for most of 2011. I had to stop running story-time sessions because they were taking a physical and financial toll on us. Not long after making that decision, we found out we were pregnant and were simply delighted. Sadly, we miscarried in November.
It took me a long time to enjoy compiling and writing for My Little Bookcase again. I have not healed completely, and I'm not sure that I ever will.
My Little Bookcase will most certainly continue throughout 2012, albeit in a more casual and slow manner. As much as I want to inspire other families, I do have to be kind to myself and do what is right for my family too, which hopefully includes a precious little baby sometime in the future.
It means I have to let go of all the BIG plans I had for My Little Bookcase. I won't be working late into the nights, and I won't be over-committing, which means that I can't even come close to keeping my finger of the pulse of everything that is happening in the kid-lit world.
My main focus for My Little Bookcase this year will be The Little Book Adventure and this new Confessions series.

I hope you still continue to be a part of this community because it has become a truly wonderful one.