Sometimes I wonder whether bedtime routines look anything like ours for other families. I thought I'd share our routine as part of Picklebum's Real Life Wednesday Series.


My clever little daughter has gradually extended her bed time over the years. Yes, Cam has me all worked out; She doesn't bother telling me that she's thirsty or hungry because she knows that won't work on me, but she does know that I won't be able to refuse a story-related request.
Just take a look at how our bedtime routine has slowly changed over time?
It started like this:
Two books
Cuddle and Kiss
Lights Out and Sleep time
★★★★★
Then one night as my husband was leaving the room, Cam begged him not to go. He suggested telling her a story. She quite liked the sound of that. So an oral story was added to our bedtime routine.
★★★★★
It didn't take long for Cam to start asking for two oral stories.
★★★★★
Then we discovered Samuel's Kisses, a gorgeous book by Karen Collum and Serena Geddes, and Cam no longer wanted a normal kiss. She wanted a Samuel's Kiss. We'd blow her a kiss that flowed behind curtains, through books and over soft toys before landing on her cheek.
★★★★★
Then Cam decided that her sleepy-time bunny needed a Samuel's Kiss too. Two Samual's Kisses had become part of our bedtime routine.
★★★★★
The Samuel's Kisses kept Cam satisfied for quite some time, until she decided that they needed to be linked to the story that we'd just told (e.g. over the fairy godmother's wand, down the stairs and over Cinderella's glass slipper)
★★★★★
Eventually, Cam began begging for a third story. That just required too much of my imagination, and I didn't think I had enough creative tales to share with her. We compromised on me singing a song instead, which was now part of our bedtime routine.
★★★★★
This soon became two songs. I quite enjoyed singing well-known songs and lullabies to her, but then Cam started  requesting  I make up my own songs about a topic chosen by her.
★★★★★
One day I foolishly decided to modify the bedtime story, by adding a little relaxation and massage into it. Cam loved it but she insisted that I still tell the two stories on top of the relaxation massage.
★★★★★
So after three years, this is now how our bedtime routine looks:
Two books
Two oral stories
Relaxation and Massage

Two songs
A Cuddle and Two Samuel's Kisses- weaved into a story
Lights out and Sleep time
★★★★★
Thankfully, once the routine is over Cam snuggles up and drifts off to sleep. We rarely hear from her again until the sun comes up.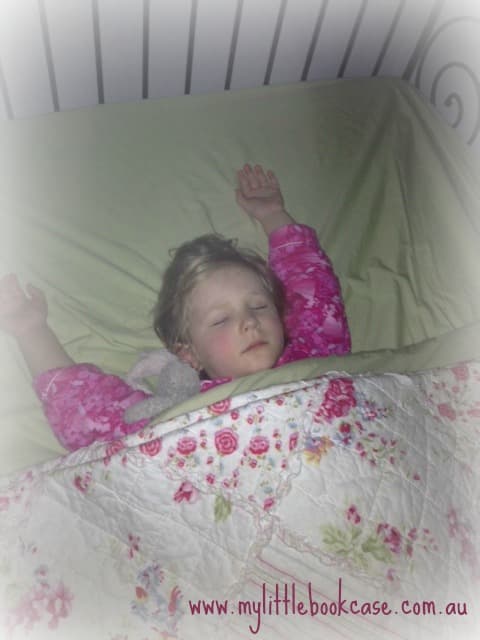 Sometimes I just have to laugh at how ridiculously long and drawn out our bedtime routine is.  Mostly it's just incredibly difficult to be this creative two times a day.
But I also know we are lucky. I know that these are the moments I must treasure. I know that in 20 years, I'll be wishing I had a little girl who wants me to read books, tell stories, sing songs and blow Samuel's Kisses.

Do you have a bedtime routine? How does it look? Do your kids know how to string it out?