This post is the third part of our series, How to Engage Reluctant Readers. The strategies in this post are designed for children who are learning to read and for children who are gaining confidence as independent readers.
In the last post, I talked about it being common and normal for pre-readers to seem uninterested in books at times. However, I think that once a child is learning to read, making reading enjoyable for your child needs to be a major focus. Hooking kids at the beginning is much easier than winning back a reluctant reader.

If you're new to this series you might want to take a look at the first post which features general strategies to help establish a positive attitude towards books.
There is a delicate bridge for children to cross as they learn to read for themselves. Crossing the bridge happens seamlessly for some children (especially if foundations have been laid from a young age), but it can be very difficult for many others, especially for children with learning difficulties.
This time can often be a turning point for children who have always loved books, stories and being read to, because learning to read does involve an element of hard work. This is also a common time for learning difficulties to be recognised and diagnosed. It is important to talk to your child's teacher or doctor if you have any concerns.
Reluctant readers don't always have to be struggling readers. Sometimes confident readers who are not engaged in reading material can also become reluctant to read.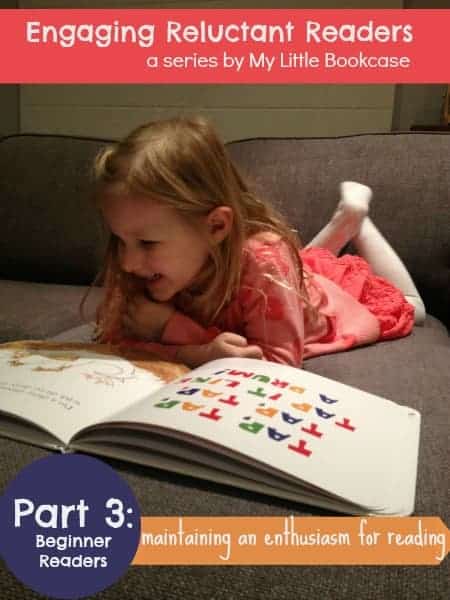 Issues that may arise for beginner readers.
N.b. When children start the process of learning to read they are officially classed as Emergent Readers, and progress to Developing Readers. I am attempting to address both types of readers in this post, and so, I have chosen to refer to them as Beginner Readers.
A child:
may not be keen to work at learning to read
may have an undiagnosed or diagnosed learning difficulty
may not find readers/books appealing
may feel that reading has become an expectation rather than an enjoyable activity of choice
may not  feel confident or successful. The may also feel embarrassed or nervous to make mistakes
who has grasped the concepts of language and reading easily, may feel held back or bored
Strategies to maintain an enthusiasm for reading
This list of strategies aims to help you keep your child's reading spark alive during this phase of learning to read.
Firstly, don't push your child too early. Your child does not need to know how to read before they start school (although some children may be able to). Take YOUR child's lead, and talk to your child's preschool teacher for reassurance or advice.
Keep reading picture books. They will continue to make reading an enjoyable experience for your child. So, make sure your children understand that picture books are for readers of all ages, not just for babies.
It is important to keep reading TO your child while they are learning to read, even after they have learned to read independently. This is how we continue to send the message that books are read for enjoyment and not simply as a homework task.
Keep story-time with your child interesting. Don't make school readers the only books you read in the house. Continue to read your favourite picture books, read a range of books, read in different places, use dress ups and props when reading etc.
Share the load when your child is learning to read. Reading can be tiring, so take it in turns to read. You might read each sentence or each page in turns.
Be mindful not to pick up EVERY mistake your child makes as they are learning to read.
Take into consideration a child's learning style and find books and text types that appeal to that type of learner (E.g. illustrated fiction might be interesting to a child who is a visual learner; books with sounds might be interesting to an audio learner, a book with flaps might be interesting to a kinaesthetic learner)
Let your child choose their own books. It's important not to discourage your child's choice of reading material just because it's not what you wish they were reading. However, it is important to monitor the book choice for suitability. (See next point)
Help to build your child's reading confidence by finding books that are suited to their reading level, or books they feel comfortable reading.  Attempting to read books that are too tricky or too difficult is a sure way to dampen enthusiasm for reading. There is no need to rush your child into reading chapter books. A general rule of thumb is to keep track of how many difficulties your child encounters on one page. It is usually a good indication that the book is too difficult for your child if there are more than five words on a page that stump your child.  It is much more productive to boost a child's reading confidence by choosing books 'below their reading level'. Delightful Children's Books has compiled a wonderful and extensive list of books that are perfect for children who are learning to read. I highly recommend you browse this list.
Similarly, confident readers also need help finding books that are suited to their reading level. Children can become easily bored if they are reading too far 'below their reading level'. There are some wonderful first chapter books currently on the market that feature coloured illustrations. These books provide a great bridge into chapter books for confident readers without being too difficult and daunting. (Book list coming soon)
Readers (books designed for children who are learning to read) have a purpose, I know. They feature the most frequently used English words and show letter patterns, but they are often rather unappealing. I much prefer to read picture books that feature repetition and rhyme but still have an engaging story. I highly recommend browsing this wonderful list of books compiled by Delightful Children's Books for some suggestions.
Choosing books that make your child laugh are always good for maintaining a love for books and reading.
Make reading purposeful for your child. Read non-fiction books or authentic documents such as a canteen lists, menus or newspapers.
Create opportunities/experiences to help your child make connections with characters and themes in books. Try organising a book-related field trip or undertaking games and tasks inspired by a book.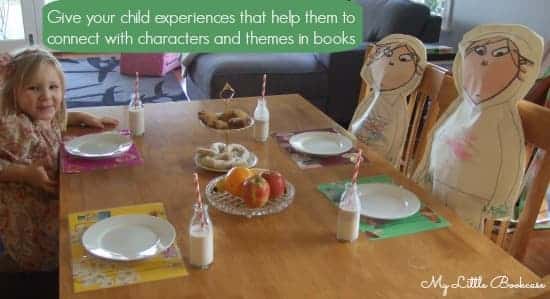 Help your child to create a book of their own, such as a journal.  Their personal connection to the book might make it more appealing to read.
For children who are easily distracted, choose books that minimise how long a child needs to concentrate. Short stories, compilations, books with chapters, instructional texts, joke books and choose your own adventure books are wonderful suggestions for children who can read independently. A child can put these books down when they are feeling tired and come back to it easily at a later stage.
Encourage your child to read a range of text types. There are some other suggestions in this post.
Introduce your child to book series. It may encourage them to continue reading all the books in the series.
Record yourself reading a book, and allow your child to listen to that instead of sitting with you. They might feel less pressure and can listen to the story at their own leisure. If you can't record yourself, there are many audio books on the market or available to borrow from your local library.
Encourage your child to read with someone different or listen to a story online.
Act out the story or put on a puppet show before, or instead, of reading a book.
Encourage your child to be a reading role model. Invite them to read to their younger siblings, younger children or toys.
Continue to visit the library with your child
Also in this series: