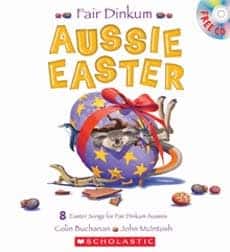 This is one cracker of a book. It's a humorously written and illustrated songbook, complete with a complementary CD.
If you're anything like me you usually cringe when you see the words 'fair dinkum' on the front cover of a book. Fair Dinkum Aussie Easter has the potential to be cringe-worthy with words like 'dinky di', 'ute',' true blue' and 'beaut' dappled throughout the book, but instead it's a whole lot of fun.
Fair Dinkum Aussie Easter doesn't contain a sentimental story-line, new flowers blooming or eggs hatching, but then again it's not Spring in Australia at Easter time is it? Instead, you'll find our chocolate eggs melting in the warm Autumn weather, especially if they're left in the back of a ute.
This songbook may feature a range of slang words that regular Australians just don't speak, but it also highlights Easter traditions that are quintessentially Aussie, like Easter weekend traffic jams and camping trips, Easter Monday picnic trips and family cricket, and fish and chips to take away. Along with our own unique versions of hat parades and egg hunts.
There are 8 songs in the book that are sung to the classic tunes of Click go the Shears, Little Peter Rabbit, Advance Australia Fair and Waltzing Matilda.
'When It's Easter in Australia' and 'The Great Big Aussie Easter Egg Hunt' are two songs in the book that will take you to places all over Australia. You'll be visiting Kakadu, the MCG and the top of the Sydney Harbour Bridge searching for eggs and you'll be riding motorbikes, steam trains or marching in a band at Bathurst, Bellarine and Nambour. Other songs include 'The Easter Long Weekend', 'Little Larry Bilby', 'The Easter Hat Parade' and 'Australians All Love Hot Cross Buns'
My favourite song in the book would have to be 'Aussie Easter Oi! Oi! Oi!' I don't know anyone who doesn't enjoy a bit of crowd participation when it comes to singing, and kids are certainly no exception. They will love joining the chorus of this easy-to-follow song.
What would a 'fair dinkum' Aussie book be without a tribe of Australian animals? Don't worry, they aren't forgotten. You'll find them on almost every page, singing, flapping away flies, lending a hand in the Easter egg hunt and painting themselves in chocolate. Of course, it would only be in Australia that Easter Bunny would get the sack.
Join in the fun, sing along and listen to some Aussie rhymes. If nothing else, your kids will be thoroughly entertained while you're stuck in that Easter weekend traffic jam.
Buy online from The Co-op / The Nile/ Fishpond
Book details:
Title: Fair Dinkum Aussie Easter with CD
Author: Colin Buchanan
Illustrator: John McIntosh
ISBN:978-1741699210
Format: Paperback
Publisher: Scholastic Australia
Recommended age: 4+