I have some exciting news to share!
When anyone tells me that they have some exciting news, I always expect a pregnancy announcement. While I'm not expecting a new baby any time soon, I have been working on a brand new project that is almost ready to makes its official entry into the world. The official launch date is near and I'm finding the anticipation almost unbearable.
This project is called Story Box Library, and although I've already mentioned tidbits about it on social media, I'm incredibly excited to elaborate on this exciting initiative that shares a similar mission with My Little Bookcase, to 'ignite a passion for reading, imagining and learning'.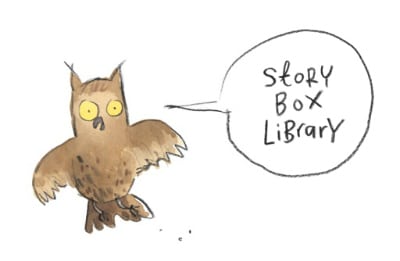 As you know, I'm a passionate advocate for the importance of books and storytelling, and I also love to showcase beautiful books created by Australian authors and illustrators. So, I couldn't resist the opportunity to work with a team of incredibly talented individuals who also share my passion for children's literature and the role it plays in the lives and learning development of children. (You can read more about why the director of Story Box Library, Nicole, started this project)
With narration and built-in games, e-books and book apps can be used so self-sufficiently by children. It does make me worry that the art and impact of storytelling will become lost in the future. This is precisely why Story Box Library is such a wonderful initiative; it keeps the art of storytelling alive while also embracing the technology that is so important to today's generation of children.
As lovers of books and stories, I just know that you'll be equally as excited about this new Australian resource as I am. I truly believe that Australian classrooms and homes are calling out for a resource like this, and I hope you see enough value in it to support the project in its early stages.
What is Story Box Library?
Story Box Library is an online reading room, which focuses on Australian literature. It has been created with primary school aged children in mind, but could also be enjoyed by pre-schoolers. It provides a quality educational program for the growing use of multimedia in the Australian classroom and home.
Story Box Library showcases a selection of Australia's best children's literature, allowing Australian children to see themselves in the stories and connect with the characters and themes.
The stories are conveyed through film, and are shared by a range of everyday Australian storytellers with varying accents and from different cultures, from sportspeople, musicians, actors and comedians to grandparents, teenagers, stay-at-home parents, and people with disabilities. (Take a look at the two segments on the 'coming soon' site. )
At Story Box Library, you will also find a range of mini documentaries that encourage children to explore the creative process behind the books, including interviews with authors, illustrators and publishers and background information on the stories and themes.
Story Box Library also acts as a toolkit for teachers and schools. In addition to the mini documentaries, each story segment is accompanied by carefully prepared classroom notes that are linked to the current Australian Curriculum. This makes Story Box Library a perfect resource for use during literacy blocks, book studies, thematic units and classroom discussions on current topics.
While this is truly a unique resource for our Australian children, it also provides children from other parts of the world with a window in which to view our unique Australian literature and themes.
Support Story Box Library
Based on the success of the Read for Australia event, where Story Box Library's clip of Herman & Rosie received over 2,000 plays, we know that Story Box Library is a resource that schools are enjoying.
Story Box Library is almost ready to launch, and to ensure that we can get the resource up and running we are asking for your support to help us fund the production of our storytelling segments and mini-documentaries.
We have launched a crowd funding campaign through Pozible. Crowd funding is a way to generate funds for new projects. We're asking for contributors to support our project, and we're offering some wonderful incentives as a thank you:
12 month Family membership to Story Box Library for only $30 (normally $39.95)
School membership for the remainder of the 2013 school year
Gorgeous library bags designed by our Ambassador Gus Gordon
Personally signed copies of Australian books
Readings Booksellers gift vouchers
An opportunity for you or your company to sponsor a storytelling segment
12 month membership to Story Box Library gifted to a family experiencing hardship