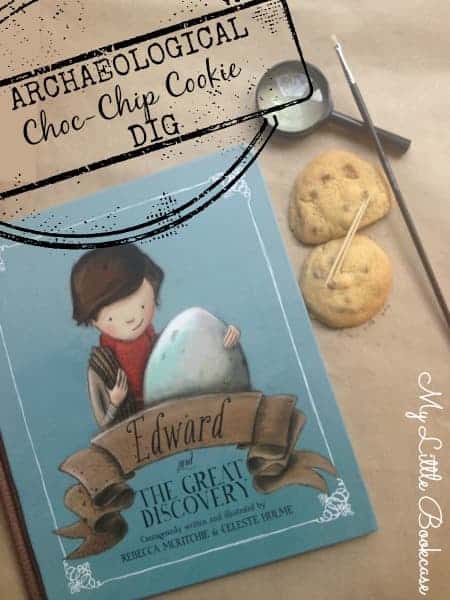 Upon reading a new book called Edward and the Great Discovery, we were immediately inspired to try an archaeological dig of our own. A choc-chip cookie dig seemed like the best starting place for my little baker. We enjoyed a rich day of reading, questioning, baking, and delving into the world of archaeology.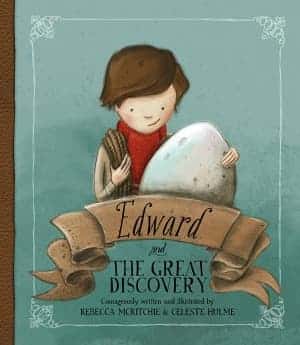 Quite simply, I love this book. Cammy loves this book. And, I can honestly see this book becoming a favourite with many families.
If you've been reading my blog for a while, you'll know how much I love books that introduce children to history through clever, interesting storylines and engaging illustrations.
Rebecca McRitchie's first book, Edward and The Great Discovery, does just that. It is a sweet book about friendship, expectations and ambition but it also introduces young children to archaeology, history, palaeontology and the concepts of animal adaptations and extinction.
Edward comes from a line of archaeologists and, after much waiting, his first discovery is personally and scientifically momentous.
Celeste Hulme's illustrations are not only warm and endearing, but they are laden with small details that will inspire questions and further investigations. The closing endpaper is also exceptional. It leaves readers with a visual image of Edward's archaeological kit, hopefully inspiring children to create a kit of their own for exploring and investigating.
Scroll to the end of this post for more details.
Undertake your own Archaeological Choc-chip Cookie Dig for Kids
This is a simple and fun exercise to try with kids. It simulates the delicate work of an archaeologist, and is likely to stir an interest in archaeology and fossils.
You will need:
Toothpicks
Unused paint brush or pastry brush
Magnifying glass
Clipboard, paper and pen (optional)
Choc-chip cookies (You could buy these, but we chose to make our own using this choc-chip cookie recipe. This allowed us to add milk AND white choc-chips but it also creates moist cookies that don't crumble too easily. You could also add coloured M&Ms and/or nuts to the cookie dough)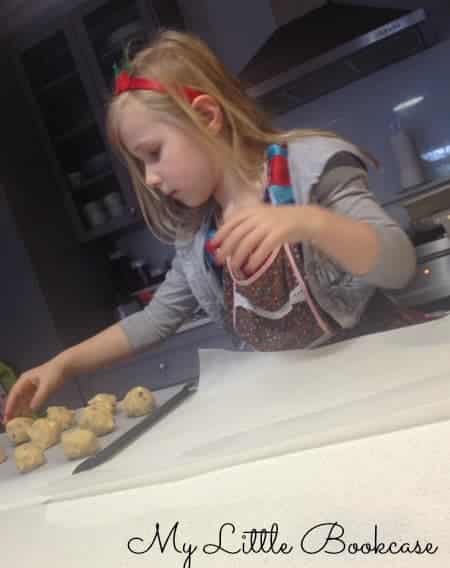 How to Excavate a Choc-Chip Cookie
1. Prepare your materials and tools (We used toothpicks in place of spades and trowels, a magnifying glass and an unused paint brush)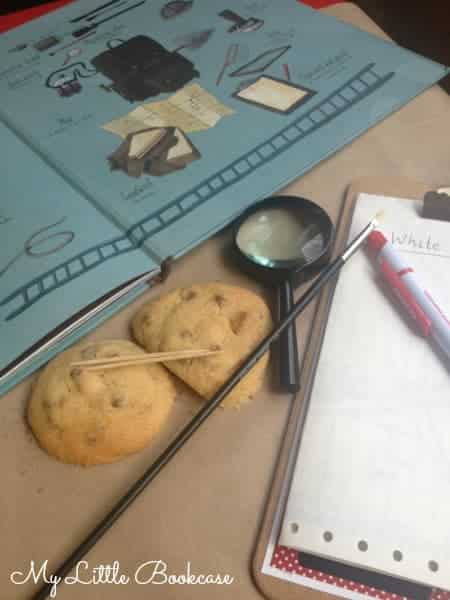 2. Offer your children the following instructions
Use the tools provided to help you search and dig for treasure in your cookie (You might demonstrate how to do this by poking around the choc-chips to loosen them from the cookie OR you can let your child explore and find their own techniques. )
You need to be as careful as possible to protect the cookie from breaking or crumbling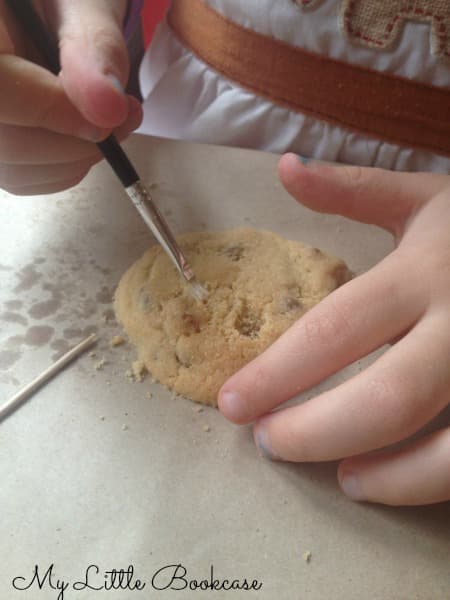 3. To extend the activity further, you can keep a tally of your discoveries, leading to addition and probability exercises.  This works particularly well if you have used a mixture of chocolate chip types (e.g. milk and white).
KEEP DIGGING:
If excavating cookies doesn't take your fancy or if your kids are keen on finding more great discoveries, then I highly suggest checking out these other fossil and archaeological dig activities:
ICE DIGS
Twenty Fun Things to Freeze in Ice-Blocks, Picklebums
Ice Eggs, A Little Learning for Two
Ice Chiseling, Adventures at Home With Mum
TREASURE DIGS
Sandbox Diamond Mine, The Craft Train for Childhood 101
Mining for Jewels, Adventures at Home With Mum
Gelatine Excavation, Lessons Learnt Journal
FOSSILS AND DINOSAUR DIGS
Dinosaur Fossil Discovery, Adventures at Home With Mum
DIY Dinsoaur Fossils, Lessons Learnt Journal
Making Clay Fossils, Wildlife Fun 4 Kids
EDWARD AND THE GREAT DISCOVERY BOOK DETAILS:
Author: Rebecca McRitchie
Illustrator: Celeste Hulme
ISBN: 9781925059007
Format: Hardback
Publisher: New Frontier Publishing, June 2014
RRP: $24.99 (aud)
Suitable for ages: 4+
Be sure to join one of our communities for more literacy-based inspiration, or subscribe to our mailing list so you don't miss out on future posts.