PROVIDE YOUR CHILD WITH A RICH AND REWARDING EXPERIENCE BY OFFERING THEM REAL INGREDIENTS TO EXPLORE.


Cam loves to create, which is why I think she loves instructional texts- Cookbooks being a particular favourite.  I often find her poring over the recipes and photographs in our children's cookbooks.   She  really enjoys spending time with me in the kitchen, helping me prepare our family meals and snacks,  measuring and mixing ingredients and licking the spoon.
An invitation:
Given her love for baking, I wanted to provide her with an invitation that was related to real food.  I was selective about which ingredients to offer her. I decided to offer fruits that she liked and that were easy for her to cut with her kiddikutter knife. I also felt that the ingredients I offered would result in edible products no matter how she chose to use them.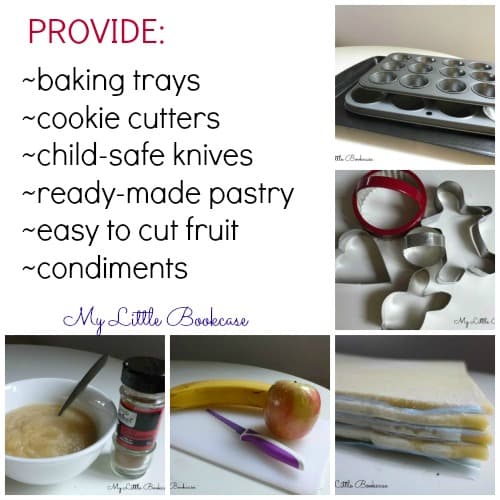 I was hoping the invitation would:
consolidate her knowledge and understanding of recipes as an instructional text
make use of and experiment with the various techniques she has learnt through baking with me
give her the freedom to explore ingredients in her own way and in her own time
give her the opportunity to create and to cook independently

Cam did start with more traditional approaches: making neat tarts, using cookie cutters etc.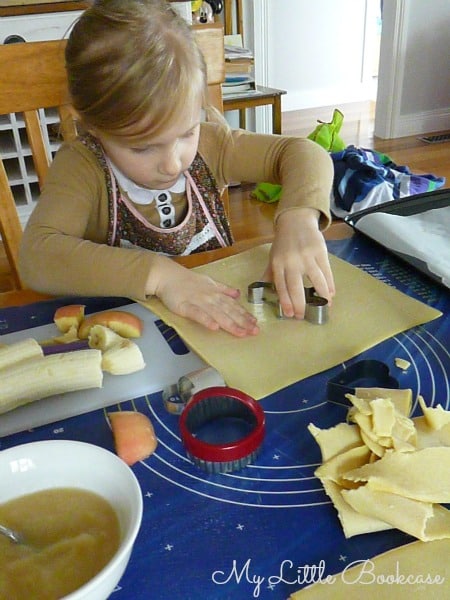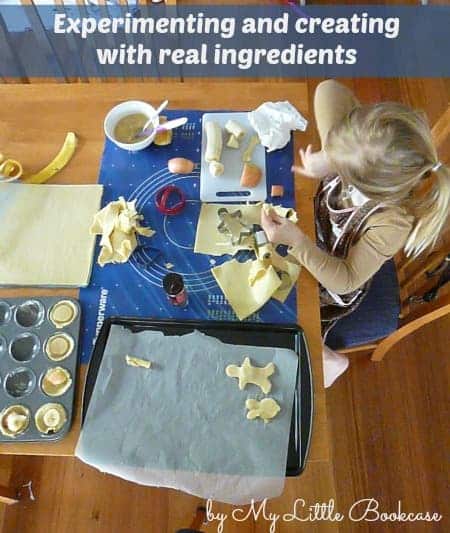 …………..and then she began to experiment a little more,  creating free-form pastries by rolling,  scrunching and twisting,.
We put her creations in the oven, and she ended up with some edible treats for morning tea.
This was simply an invitation, but in the future I'd like to help her create recipes of her own by recording her processes.


Related Book Lists: