It's Christmas time, and the Nutcracker is in town. I've got a lovely festive and joyous play idea to share with you. This activity is a wonderful introduction to the story behind The Nutcracker- a popular story at Christmas time. .
We just love books that are filled with music and rhythm in our house. The Sugar Plum Fairy is a unique book. It is part of the Music Box series published by New Frontier Publishing, which sees authors create child-friendly stories based around classical musical pieces. Read more about the book at the end of this post.
The Sugar Plum Fairy was an absolute winner with Cam. She loved it immediately; she loved the music, the fairy, the dancing and the lollies and she was keen to learn more about The Nutcracker. In all honesty, we had tears to deal with when we returned this book to the library. Sue Whiting writes with such delicious vocabulary, that reading the story makes you crave sweets. The story lends itself beautifully to play.
Cam and I had previously made scented play-dough:
After reading the book with Cam one morning,  I set up an invitation to play. Materials included small jars, icypole sticks, edible glitter, pom poms, cupcake liners, cupcake tray, chocolate mould, cookie cutters, embellishments  and play-dough tools
We had The Sugar Plum Fairy Playing in the background (and every now and then would find ourselves fluttering around the room). You can listen to it while reading this post (It may take a little while to start):
After excitedly exploring the tray of goodies, it didn't take long for Cam to start making her own lollies.
She started by rolling her own sugar plums:
Cam regularly re-visited the book for inspiration, and asked me to read about how Marcus and Mary would make their lollies.
Each day, Marcus and Mary toiled over bubbling pots of sugary syrup.
Bubble  bubble hisssss!
they folded and kneaded,
Slap slap thump!
And rolled and twisted
swish swoosh
And chopped
Bang
She rolled the play-dough:
She chopped the play-dough: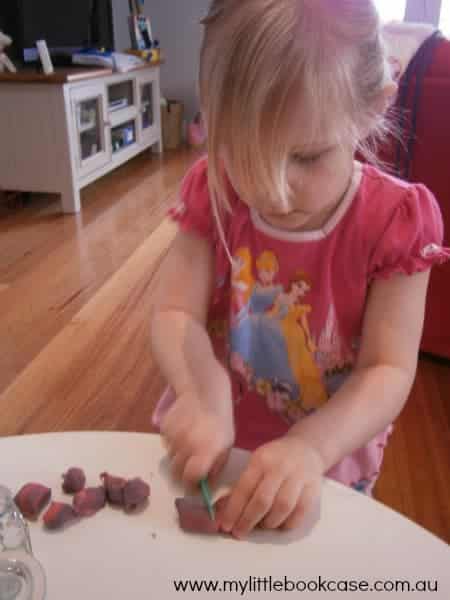 She twisted the play-dough:
She used icypole sticks, cookie cutters and spiralled the play-dough to create assorted lollipops:
She used chocolate moulds to make beautiful looking sweets:
She couldn't resist the cupcake liners and edible glitter:
Again, using inspiration from the book, I encouraged Cam to get creative and give names to the lollies that she had created.
She couldn't wait for Daddy to come home so she could sell him some lollies from her Lolly Shop:
But Cam really couldn't wait to get back to creating new styles of lollies.
Book Details:
Author: Sue Whiting
Illustrator: Sarah Davis
Narrator: Antonia Kidman
ISBN: 978-1921042621
Format: Hardcover
Publisher: New Frontier Pty Ltd, October 2008
Composed by Tchaikovsky, The Dance of the Sugar Plum Fairy is a famous dance from The Nutcracker ballet. Sue Whiting has cleverly used the music and the character from Tchaikovsky's work to create a story suitable for children. With the help of The Sugar Plum Fairy, two candy makers magically create enough sugar plums for a greedy king.
The book comes with a talking CD, and the original music is integrated perfectly into the story. It is a brilliant way to introduce young children to the beauty of classical music.
The delicious vocabulary and delectable illustrations make this one irresistible book.