Silly Billy Worry Dolls for Kids- How to make your own
With kids the mind is busy during the day and can easily be distracted, but when it comes to bedtime and you are alone in your dark and quiet bedroom the inner worrywart will emerge.
This book is several years old. We found it in the library. Silly Billy offers a practical solution for children who worry. It is a beautifully written story that draws from the South American tradition where children share their worries by making worry dolls. ( Read more about this book at the bottom of this post).
The dolls are cheap and the sales help artisans in Guatemala. Kids find that the worry dolls were friends to whom they could talk instead of dwelling on negative thoughts.
Billy makes more worry dolls in the story for his friends. Worry dolls have traditionally been made using scraps of cloth and small splinters. I was unsure that her tiny hands could handle such fine materials.
Instead, I used these beautiful peg dolls This Heart of Mine to inspire our own set of concern dolls.
They aren't traditional, but the fact that they use pegs rather than splinters allows pre-schoolers create their own set easily.
How to make worry dolls for children:
You will require:
We used 6 craft pegs in pre-coloured colours (because worry dolls are usually very colourful).
Cotton threads and strands
Wrap cotton around the doll.
I wrapped the remainder of the strand around the cotton strand to secure it. This stopped the cotton from unraveling.
Continue to wrap the cotton around pegs once the cotton was secured.
Rolling the peg and laying the cotton out on the table was the easiest way for them to do it.
A new piece of cotton could be used to secure the end of the strand (which may be of a different color).
We used a tiny amount of glue to secure the cotton and prevent it from unraveling when it is being used and played with.
With permanent marker, we added a facial feature to each peg.
These dolls were made with love by children and are both beautiful and useful. The traditional worry dolls are permanently under their pillow. But this set can be used in many ways. They let teddies and other stuffed animals use them for sleepovers in their bedroom. They sometimes sleep with their worry dolls.
Children's Book Review
ISBN: 978-1406305760
Paperback
Publisher: Walker Books Ltd., November 2007.
Ages: 4+
Billy worries about many things when he goes to sleep at night. He worries about clouds, big birds, and hats. Billy's parents try to ease his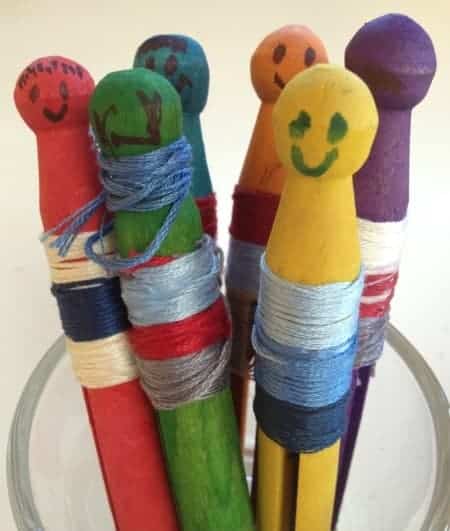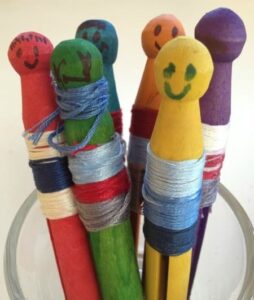 fears, but they are unable to do so.
Billy is invited to spend the night at his grandmother's house. She introduces him to a collection of worry dolls that she used as a child. Grandma tells Billy to put the dolls beneath his pillow and give them each a worry.
Problems are not so easily solved by a worrier. Billy begins to worry that the worry dolls he has are too full of worries. He creates worry dolls both for himself and his friends.
The book has a bright, bold and beautiful design and includes an explanation about the origins and purposes of worry dolls.