We're big fans of Riley and his travelogue book series. The books all feature interesting characters, and they allow us to travel the world without leaving home (because, to be honest, the thought of travelling on a plane with two young children frightens me at the moment).  As Melbournians, we particularly liked Riley and the Grumpy Wombat- a Journey around Melbourne.
Riley is travelling the nation again, this time he's seeing the sights of Canberra. We sent a copy of Tania McCartney's new book, Riley and the Jumpy Kangaroo, to our dear friends in Canberra, who kindly wrote a review for us to share with you.
Canberra is a city rich with national history. My family and I are fortunate to be able to visit these beautiful and inspiring places and now children around Australia can too with Riley and the Jumpy Kangaroo- A journey around Canberra.
My son Jack (4yrs) loved this book. The very jumpy kangaroo hops around some of our favourite places. Jack connected with this book instantly; giddy with anticipation as we turned each page.
Riley is a little boy who goes on a grand adventure around our home city of Canberra. Startled by a loud thumping noise on the roof of parliament house, Riley heads outside to find a kangaroo jumping on the iconic lawns. Hopping into his red airplane, Riley follows that very jumpy kangaroo around some of Canberra's most famous landmarks and attractions, as it searches for something lost.
Riley and the Jumpy Kangaroo uses photographs of Canberra landmarks; starting in black and white and becoming more and more colourful as the story goes on.
The book takes the reader around some of our favourite places to visit; Questacon – The National Science and Technology Centre, The Australian National Botanic Gardens, Australian War Memorial and The National Museum of Australia. Jack recognised each place and revelled in retelling stories of our most recent visits.
This book has inspired us to have our own 'jumpy' adventure around Canberra. I think we might start where Riley did, on the lawns of Parliament House.
Book details:
Author: Tania McCartney
Illustrator: Kieron Pratt
ISBN: 978-1925000030
Format: Paperback
Publisher: Ford Street Publishing, July 2013
RRP: $16.95 (aud)
If you were to take a journey around your home town, where would you go?

Reviewed by Kate:
Kate is a former high school teacher and now home schools her two young children. Kate is inspired by the Reggio Emilia Approach and Project-based learning, which you can read more about by visiting her highly respected blog, An Everyday Story.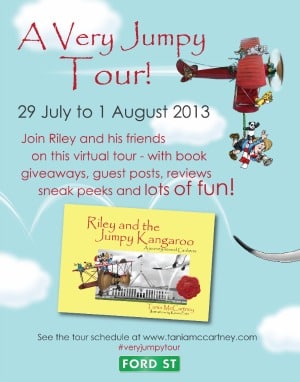 This review was published to coincide with Riley's Very Jumpy Tour. Visit these sites for more fun and giveaways or for the full Blog Tour Schedule, jump in your little red plane and head to Tania McCartney's blog
Kids Book Review: Book Giveaway
Boomerang Books Blog: An interview
Posie Shoots: An Instagram Book Giveaway
HerCanberra: Book Giveaway
Sheryl Gwyther's Blog: Behind the Scenes
Bug in a Book: Roo's Top 5 Canberra Stops
Tania McCartney's Blog: A sneak peek