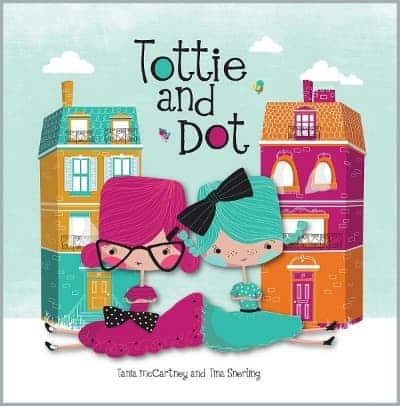 This book had Cammy and I at 'marshmallow tea'!  You see, we are both tea lovers. A stopover at T2 is an essential part of our shopping routine. We can't walk past without trialling their latest tea concoctions. More on marshmallow tea later though.
Tottie and Dot is a visual and literary feast. It is filled with incredibly cute illustrations in rich, pretty colours and the sweetest of nouns (marshmallow tea, apricot sandwiches, gumballs, strawberries and a lemon drop tree). This book was a delight to read for a mother and daughter who love all things lace and floral, tea and cake, dresses and parties.
There is a very meaningful undertone to this book though, and I think the issues presented in the story are becoming more prevalent for young people today. Following friends, keeping up with latest trends and trying to exceed peers are the issues that Tottie and Dot face. Their attempts to outshine one another lead to some crazy scenes that simply aren't maintainable; and they eventually realise that being yourself and doing what makes you happy are of greatest importance.
Book Details:
Author: Tania McCartney
Illustrator:Tina Sterling
ISBN: 9781921966491
Publisher: EK Books (Exisle Publishing), September 2015
Available to purchase from The Kids' Bookshop
Make your own Marshmallow Tea
Just two pages into the book when Cammy was asking how to make marshmallow tea, I just knew we'd have to trial a marshmallow tea recipe. After reading Tottie and Dot we took a trip to our local T2 store. We smelled and tasted a range of teas and eventually chose Sweet Spice for our marshmallow tea experiment.
You will need:
Tea leaves or fruit tisane of your choice (We used T2's Sweet Spice but their Vanilla Slice, Strawberries and Cream, Just Rose or Jungle Chai teas would also be delicious with some marshmallow milk)
How to make marshmallow tea:
1. Combine 2 heaped tablespoons of tea with 2 cups of boiling water, and let steep for a few minutes.
2. While tea is steeping, make marshmallow milk: Over low heat, melt 6 marshmallows in ½ cup of milk. Ensure the milk doesn't boil.
3. Strain tea into a tea cup and top with marshmallow milk.
4. Stir and enjoy.
We made the tea together then sat out in the sunshine to re-read Tottie and Dot. We sipped and read, giggled and cuddled, and enjoyed basking in the sun. You've got to love a book that offers you this type of experience.
Like this post? Stay connected:
Be sure to join one of our communities for more literacy-based inspiration, or subscribe to our mailing list so you don't miss out on future posts.