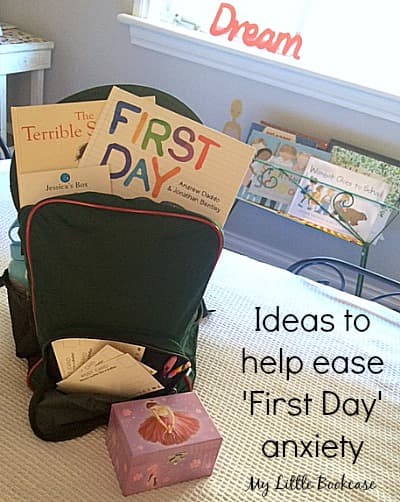 Although they are laced with excitement, periods of transition can be such difficult times for children (and adults too) because of the uncertainty that comes with change.  As humans, we find ourselves mulling over the 'what ifs?' until they make us feel sick with worry.
Schools today offer wonderful transition programs, but anxiety does still affect some children. If your child is showing signs of anxiety in the lead up to their first day of school, the key is to try and alleviate some of the 'what if?' questions.
Talking to your child and trying to decipher the cause of the anxiety is necessary in doing that, but below are 10 strategies to deal with the common causes of anxiety in children in the lead up to their first day of school. The strategies all apply to children of preschool, primary or secondary ages.
1. Read relevant books
Reading books can be a great way to help children understand that they are not alone in the way they feel. Picture books provide children with  characters they can relate to and empathise with, and the story lines often provide constructive coping strategies..
Take a look at some 'Back to School' stories that I love and recommend.
2. Visit the school for a walk or play in the school grounds
School can be such an overwhelming space for children, and some worry that they might get lost. Some schools are locked during weekends and holidays, but if you can access the grounds of your child's school, it is a great opportunity to get accustomed to the grounds. Taking a walk or having a play on the equipment can help it become a place of familiarity and enjoyment for children.
3. Practise walking (or travelling the route) to school
If your child's school is locked up after hours, you could simply take a trip to the school, to give your child an idea of where the school is in relation to your home and familiarise them with the daily route.
4. Play school

There are many new routines and procedures for children to learn when they start school. Some children worry that they will not remember them all.  Set up a play school and invite your child to role play the routines and elements associated with school (e.g. daily schedule, listening to a story, sitting at a desk, packing up, snack time, walking to the library etc.)
5. Start your morning routines early
One of the biggest changes for children can be the morning routine, and having to get ready within a limited time frame. Changes in routine can be difficult for children, so you don't want to bombard them with a new routine on the first day of school. It is best to start the new morning routine a few weeks before school starts. Using prompt cards will not only help children develop some level of independence, but having tasks to complete can also distract them from their worries in the morning.
6. Write to your teacher and classmates
Not knowing anyone or worrying whether they will make friends are common worries for children starting school. Writing a letter, card or drawing a picture for their teacher and classmates can be a great way for anxious children to feel like they are already connecting with their teacher and classmates, even before school has started. Delivering the letters can be a great introduction for nervous or anxious children too, and will make other classmates feel quite special.
7. Organise a play date
Help your child become familiar with their classmates by organising a play date with another child during the school holidays. This is possible if you have been given a list of contact details for your child's classmates or if your child has connected with a classmate at a school orientation program.
8. Fill a box with important treasures
Preparing a box of special items to take to school can act as an icebreaker for children on the first day. It can also help classmates visually identify shared interests. It is important to read your school's policy documents though, as some schools do not allow objects to be brought to school.
9. Practise new skills
Some children worry that they won't be able to complete tasks without their parent's help, such as tying shoe laces or opening new lunch boxes. While the teacher will be there to help, you can help your child develop confidence by giving them the opportunity to practise these tasks on their own during the holidays.
10. Don't talk about school too much
While it is great to prepare your child for school, it is also important to get the balance right by not talking about school incessantly. Otherwise school will be the only thing on your child's mind. Respond to your child's concerns, ensure they understand the basic procedures of school but also use the holidays to simply play and enjoy time as a family.
Like this post? Stay connected:
Be sure to join one of our communities for more literacy-based inspiration, or subscribe to our mailing list so you don't miss out on future posts.