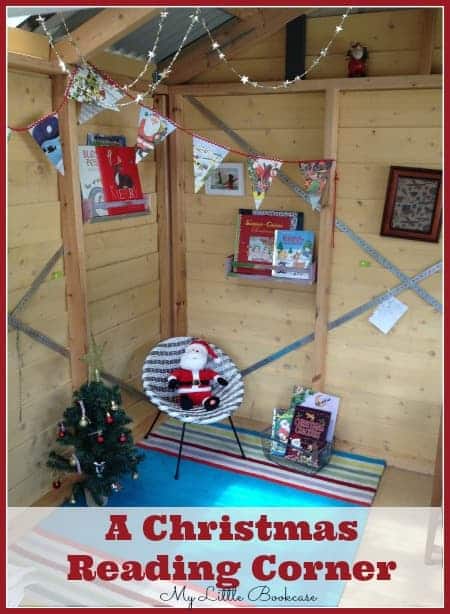 We have a very big Christmas book collection. We have books left over after wrapping 24 of them for our Christmas Tree Advent Calendar, and our books don't all fit on our art gallery ledges.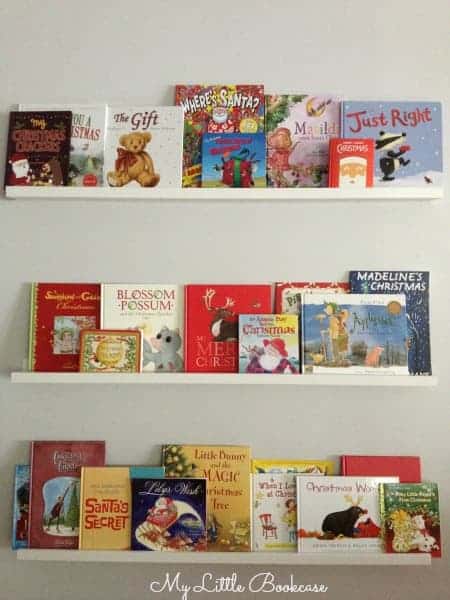 So we had to get creative and think of other ways we could enjoy our beautiful books. You can read about our full list of fun ideas here, but creating a reading corner was one of them.
Over a year ago, I saw these kid-painted bookshelves on Buggy and Buddy and featured them on My Little Bookcase. I loved the idea so much, and immediately dashed to Ikea to buy some spice racks.
I love giving Cam a licence to decorate her cubby house to her heart's content (even if that means lots of pink!). So letting her decorate and paint her own special bookshelves for her cubby seemed fitting.
The painted spice racks formed the basis for the reading corner.  Cammy chose some of her favourite Christmas books from our ledges to display in her cubby house instead.
After many, many months, we finally convinced Daddy to install the bookshelves,  and we added some extra Christmas touches to the cubby house. The gorgeous bunting you see in the images was made for me by the girls at We Heart Books. It has been made from the pages of a A Little Golden Book.
I'll let the images speak for themselves. I don't think I need to explain just how much time has been spent in the new reading space this week (I'm just a tad disappointed that the photos don't really do the space justice).
If there are any books that take your fancy, you will be able to find them in one of our Christmas book lists.
In fact, even Baby Ike quite enjoys the space and the access to the Christmas books while his big sister is at kindergarten.