For years I've wanted to purchase a beautiful Nativity Set for our family, but the budget never seems to allow for it.
The post on our Little Golden Book Story Stones continues to be our most viewed and most-read post, even after 15 months. It was these story stones that provided me with the inspiration I needed to help us create our own Nativity Set.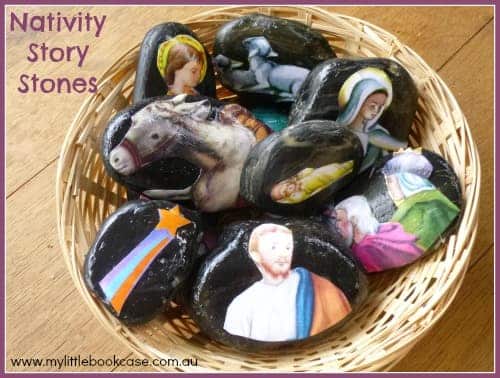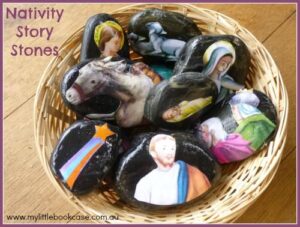 Creating story stones is a task that toddlers and pre-schoolers can easily help with, and using stones has helped us to create a beautiful, long-lasting, and durable Nativity Set.
*Read our original Little Golden Book Story Stone post for more detailed instructions.
You will need:
Nativity images (We used a Little Golden Book)
Waterproof glue (e.g. Modge Podge) and brush
Our approach:
Cut your Nativity images. We cut the following images from A Little Golden Book, The Christmas Story: Angel, Mary, Joseph, Donkey, Jesus, Star, Shepherds, Lambs, Kings, Gifts
Glue the images onto the stones, and let dry
Apply a coat (or two) of waterproof glue over the images, and let dry
The result: a beautiful set of Nativity Story Stones:
We also decided to create a stable by lining a shoe box with icy pole sticks (and pink paper was a must for the hay!)
These stones are incredibly durable, allowing children to play out the story.