Ike turned one in December. He had such an unusual but extraordinary first year and I wanted to celebrate that with a special party. I do love a good party, and I admit I sometimes go a little overboard with my party planning. But the reality on this occasion was that Christmas was also around the corner, so I was looking for a theme that would be simple but clever to implement.
I was initially planning a train-themed birthday party for Ike, but Cam's suggestion of a Possum Magic party, after seeing the stage musical, was too enthusiastic to refuse.
Possum Magic, by Mem Fox and Julie Vivas, is a brilliant book in which to base a birthday party.  Cam was able to play a huge role in brainstorming and planning her brother's party because she knew the story well and was also able to refer to the illustrations, which both provide wonderful party ideas and inspiration.
I'd love to share Ike's Possum Magic party with you. It was a fabulous morning. The weather was incredibly kind to us. Guests were relaxed and, second to talking about how healthy Ike looked, the Possum Magic theme and food were the talk of the party. I'm thankful to my baby sister for taking these beautiful photos for me to share. Feel free to borrow or adapt any of our ideas for your own:
Possum Magic birthday party of your own
Australia Day celebrations
Follow up reading activities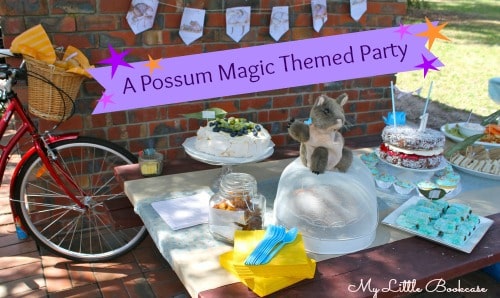 POSSUM MAGIC PARTY INVITATIONS
I wanted the invitations to act as a keepsake for Ike's party guests. So, I chose to keep them simple and included a special birthday pavlova recipe for guests to keep.  I have made the recipe available for you to download here too, a great dessert for you to try on Australia Day.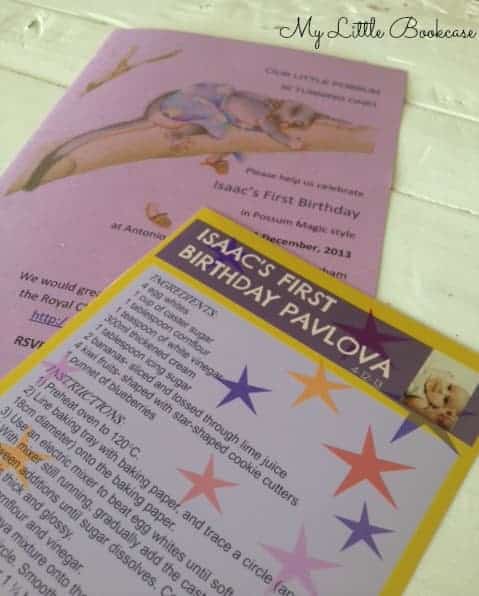 POSSUM MAGIC PARTY CLOTHES
In Cam's mind, a party isn't a party unless you dress up.  Despite my efforts, I was very unsuccessful in finding possum costumes, so I decided to create themed t-shirts for the kids to wear to the party.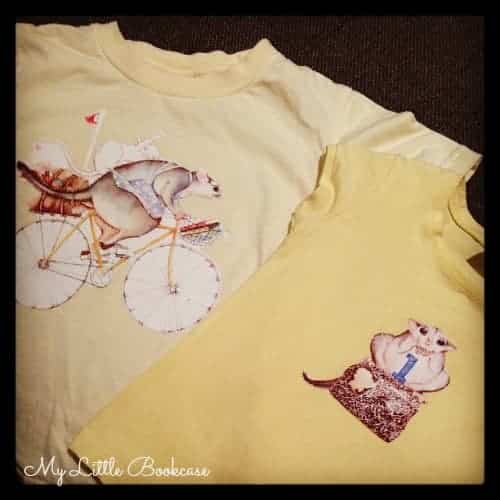 This is done quite simply by photocopying pages from a book onto t-shirt transfer paper and then transferring the image onto the t-shirts with a hot iron.  I edited Ike's t-shirt image before printing and added a number 1 to Hush's tummy. It's important to know that you are breaching copyright if you are doing this other than for personal uses.
Cam and I also found some glittery star material. We used most of it as table runners, but my sister made her a Grandma Poss apron with the scraps. We also made her a possum tail by filling pantyhose with scrunched-up newspaper.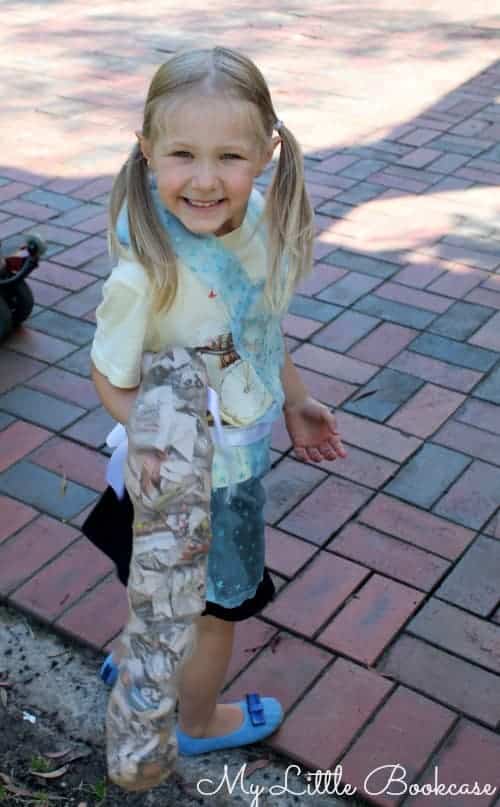 POSSUM MAGIC PARTY DECORATIONS
We chose to have the party in a park rather than at home, giving us the opportunity to find a park with a bush setting, and lots of gum trees.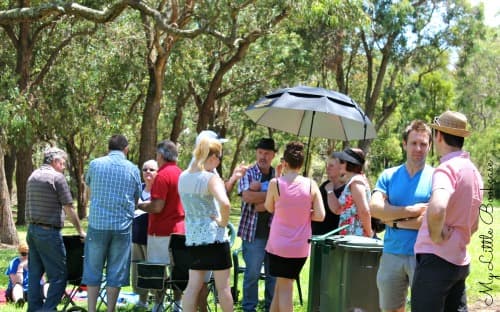 I really tried to keep the decorations simple, letting the natural setting speak for itself. There were a few elements we took from the book and used in decorating the party: stars, gum leaves and Grandma Poss' bike
On the picnic tables, I used rolls of brown packaging paper and fabric that featured glittery stars.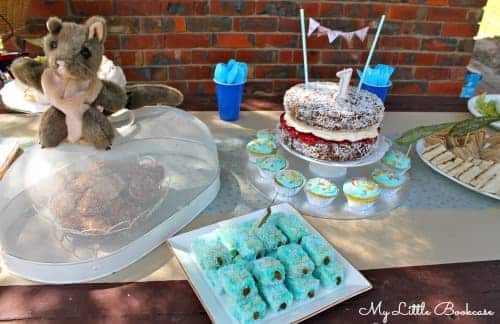 I decorated the park shelter with gold stars and Possum Magic buntings. I cut flags from book pages I had photocopied, but because I can't sew, I punched holes in the flags and threaded them onto some string. This is an easy and effective way to make buntings, but they didn't stay in position with the wind. The buntings now hang with love in the cubby house.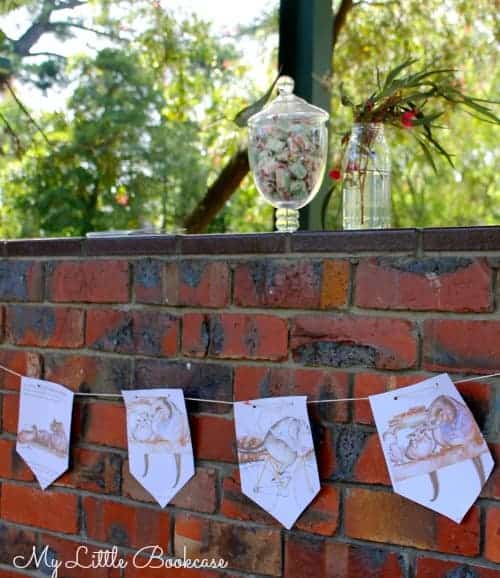 I collected lots of gum leaves (with the help of author and illustrator, Karla Strambini) and used these as food and lolly bag labels.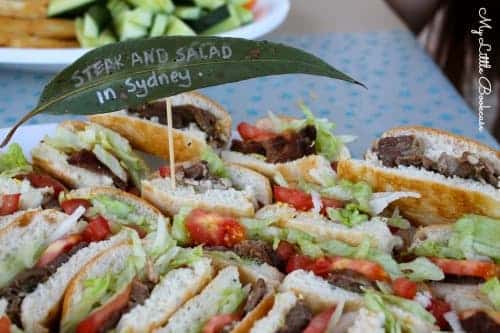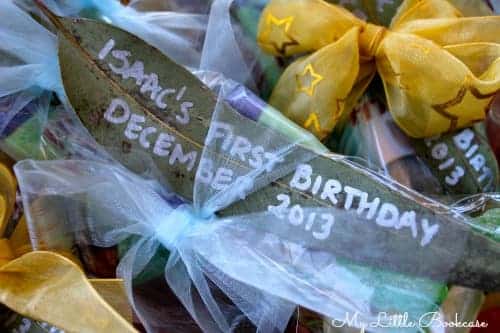 I had planned on laminating the gum leaves to create bookmarks, but my laminator didn't like that idea at all!!
The lolly bags were also quite small and simple. In each bag was a Cadbury's Furry Friend, gum leaves (spearmint leaves), and snakes. All tied together with ribbon and a gum leaf.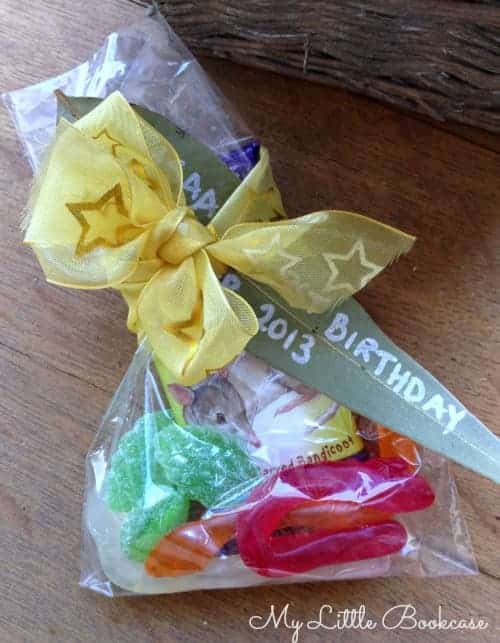 One item Cam really wanted at the party after seeing it on stage at Possum Magic musical was a bike. I borrowed my sister's bike and filled it with pumpkin scones. I know it's not exactly the same as Grandma Poss' but we thought it was a great touch.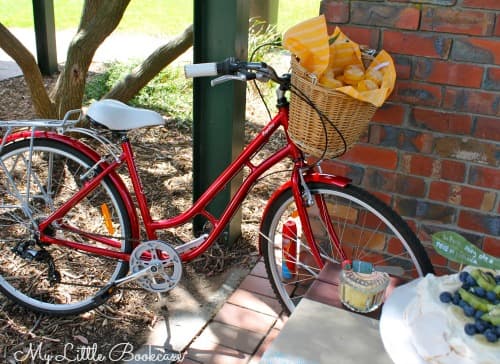 POSSUM MAGIC PARTY FOOD
Planning a party menu had never been easier. There was no need to consult my piles of recipe books. Everything we needed was right there in the pages of this iconic Australian picture book. I made reference to the book by citing quotes from the books on the food labels.
The book and the food were great talking points amongst the guests. Guests were either reminiscing about reading the book when they were children, or they were enjoying iconic Australian foods that they hadn't eaten for years.
She made wombats blue….
I had planned on making these lamington wombats, but chose to dip them into blue jelly instead of chocolate icing to create blue wombats.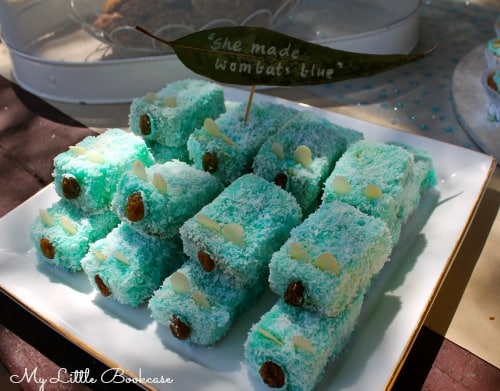 They ate Anzac biscuits in Adelaide….
We love to make Anzac biscuits and recommend the recipe linked in this post.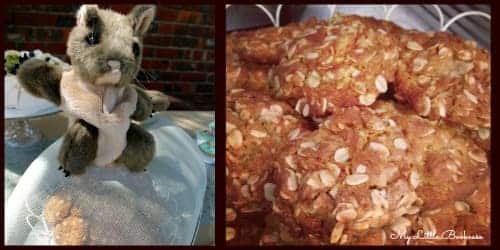 ….mornay and Minties in Melbourne…..
To represent the mornay, I made a salmon dip by mixing smoked salmon and dill through a sour cream and cream cheese mixture. The salmon dip was served with vegetables, cheese sticks and spinach wraps cut into the shape of gum leaves.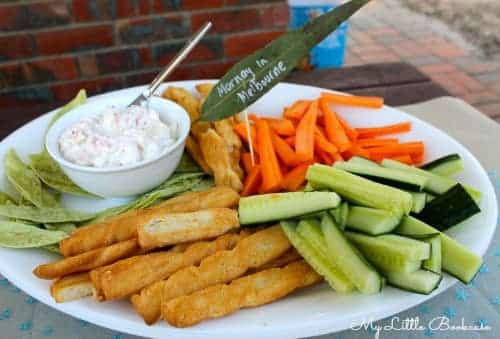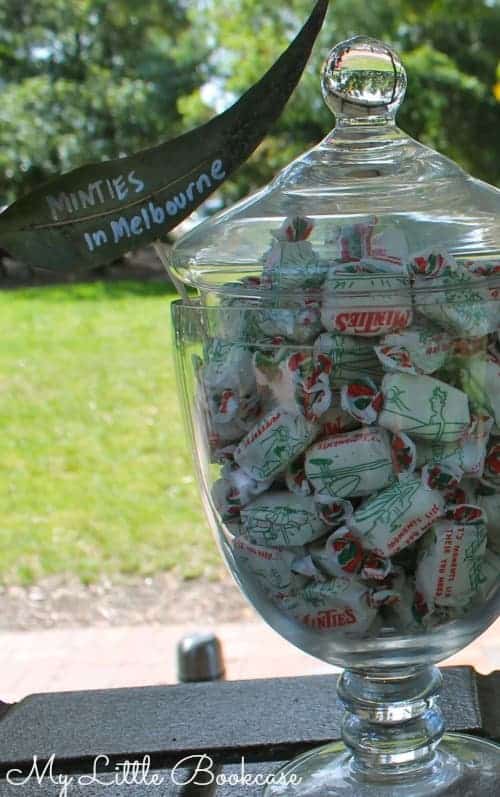 ….steak and salad in Sydney…..
My mum made these delicious steak and salad rolls. She filled the mini rolls with roasted beef, tomato, lettuce, mustard and mayonnaise.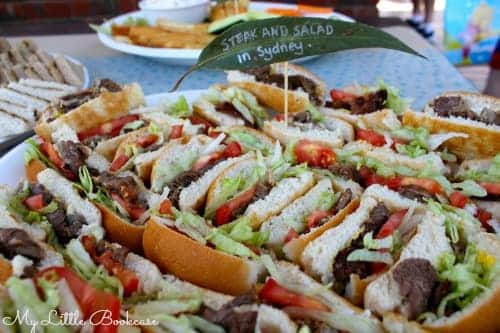 ….and pumpkin scones in Brisbane.
My mother in law made these soft pumpkin scones, following a Lady Florence  Bjelke-Peterson recipe.
It was there, in the far north of Australia, that they found a Vegemite sandwich.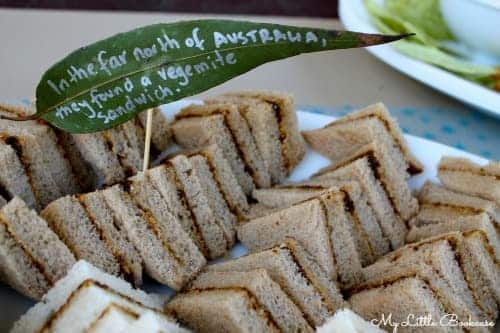 Later, on a beach in Perth, they ate a piece of pavlova.
My Nanna made two pavlovas for Ike's party, and  I topped them with Ike's favourite fruits. You can download and print the recipe for this pavlova here.



"Here We Go Round the Lamington Plate" till early in the morning.
Instead of making lots of little lamingtons, my mum suggested a large lamington cake for Ike's birthday cake. I dipped the sponge cakes into chocolate icing, using this recipe, and filled it with a raspberry jelly disc and whipped cream.
I decorated the lamington cake with a mini bunting that, again, I made from photocopied pages of the book and attached to two straws.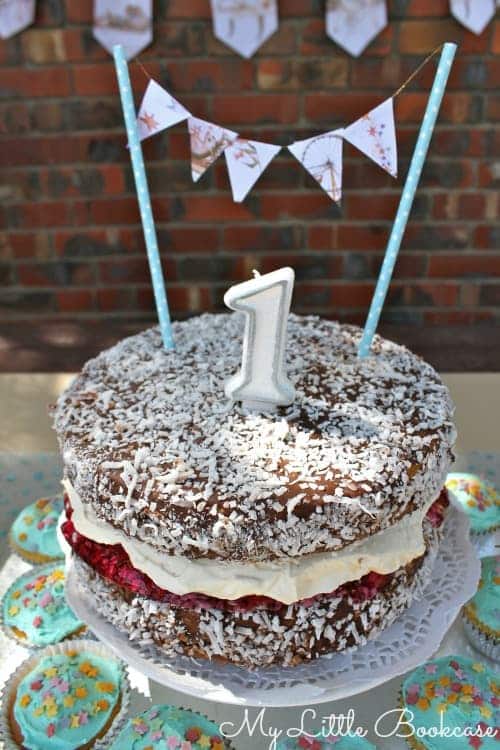 POSSUM MAGIC PARTY GAMES
For the children, I set up two easy activities under the shade of some beautiful gum trees.
Magic painting (with candle wax and water colour paints)
On a table:
Paper
White candles
Watercolour paints
Paint brushes
Water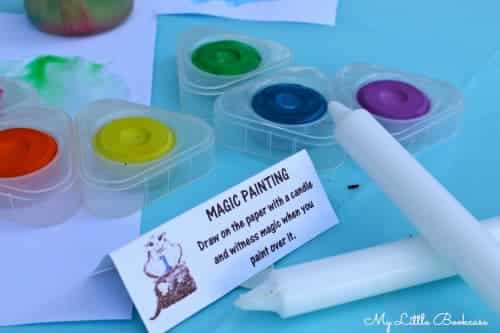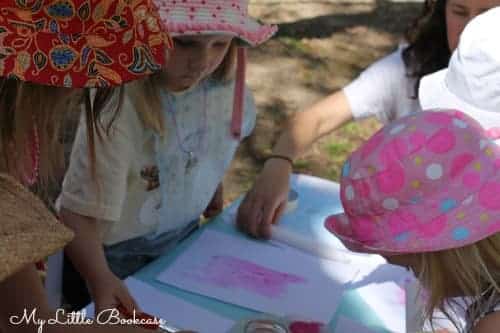 Decorate a pavlova with playdough
On a table:
Playdough (I made chocolate, red, green and yellow)
Play dough utensils (e.g. rolling pin, cookie cutters etc.)
Buttons, glitter or other decorations
You can download your own pavlova playdough mat here.
And, of course, there was a playground to keep kids happily entertained.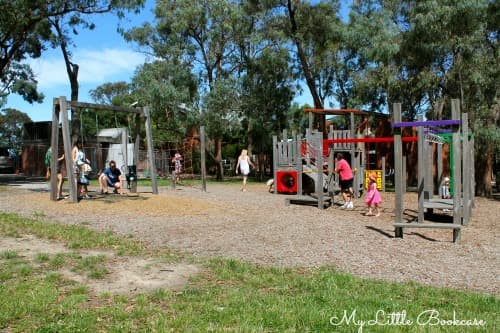 POSSUM MAGIC GIFT IDEAS
I like to give my children themed birthday gifts. On the day of his party, we gave Ike the Possum Magic 30th Anniversary Edition, a Possum Magic Numbers board book, a Possum Magic Animals board book and a jigsaw puzzle featuring iconic Australian foods from Make Me Iconic. All of these gifts were placed on a picnic rug for the children to enjoy during the party. See the end of this post for links to buy the books featured.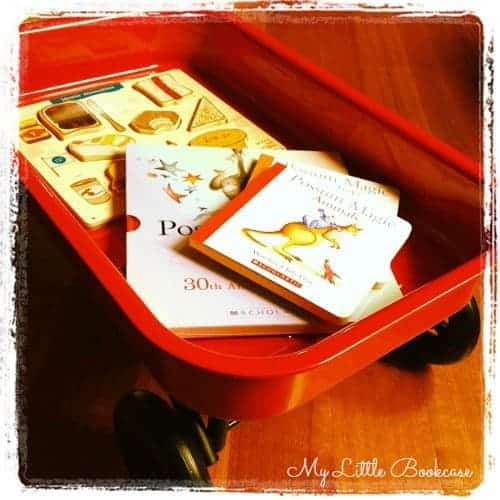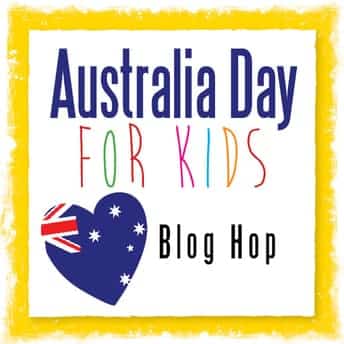 Because our Possum Magic themed birthday party is full of wonderful Australian foods, I'm featuring it in an 'Australia Day for Kids' blog hop.  Some of Australia's best kid's activity bloggers have teamed together to bring you an amazing collection of Australia themed play, craft and baking ideas to help you celebrate Australia Day with your kids on January 26.  See the full list of dates and participating blogs below:
Participating blogs
Be sure to check out the other posts in this series…
More Aussie ideas
Australia flag puzzle by Adventures at home with Mum
Little Lamington Creatures by My Little Bookcase
Books About Australia by My Little Bookcase
Possum Magic Pavlova Mat by My Little Bookcase
Anzac Biscuits by Phil Cummings Book Review and activity by My Little Bookcase
Come In Spinner – An Anzac Game for Kids by My Little Bookcase
Our Family Hour: Food Books Games and Australian Animals by My Little Bookcase
Bake Sale Idea Wholemeal Anzac Biscuits by Danya Banya
Bush Critters by The Craft Train
Nature walks with kids by The Craft Train
Buy the books:

Possum Magic 30th Anniversary Edition


Possum Magic Numbers



Possum Magic Animals