The '#mylittlebookcase book-a-day' challenge was such a success in May- Just scroll to the end of this post to see some of the books shared throughout May.
We've decided to play again during August, with a new set of daily prompts.
Why take part?
Reacquaint yourself with the books that may be collecting dust on your bookcase
Help other book-loving families find new bookish inspiration by sharing your family's favourite books
You'll be reminded that reading books with your children every day is important and fun
You can read more about why we started this '#mylittlebookcase book-a-day' game, but below are some simple instructions to follow:
How to play
Use the daily prompts below to help you find a book from your bookcase.
Take a photo of the book (it can be the cover or a particular page) and share it on Instagram (You can also share to Facebook, Twitter and Google+)
Make sure you include the title and author/illustrator in your caption
Tag @jackie_mylittlebookcase and use the #mylittlebookcase hash tag so that people can find your photos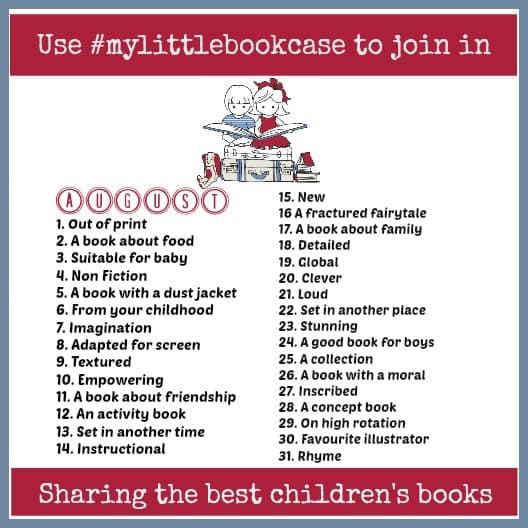 Some images from May #mylittlebookcase :
You can view the 31 books I shared, or watch the slideshow below to see photos shared by others. You can click on any image below to read more details about the book, or view the images as a grid here.