Each year my husband and I excitedly host a Christmas party for our closest friends. (You guys really should be invited too. You've been such a huge part of my life this year- even if you didn't know it).
Each year we always try to plan our party around a fun theme. Some of our previous Christmas parties include:
A Recycled Christmas Party
Once again I turned to Pinterest this year for some theme inspiration. There have been some really gorgeous ideas I've spotted during the year. I was certainly looking for a family-friendly theme. After lots of pondering, we finally decided on the theme for 2011:
A Storybook Christmas Party.
Invitations were sent to our friends in the mail yesterday, and I thought you might like to take a look.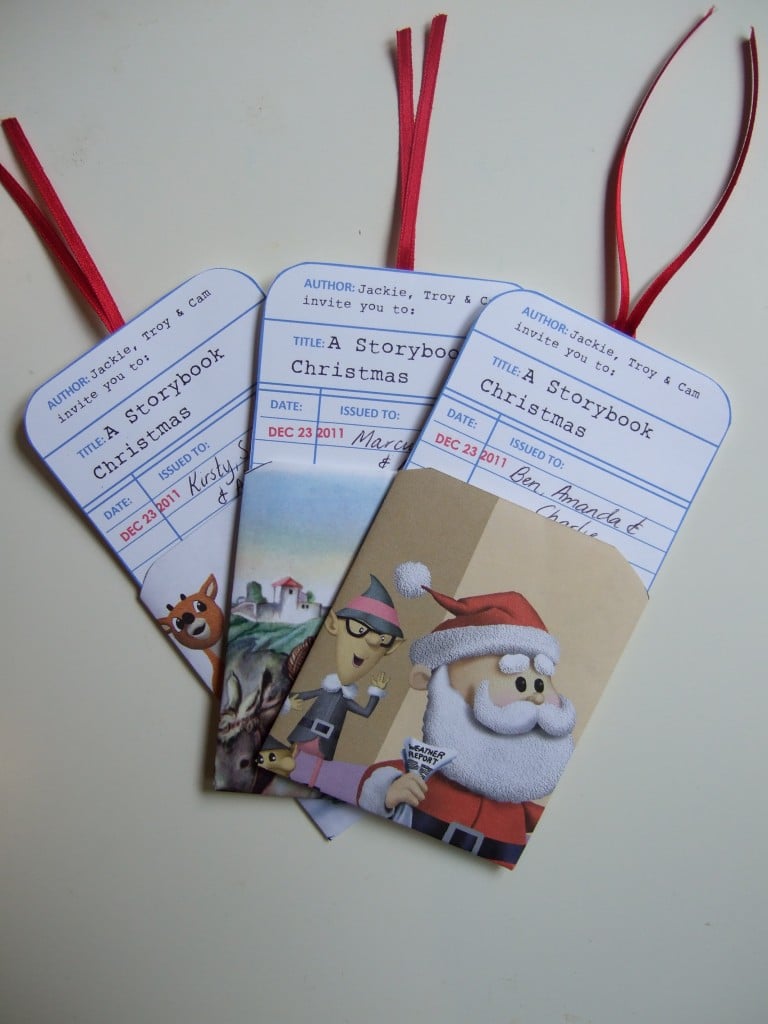 Invitations:
This is what our friends will see when they open their envelope.
Their package includes the invitation (in the style of a library borrowing card), a library card pocket and a book gift tag.
The invitation says:
Guest Participation:
Guests are always expected to do a bit of work at our parties. This year we've asked each family to purchase a Christmas storybook, write a message on the gift card and attach it to the inside cover of the book. Then wrap it and bring it along to the party.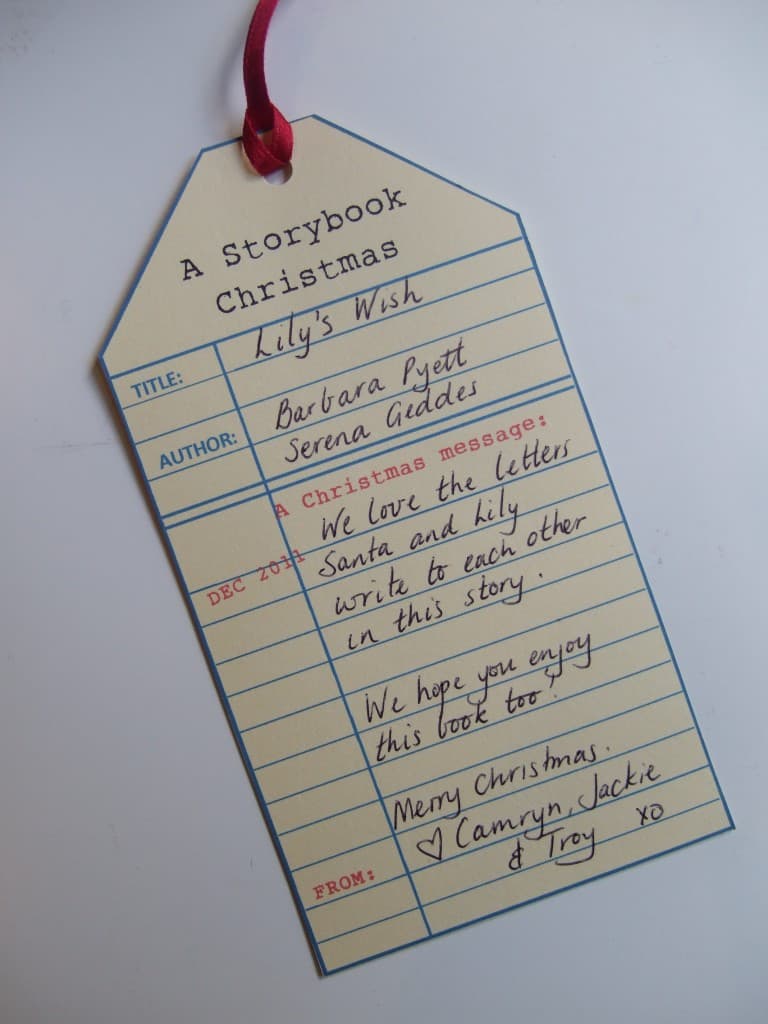 When all the books are under the tree, I will attach a number to each book. We'll play a game of Where's Santa? As a family, guests are required to search for Santa in our house and garden. When they find a Santa, he will have a number attached to him. Guests need to find that corresponding number on a gift under the Christmas tree, and that will be the book their family takes home.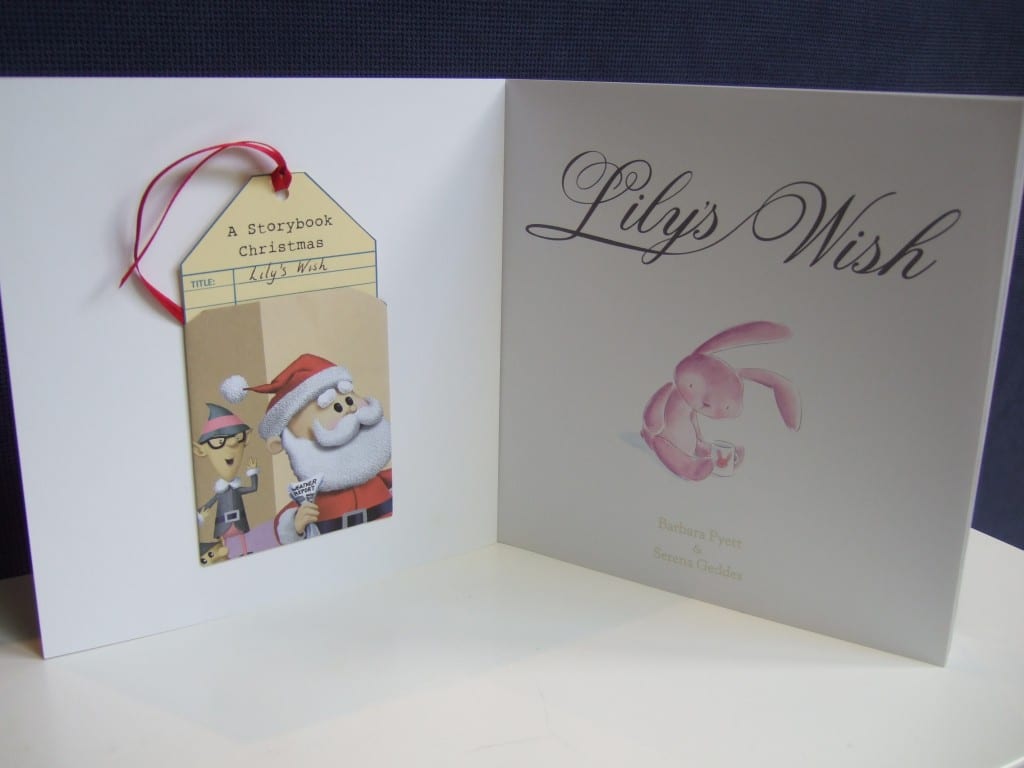 Behind the invitations (plus some templates for you to download):

I've seen LOTS of ideas on Pinterest (check them out in my Book Themed Parties board) and many bloggers gratefully provide templates. I didn't want to hand write all of the party details on the invitations though, so I made these invitations myself. It also meant I could customise the size to fit all the details I required.
If you'd like to do the same, I've created a jpeg image of the invitation. You can download it here. You can drop it into a word document and insert text boxes to add your own text. You don't have to use it at Christmas time. You could have a book party any time of the year, or print some for your children to use when they play libraries at home.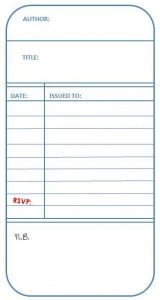 I've created the library book tag as a jpeg image for you too. You can print onto a card colour of your choice and hand-write your message. Or drop it into a word document and insert your own text boxes. You can download it here.
I also found this wonderful template for a library card pocket. It wasn't big enough to fit my invitation though so I just used it as a guide.
Instead of using a manilla folder or card stock, I chose to add a quirky twist to the pockets by making them from pages of Little Golden Books. You know how much I love using pages from Little Golden Books. A few weeks ago, I'd picked up a handful of Christmas titles from Target for 86 cents each.
I'll give you a sneak peek into my party planning later in the week. So make sure you pop back if A Storybook Christmas Party sounds interesting to you.