This post was originally written in 2011, but I thought it might provide you with some inspiration as Fathers' Day approaches.
This activity was inspired by:
By Carol Goess and Tamsin Ainslie (Working Title Press)
Our background story:
There are so many fun books about dads, but our favourite at the moment is Can We Lick the Spoon Now? We particularly love the quality time the father in this story gives to his children. Not only does he suggest baking a cake as a way to fill the day, but he helps the kids with the process and teaches them patience and resilience.
My daughter does a lot with her dad and just recently they topped their own pizzas together. They had so much fun, and reading this book inspired us to make a gift for Father's Day that would encourage them to get back into the kitchen together. I'm not sure that my husband has ever made a cake before so we searched for ideas that would make it as easy as possible for him.
I first saw the idea of cookies in a jar here, but also came across some kid friendly options too.  I love the idea of cookies in a jar because half of the work is done for dad. Very little measuring is required and only the wet ingredients need to be added. Best of all, this gift gives children a good reason to spend more time with their dad.

Most of the recipes I'd seen require a one litre jar. My daughter is only two and I didn't want her making too many cookies, plus I  wanted to limit the ingredients and measuring for her. I fiddled with the recipes by changing ingredients and quantities. I did a test run and this is what worked for me, but feel free to use the original recipes.
You will need:
Glass jar or plastic container (600ml) + a funnel if the mouth of the jar is narrow
Mini M&Ms and/or choc chips
Elastic band and/or ribbon
Our approach:
1. Layer/add each of the ingredients at a time. Some of our layers weren't very defined so  I'd recommend this order for optimal layering:
1 ½ cups of self-raising flour
¾ cup of choc chips and/or M &Ms (You can mix or separate these)
2. Attach the lid and decorate with fabric and ribbon
3. Attach a card which includes the instructions for making the Fathers' Day cookies:
Rub 2/3 cup of softened butter into the cookie mix until it resembles bread crumbs.
Add one beaten egg and 1 tsp of vanilla extract and combine well.
Roll the mixture into small balls (makes approx. 12).
Place on a greased tray and flatten slightly
Bake at 180 degrees for 10-12 minutes
Finished product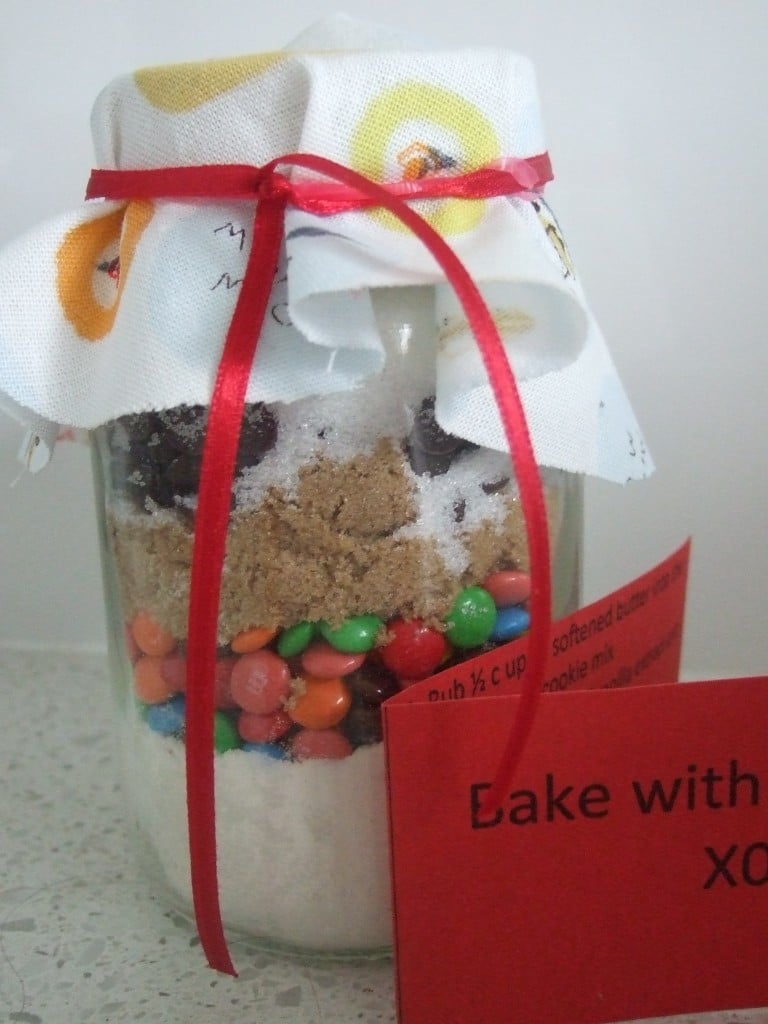 How did Daddy and Cam go?