Aussie Snacks for Santa
Kids love leaving a snack for Santa to nibble on while he travels the world on Christmas Eve, but how much shortbread can one man eat in a night?
This activity is all about looking for clues in stories and illustrations to help you decide what Santa would like to eat on Christmas Eve.
Read a few of the books from our Australian Christmas stories list and look for clues that might help you work out what treat Santa would really like when he visits your house.
Our Background Story:
With inspiration from Tania McCartney's launch party of Riley and the Curious Koala, Cam and I thought Santa might like some lamington wombats and koalas for a treat. Why?
-He really loved his Aussie Holiday and can't wait to visit again on Christmas Eve
-He has a pet koala
-He enjoyed a plate of lamingtons with Mrs. Claus the day before Christmas.
Although quite young, my daughter helped me make some raspberry muffins a few weeks ago. She enjoyed herself so much and we made very little mess, I thought we could give Lamingtons a go.
Aaargh!!!! We bit off more than we could chew this time. Cam couldn't manage to think about coating the lamingtons in coconut because she was solely focused on eating the icing that fell into the coconut. Thankfully my husband was home to assist, so disaster was averted.
What she did love was turning the lamingtons into wombats and koalas.
The Books:
An Aussie Day Before Christmas
Publisher: Scholastic Australia
ISBN: 9781741690972
Format: Hardback
Age suitability: 3+
Santa's Aussie Holiday
Author/Illustrator: Maria Farrer and Anna Walker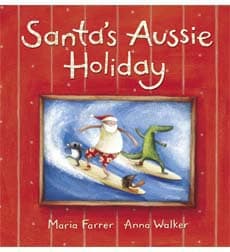 Publisher: Scholastic Press
Format: Hardback
ISBN: 9781741690187
Age Suitability: 3+
You will need:
Sultanas


Our approach:

1.      Bake your sponge or if you're time-poor buy a pre-made sponge

2.      Cut the sponge cake into small rectangles

3.      Combine sugar, cocoa, melted butter and milk

4.      Mix well to create icing

5.      Dip sponge rectangles into icing

6.      Coat in coconut

7.      Place lamingtons on a wire rack to set
8.      Use slithered almonds as ears. Press into the lamington
9.      Use sultanas as the animals' noses. Melt a little bit of white chocolate to act as 'glue'.
10.   Place your lamington wombats and koalas out for Santa on Christmas Eve so he can enjoy a yummy Aussie treat.